From November 10-11th, 2022, Betty Blocks is attending Legal Innovators 3.0 in London. Centered around innovation, technology, and the law - Legal Innovators is created by Artificial Lawyer and organized by Cosmonauts. Are you interested in discovering, exploring, and discussing the latest trends in legal innovation? Then you can't miss this event.
Here's what you can expect from Legal Innovators, and why you don't want to miss the Betty Blocks booth.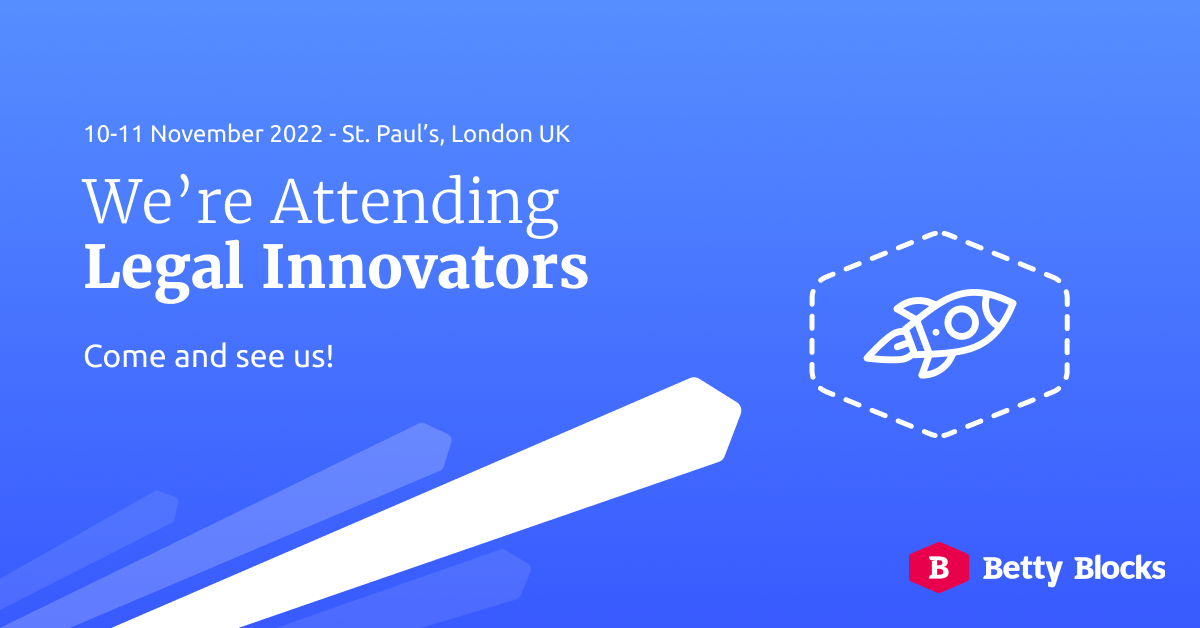 What to expect from Legal Innovators
Legal Innovators brings together the best, brightest, and most innovative in the legal sector. The event investigates and showcases the most recent legal innovation trends from throughout the industry. Meanwhile, industry experts and leaders share their knowledge and experience.
This makes Legal Innovators the place to be for legal tech leaders, leading law firms and in-house departments, and legal services organizations and professionals. This year the event will feature over 400 participants, more than 60 speakers, and 22 exhibitors. Over the two days, attendees can:
Learn about and explore the latest technology and innovation trends within legal
Talk to and hear from industry and subject matter experts
Network with peers and decision makers
Do you want a sneak peak at some of the key topics? In early June, Betty Blocks attended the California version of Legal Innovators. There we participated in key conversations on the most pressing themes throughout the industry. This ranged from how organizations can strategically implement innovation to the benefits of self-building solutions. We can't wait to have more of these discussions in London.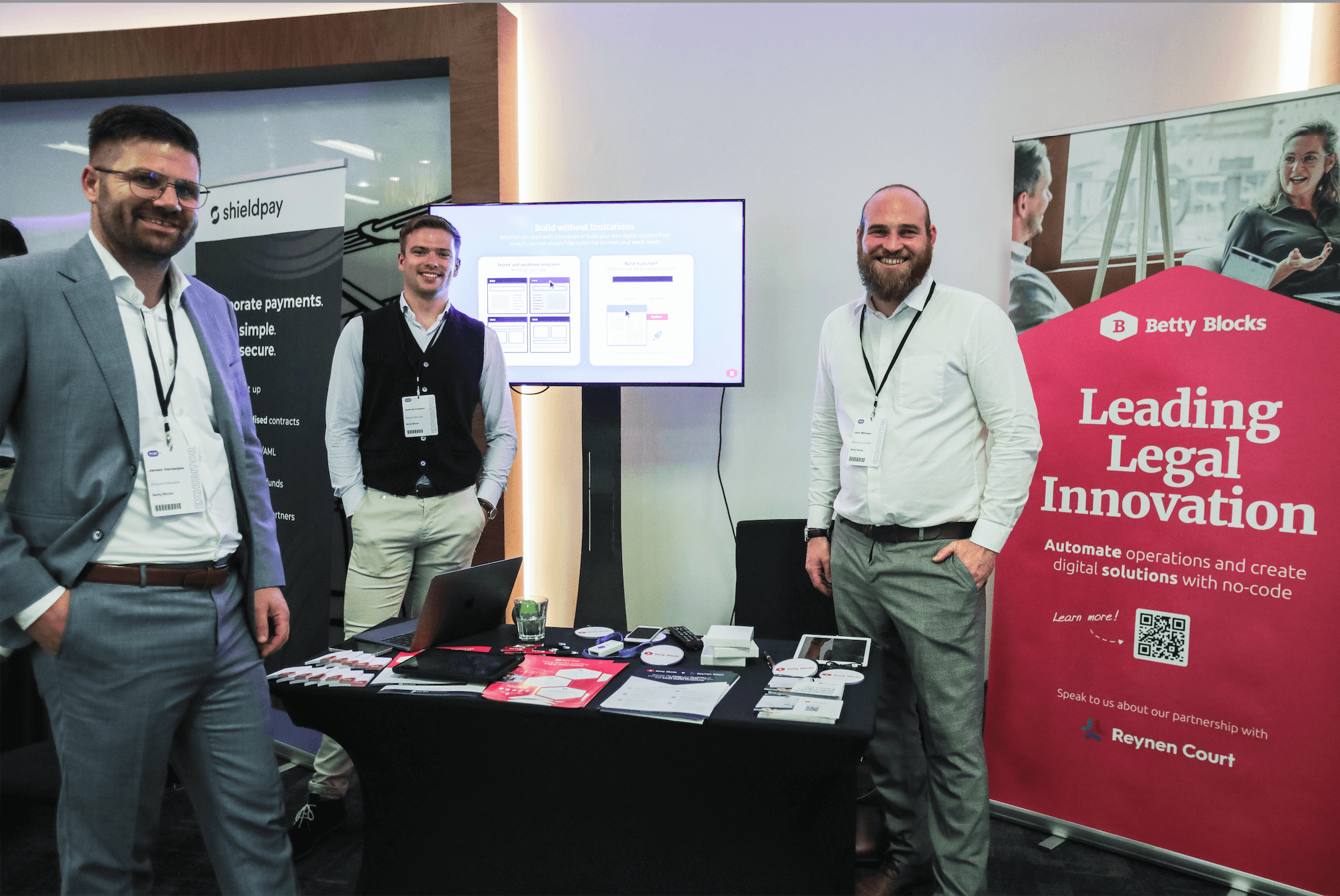 Betty Blocks at Future Lawyer Week UK 5.0. Photo credits to Cosmonauts
Betty Blocks - Empowering every type of innovator
Innovation looks different for every organization, and events like Legal Innovators showcase all the different goals and methodologies being used for innovation. However, core to every innovation strategy is the same element: technology.
At its root, low-code / no-code (LCNC) technology enables business departments and users to participate in and take charge of innovation. At its core, Betty Blocks empowers law firms and legal departments to innovate their own way.
Do you want to:
Create an internal culture where innovation is driven from within the business?
Make the most of your billable hours and establish new revenue streams?
Become more efficient internally to alleviate your workforce's tasks?
Offer competitive customer-facing solutions which provide your clients with new types of services?
As a low-code platform for citizen developers, Betty Blocks empowers every type of innovator. The intuitive drag-and-drop technology enables users with no coding experience to start building quickly. Meanwhile, low-code capabilities allow users, or pro-coders, with more experience to add and extend functionality. In turn, these capabilities can be made available in no-code blocks to be picked up by citizen developers. Alternatively, with the 4-Week Guarantee legal teams are provided with a fully customized application for a set price within four weeks.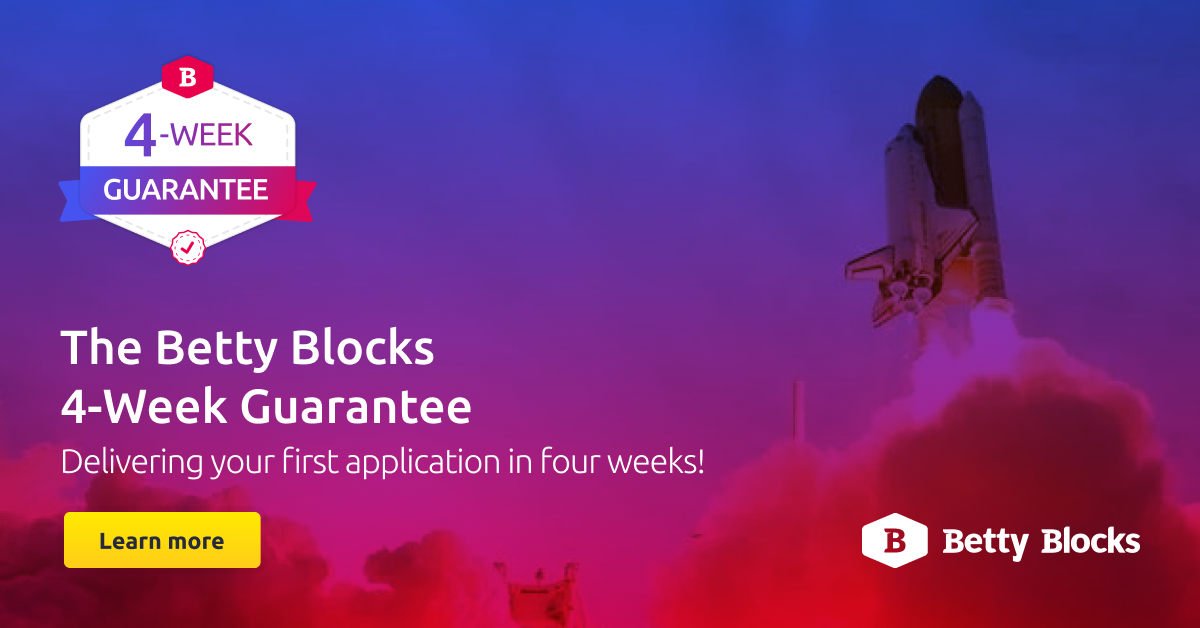 With Betty Blocks, your organization is empowered to independently build limitless legal tech solutions, and innovate your way. Betty Blocks integrates with anything, enabling you to build an innovation layer around your tech infrastructure. Our one-click, two-way integrations with HighQ and iManage are enabling legal law firms to supercharge their tech stacks.
Legal Innovators 3.0 is the perfect opportunity to discuss every option with our Betty Blocks experts. Don't leave our booth until you've found the innovation that fits you.
What Betty Blocks has in store for you
The Betty Blocks team heading to London includes our very own legal innovation experts, our legal technology advisors, and legal tech solution engineers. This means the Betty Blocks booth is fully equipped with all the expertise you are looking for.
Do you want to see how the platform works or take a look at our block store?
Are you curious about our integrations with HighQ and iManage?
Do you have a use case of your own and want to establish a platform fit or do you need help in scoping a use case?
Are you interested in taking a look at our top use cases and templates?
Do you want to understand how the 4-Week Guarantee delivers a custom application for a set price in four weeks?
Come along to our booth for all of this and more.
On Thursday, 10th November at 13:55 our very own Legal Innovator Paddy O'Shaughnessy is chairing a panel discussion on the 'Increasing trend for law firms to build their own tools for client use'. Featuring speakers from top firms such as Mayer Brown, Pinsent Masons LLP, and Kennedy's, this talk should be at the top of your to do list.
Already know you're going? Set up a meeting with the Betty Blocks team ahead of time to make sure you catch us while we're in London. We can't wait to see you!
Curious to know more about how Betty Blocks is empowering the legal industry to innovate? Check out some our latest content: