Here's your problem
Law firms and legal departments must innovate to stay competitive. The entire industry is experiencing high levels of competition, growing workloads, a war on talent, and clients with high expectations. In order to stay ahead, law firms and legal departments must leverage powerful digital solutions to optimize processes, save non-billable hours, and elevate client services.
However, there are various barriers and challenges to application development. Over-loaded IT departments with their own priorities executing development projects in isolation has various flaws. Firstly, traditional development methods are often slow and inflexible processes, with extremely high chances of going over budget or time. Secondly, a lack of cross-departmental collaboration often results in applications not meeting end-users' exact needs. Lastly, when extra functionality or changes are inevitably necessary these end up on an IT-backlog, leaving business users dependent and immobile and stagnating the business. The risk of failure is thus alarmingly high.
…Here's our solution: the 4-Week Guarantee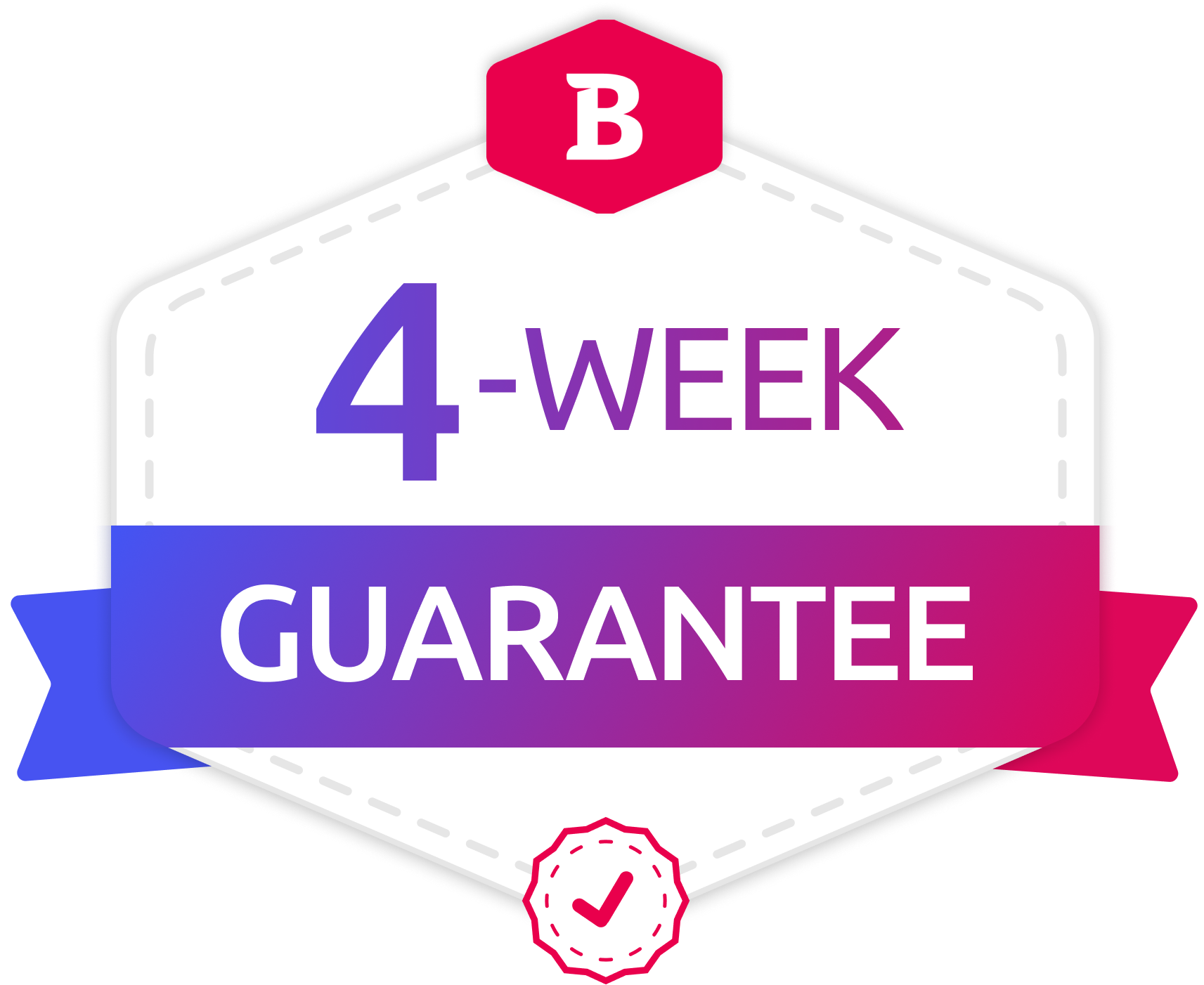 That is why we are launching the Betty Blocks 4-Week Guarantee. With a fixed price, assured scope, and defined timeline, you go from a use case to a customized application and go-live plan in just four weeks.
Named a leader in The Forrester Wave™: Low-Code Platforms For Business Developers Q4 2021, Betty Blocks is the first in the industry to launch a service of this speed. Betty Blocks has the experience to understand your problems and needs, the tools to get you started, and the execution capabilities to get you immediate results. The best part? We can do it in four weeks. Let's take a look at how we got here:
A use case focused approach
Approaching digital solutions through the lens of use cases enables teams to make immediate connections between problems and their solutions. At Betty Blocks, thus, we believe that use cases are the right approach for executing fast and reaching value quickly.
Using our rich industry knowledge we have established over 35 standardized use cases based on real needs and demand. Not only this, but we have designed templates catered to current needs and customer demands. With the Betty Blocks platform, users can start immediately with a template, and customize anything to their exact requirements.
Enabled by a use-case approach we have been helping law firms and legal departments kickstart their innovation journeys. And now we have come up with a way to get to results even faster: getting from a use case to ROI-generating production-ready application in 4 weeks.
Delivering value immediately
By delivering a customized application within a set timeframe and scope, and a fixed budget, the 4-Week Guarantee eliminates all risks of going over budget or time. Meanwhile, your organization is provided with the tools, guidance, and assurance to get to a production-ready, fully customized, ROI-generating application.
We build the application you want, based on your needs and requirements.
This is what the process looks like:
Select a use case
Identify your customization requirements
Establish a go-live plan
Build for four weeks
Deliver the application!
After four weeks, Betty Blocks guarantees the delivery of an application which:
Has had no hidden costs or timeline deviations
Is fully tested and validated with end-users, and has full functionality which meets all scoped requirements
Is supported with a proven go-live plan ensuring end-user adoption, smooth launch, and maintenance
Fits seamlessly into your existing IT infrastructure
Is underpinned by post-delivery support and clear documented guidelines


The first success milestone on your no-code journey
The 4-Week Guarantee is not just a one-month project. Instead, this is an investment into a long-term innovation strategy: a way for law firms and legal departments to kick-start their application development journey. Throughout the process, your team will:
Learn and understand how to identify business needs, and how to link these to digital solutions.
Engages with and becomes familiar with the process of establishing requirements
Become acquainted with the platform
Gain familiarity with agile development methodologies
Start to see opportunities in other use cases
Prove tangible value and define a clear ROI for no-code development projects, facilitating future scoping and planning
Supercharge your existing techstack and elevate your capabilities
Getting to value fast enables your firm to prove the ROI of no-code development, gradually integrating this into your organization. With the 4-Week Guarantee, organizations are provided with the tools to kickstart and scale their independent application development.
The 4-Week Guarantee is only the first success milestone on your no-code development journey.
Interested in kick-starting your digital innovation with the 4-Week Guarantee?