From August 22-25th 2022 Betty Blocks attended ILTACON 2022. An unmissable event in the legal industry, ILTACON attracted over 3000 attendees and featured around 70 on site sessions.
ILTACON was an opportunity to introduce the newest tech and showcase the most innovative developments in the industry. The event attracted vendors, users, developers, innovators, learners, and decision makers. For four days, the leaders in Legal Tech came together to share, learn, listen, and network.
At ILTACON 2022 we conducted key discussions on alleviating work by automating, establishing an integrated tech stack, and selecting legal tech companies that go beyond providing a solution. Here are some of our most important reflections and learnings: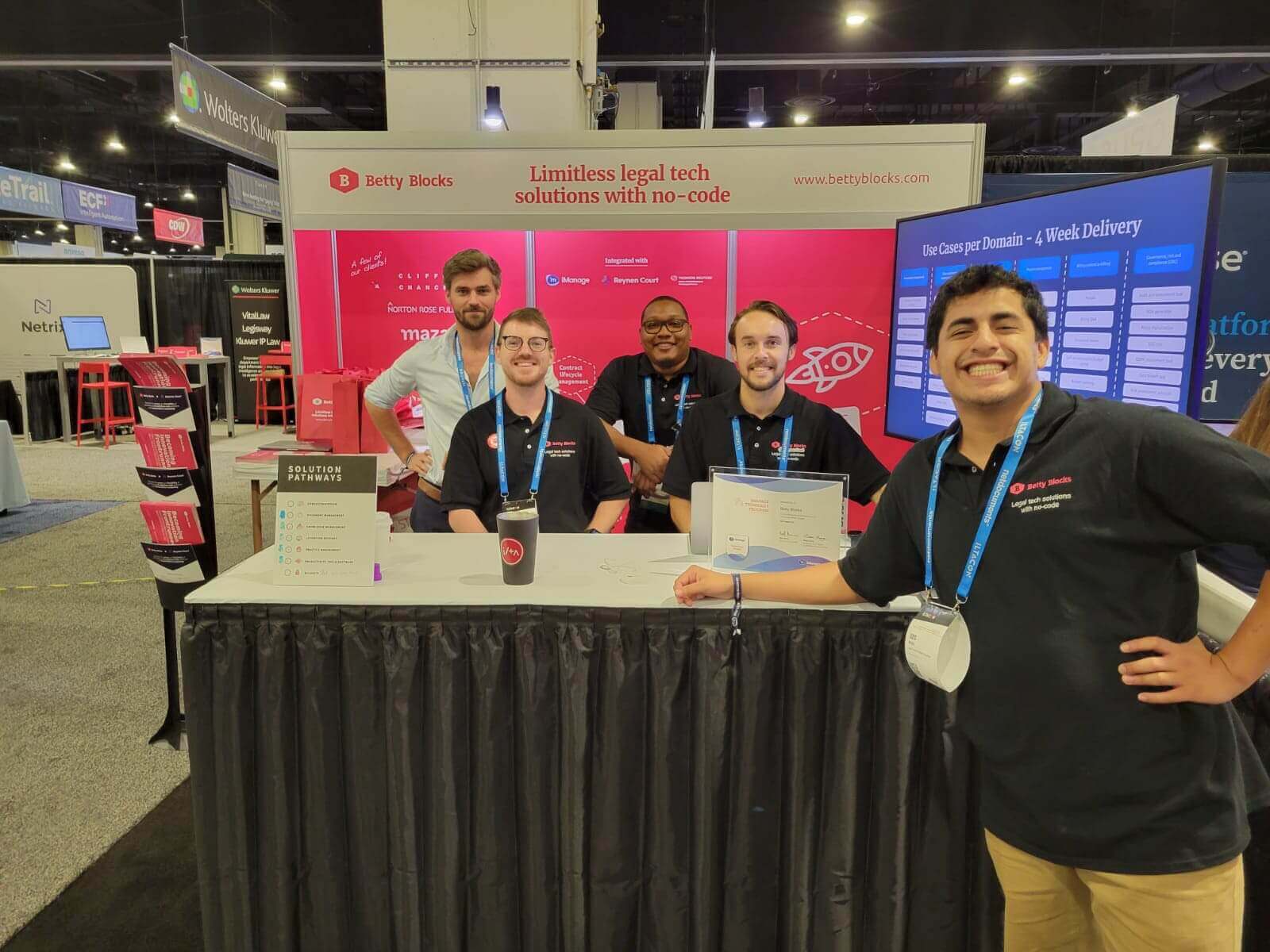 The Betty Blocks team looking good at our booth
Automate and alleviate
A recurring topic at ILTACON was the importance of automation to alleviate the work at law firms and legal departments. Legal Tech solutions play a crucial role in automating and standardizing routine and repetitive tasks within organizations. The work usually conducted through slow, error-prone manual processes is the perfect target and opportunity for automation.
Faced with the challenge of constantly doing more with less - picking up more clients and projects while under increasing time and resource constraints - firms are recognizing applications which automate internal processes as the answer.
With applications such as a Planning Tool or a Document Review App, firms optimize, digitize, and streamline their internal processes, eliminating the risk of error, and freeing up time and resources. By being freed of time-consuming, low-impact tasks, lawyers are empowered to focus on more analytical and intellectual work which requires their expertise: serving clients.
At ILTACON we had many conversations about the benefits and downsides of purchasing off-the-shelf applications in comparison to custom build. This reflects one of our key takeaways from Legal Innovators California, where the question 'to build or not to build' came up regularly. Custom building solutions ensures that your tech stack grows and adapts together with your digital literacy and needs, and ensures that solutions map onto exact needs. In the end, it's crucial that your firm selects the right solutions for your needs - more about this below.
Avoiding platform fatigue: establishing an integrated tech infrastructure
At ILTACON, we noticed that platform fatigue is emerging as a common experience amongst law firms and legal departments. Platform fatigue is the exhaustion that comes from having to use and juggle multiple tools which do not integrate with one another, thus having to continuously switch from one app to another.
As the legal industry has continued to digitize, firms and departments have purchased multiple tech solutions to solve various issues. Thus, as digital maturity increases, the amount of required solutions do as well. Here we notice another issue with off-the-shelf solutions: these applications are made as a one size fits all, and cannot grow or adjust together with an organization. This means that, while the needs and issues at a law firm change, their existing tech stack cannot adapt with them. Firms end up currently paying the price of having adopted a platform which is too restrictive a year ago. As a result, firms continually require new solutions to fit their new problems and end up with an ever growing tech stack.
Law firms are thus increasingly ending up with a dispersed ecosystem of solutions which, instead of simplifying, make the work more complex. These applications become disruptive, tedious, and hard to keep track of. Solutions, thus, have a higher risk of not being adopted and IT projects have an increased risk of failing.
Law firms and legal departments must select applications which fit into or compliment their existing tech stack, and can seamlessly integrate into their existing infrastructure. Additionally, it is vital to select digital solutions which grow and adjust together with your firm.
A future-proof, agile tech stack is established through custom building digital solutions which internal business users can adjust, iterate, and add functionality onto. Custom-built applications can thus form a layer around an existing system.
Betty Blocks, for instance, can integrate with anything through an open API. Meanwhile, our official integrations with platforms such as iManage and HighQ enable legal firms and departments to supercharge their existing tech stack by building powerful legal tech solutions on top of their ecosystem.
Beyond a solution - selecting a partner in innovation
Establishing an integrated tech infrastructure and onboarding applications which complement your existing tools, means selecting the right Legal Tech solutions. The huge number of booths exhibiting at ILTACON is evidence of the fact that there are so many options out there, and law firms and legal departments must be very selective and critical about their choices.
Here's the important thing: the success of a tool goes way beyond its purchasing. Instead, onboarding new technology often means a shift in the way of working and a mindset shift. A new tool cannot simply be handed over to a workforce, but must be properly introduced and integrated. Instead, implementation can be complex and challenging. We had many conversations on this topic at the LegalTech Vacation Scheme, discussing how onboarding a new tool means onboarding a new mindset.
This means that a Legal Tech vendor should be offering more than just a solution, your legal tech provider should also be a partner in innovation. The right tech vendor will not just sell you a tool, but will also be a partner in implementation, training, and integration. The right tech vendor, then, will provide you with a digital solution and the tools to ensure success.
Conclusion
Hugely evident from ILTACON 2022 is that onboarding Legal Tech solutions or platforms to automate internal processes and elevate client services is happening across the industry. Currently, law firms and legal departments face the challenge of selecting the right tool from everything that is on offer, and implementing for success. Curious about the ways in which Betty Blocks empowers legal firms and departments to build powerful, limitless Legal Tech solutions? Check out what some of our top legal clients are doing here.
A huge thank you to the organizers of ILTACON, and a big shout out to our own legal technology advisors and legal tech solution engineers for representing Betty Blocks.
Intrigued by ILTACON and want to avoid missing the upcoming events? Get a head-start and sign up for ILTACON Europe, happening in London November 2022 here.
Do you want to know more about how Betty Blocks empowers the legal industry to create custom built solutions to innovate, digitize their support, and elevate their organization? Check out our legal use cases here.