From August 20-24, 2023, Betty Blocks is heading to Orlando to attend ILTACON, the premier educational and networking event for the legal sector. Over five days, legal experts, professionals, and thought leaders are coming together to discuss the latest trends, challenges, and development in the industry.
Take a look at what you can expect from ILTACON, and why you should drop by Booth 902 to find out how Betty Blocks can help you navigate the changing legal landscape.
Pioneering low-code development in legal tech
ILTACON has long been regarded as a key gathering for legal professionals and technology experts. At ILTACON 2023, attendees can expect a dynamic exchange of ideas, insights, and solutions that are shaping the future of the legal industry. With technology playing an increasingly integral role in legal operations, ILTACON serves as an important avenue for fostering collaboration between legal practitioners and technology providers.
Betty Blocks has been at the forefront of the low-code revolution, empowering organizations in the legal industry to develop custom applications without the need for traditional coding. By providing a user-friendly platform that enables the creation of sophisticated apps through visual interfaces, Betty Blocks empowers legal professionals to streamline processes, optimize workflows, and adapt to changing client needs with agility.
Why you should visit the Betty Blocks
1. Secure and flexible low-code AI toolkit for law firms
With Betty Blocks' Low-Code AI Toolkit, law firms can securely and easily incorporate AI into their solutions without extensive technical expertise. This enables law firms to rapidly build and test solutions without having to set up large IT projects and ensures compliance with company policies. Betty Blocks also offers the expertise to create a sustainable AI implementation strategy together.
2. Automate and optimize manual processes
By leveraging a low-code platform, law firms can build bespoke solutions which automate and digitize manual processes. Law firms often face repetitive, non-billable, error-prone tasks. Not only does this manual work decelerate internal and client services, but also frustrates lawyers. When digital tools automate processes and digitize workflows, the entire organization is made more effective, enabled to fully focus on client support.
Norton Rose Fulbright, for example, built a bespoke digital solution for a client. With this application, NRF decreased a 30-hour process to under 30 minutes. This elevates their customer support, frees up time, and optimizes the organization.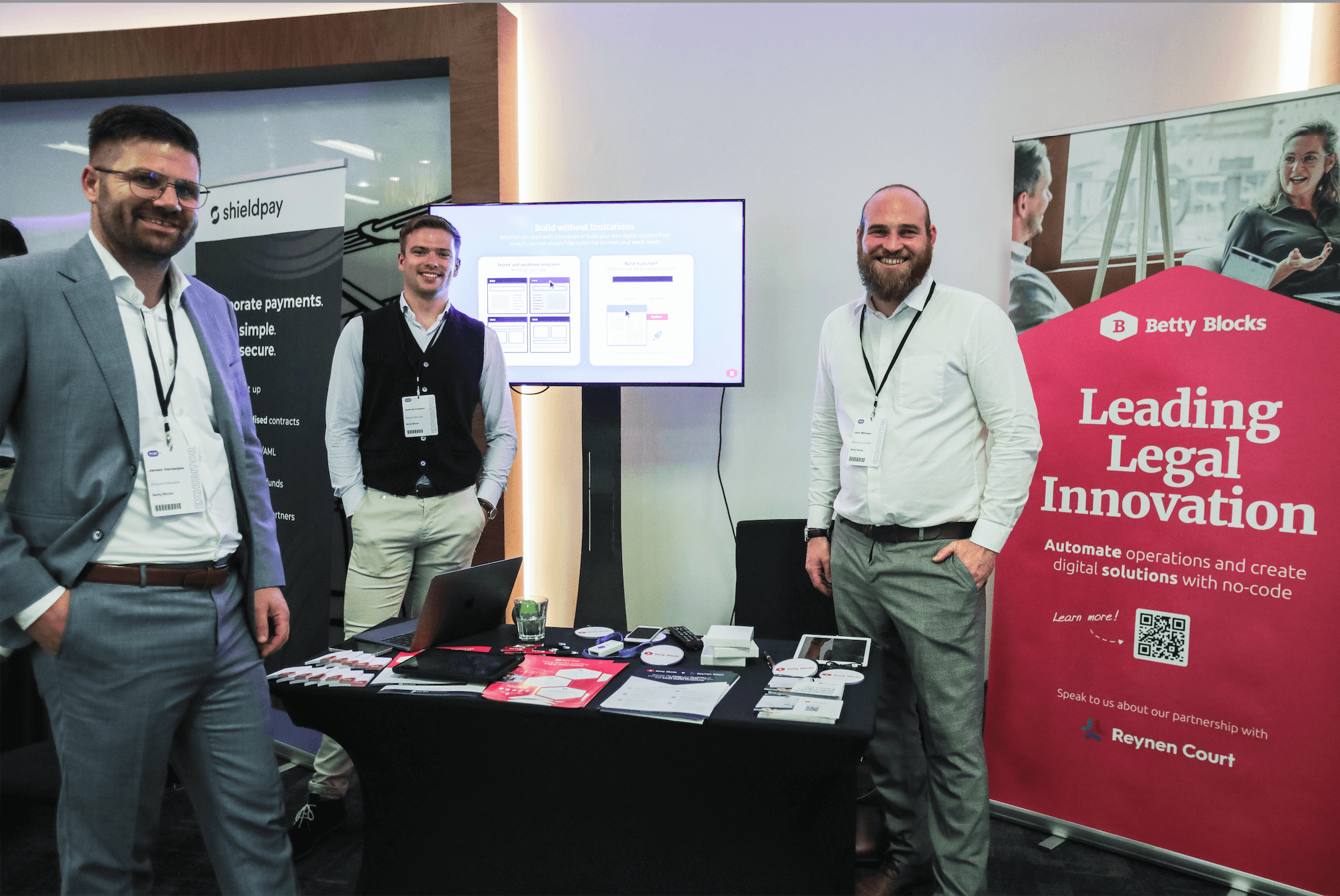 Betty Blocks at Future Lawyer Week UK 5.0. Photo credits to Cosmonauts
3. Create differentiating, customized digital solutions
The Betty Blocks platform enables organizations to build fully customized, scalable digital solutions. By empowering different types of developers, the platform ensures that digital solutions can be built quickly and easily without running into limitations. Low-code developers can add functionality and build complex elements. These added components can be turned into no-code building blocks to be used by business technologists. Meanwhile, business technologists are supported with a Block Store containing all the necessary components, functions, and themes for them to build fully bespoke applications.
As a result, law firms are enabled to build tools that map onto the exact needs of their end users - whether internally or with clients. Organizations can build differentiating self-service applications that elevate client support and digital solutions which accelerate business operations.
Are you:
Coming to ILTACON Orlando and want to grab your chance to meet the Betty Blocks team in person? Plan a meeting with us here.

Convinced you need to go but haven't got a ticket for the event yet? No worries; you can still register for ILTACON 2023 here.

Unable to make it to the event but still intrigued by the ways Betty Blocks empowers the legal industry to build innovative legal tech solutions? Check out our legal whitepaper to learn more: