Modernizing the Legal Sector With No-Code
Thursday, May 7, 2020 — 10:00 am EST | 4:00 pm CEST
The legal sector is undergoing a transformation. Law professionals have long been spending too much time on simple, repetitive tasks. The billable hour model is being challenged. Clients are beginning to call the shots.
In this legal-specific webinar, we discuss what these changes mean for the sector, as well as how tech-savvy law firms using software to tackle their challenges and get ahead of the competition.
We'll also show you real-life examples of Betty Blocks applications, including a demo of an application built specifically for legal sector organizations.
Be sure to sign-up for this webinar to see how Betty Blocks can help you stay ahead of the competition and future-proof your law firm with no-code.
Not in the legal sector? We think you'll get real value from seeing what you can achieve with the platform through these examples!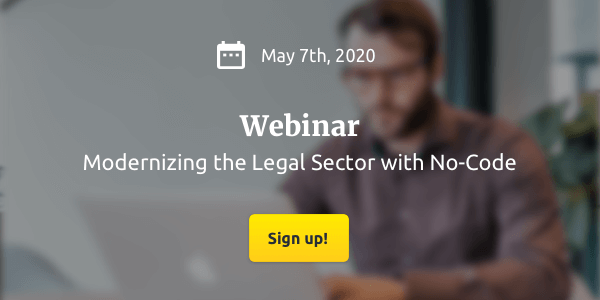 Platform Updates and News: Episode 1
Thursday, May 14, 2020 — 10:00 am EST | 4:00 pm CEST
Want to know about all the brand spanking new platform updates, fresh out of development? Then you won't want to miss this webinar.
We're constantly working to improve the platform, and in this monthly series, we bring you all the latest features, updates, and news from the development teams.
We'll also give you a sneak peek at the upcoming changes and how the product roadmap for 2020 is progressing.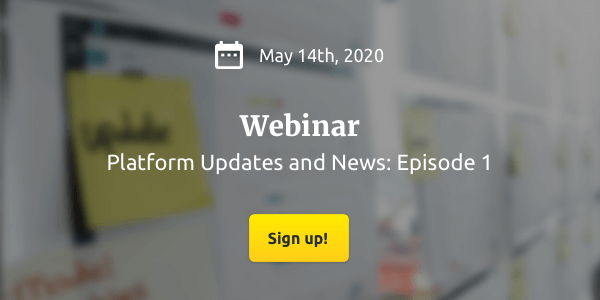 Digitizing Legacy and Paper Systems in Under 3 Weeks
Wednesday, May 20, 2020 — 10:00 am EST | 4:00 pm CEST
In this webinar, we'll show you a real-life example of no-code in action. You'll see how a large pharmaceutical company implemented the Betty Blocks platform strategically to shorten time-to-market and create a foundation for all future processes.
The fully scalable application was developed in just 3 weeks and brought time-consuming Excel- and mail-based processes into the modern age.
Sign-up now and find out how the strategic implementation of the Betty Blocks platform can position your organization to gradually overhaul outdated processes, and enable you to develop innovative new services and products, fast!