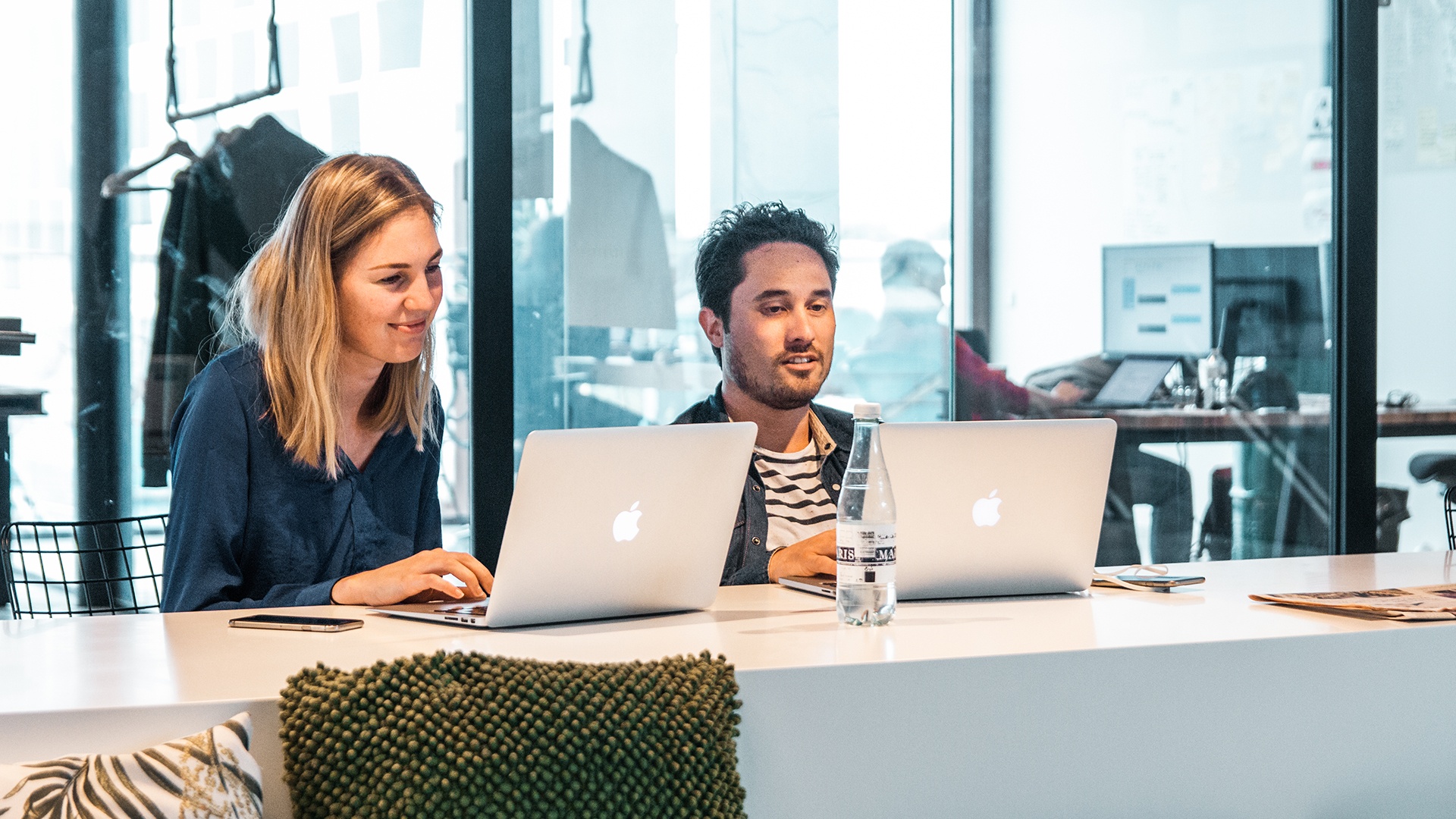 Back in the day, you had to go to the big cities like Amsterdam for a grandiose career in IT (that is, if you live in The Netherlands). Innovation and growth only happened in these areas, and if you weren't around you were 50 years behind. If you were really serious about your career, you would accept the long commutes, traffic jams, and delays in public transport.

But nowadays your dream job in IT is much closer to home than you think. Innovative companies are located everywhere and smaller regions are thriving as well. This is the reason why Betty Blocks moved to the smaller township of Alkmaar way up north in The Netherlands earlier this year. The IT market is rapidly growing in this region and there's plenty of quality vacancies with world players. The same goes for Betty Blocks and our other 'brocompanies' that reside with us in our headquarter office, the Hub.

Besides the idyllic location, why should you join our company?

We won't talk about the 25 vacation days, brand new MacBook, free daily lunch, the mind-blowing building and facilities, the in-office gym with personal trainer, and the Friday afternoon drinks, because those things are a given. Instead, we will give you the four most common reasons from new hires why they choose to join us:


Being part of a bigger vision
When Steve Jobs recruited the marketing manager of Coca-Cola he told him: "Do you want to sell sugar water for the rest of your life or change the world?" Almost all new hires choose the latter. Now, we know very well we aren't Apple, and only time will tell if we will actually impact the world, but we work as a passionate team to make no-code the new standard in the world of app development. The way we go about attacking this mission and the whole process to get there is why new hires choose us. Exciting times ahead, woo!
An organizational structure as flat as a pancake
The scary 'big boss' who you try to avoid at all cost doesn't work here. For new employees who previously worked at big corporates, this is a bit of a culture shock. The founding brothers Chris and Tim are just 'one of the guys', and the same goes for the others at management level. Need a word with Chris and Tim? Just casually walk into their office. Want to crack a few jokes with our CMO Vic? He'll step up his game. Need whatever from whomever? You'll have a more than complete answer in just five minutes, and you can expect a follow up to see if there's more to be done to help. That's just how we roll.

Don't worry about upgrading your outfits, we don't have a dress code. Well, we do have one, but that's only for 'FaaS', our Superhero Festival (as a Service). So, if you're comfy on your socks, just slide along. Are you an early bird or is the snooze button more to your liking? No worries, we've got you covered. We just expect one thing of you: that you are completely yourself.
Ditch the microwave
Traffic jams in the morning are horrible, but, what's even worse is the traffic jam at night. After a day of hard labor, you just want to get home as quickly as possible to join your family for dinner and watch some cartoons with the kids. But, traffic is bad and you are once again too late for the festivities. The kids are already in bed and your food is in the microwave. What a bummer. This is another reason locals choose to work with us. Who doesn't want to trade traffic jams for a healthy and short bike ride?

To be fair, there will be occasions where you won't make it home for dinner. Not because you are stuck in a line of vehicles, but because our Friday afternoon drinks are just the best thing in the world.
Home away from home
Our residency, the Hub, was created to be your home away from home. The atmosphere is great, your colleagues are just awesome people and you can work in any way you like. Want to sit casually or at a standing desk? Just adjust your desk. Want to stretch your legs on a comfy sofa? There's plenty of room for that as well. Want to rejoice in nature? Just sit under the apple tree in our garden. So, what are you working on you're asking? Just the coolest no-code platform in the world. Have a look at how much fun our colleagues have:

Recently Betty Blocks joined forces with eight other amazing IT companies from Alkmaar. Under the name IT=Alkmaar, we set out to make Alkmaar a force to be reckoned with in IT. On Saturday, the 10th of November we will host the first 'Techevent', where you can do a wide variety of awesome things and maybe even start your new career. Will we see you there? Sign up to this free event.