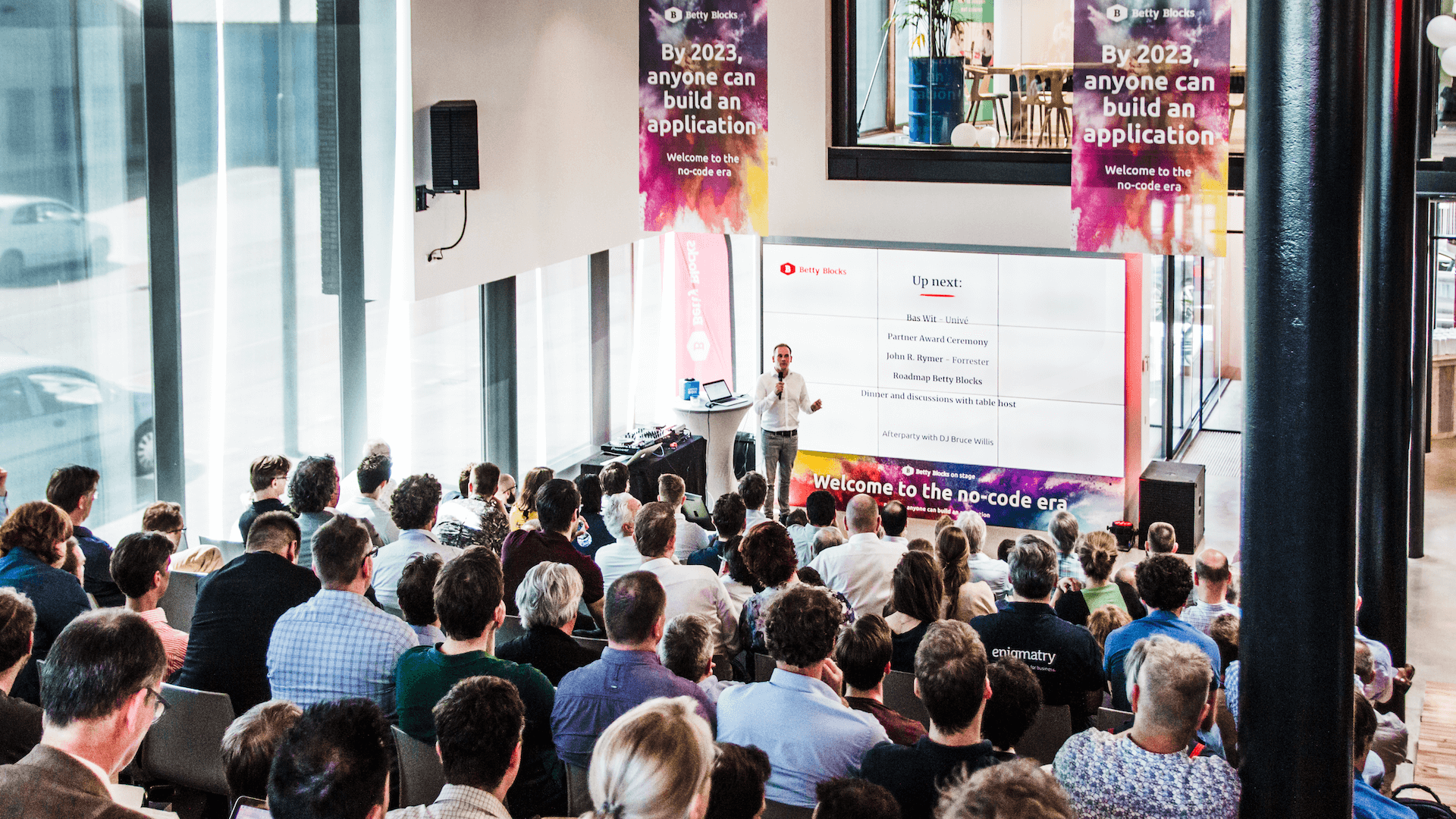 At Betty Blocks, we're hosting and participating in a handful of events to offer knowledge and resources about no-code, citizen development and digital transformation to our community (and beyond!). We want to connect with all innovation seekers and digital transformation drivers, so if that's you, have a look at the following events and join us for tips on your organization's innovation. Please note that two of the events are held in Dutch only, but we'd like to share all the great things we're working on!

Gemeente Seminar (Dutch): For municipalities seeking to digitally transform, this is an event for your IT professionals. The municipality of Zaanstad will share their story on how they are renewing their IT landscape with Betty Blocks no-code platform. Starting with an application to manage youth health care in their region, the municipality then created multiple applications to operate a range of processes within the organization. Along with the customer case, our CEO Chris Obdam will give a presentation on the developments in the municipality IT market. This event was in such high demand, it is sold out. You can sign up to be notified of future seminars and learn more here.

When: 25th of September
Where: The Hub, Betty Blocks HQ
Pettemerstraat 7
1823 CW, Alkmaar
Academy Night: The Betty Blocks Academy Night is a fun evening event specifically organized to teach attendees about our no-code platform and how to use it to innovate. Together with our partner, Mixit, we're hosting this Academy Night in Rotterdam. Due to popular demand, this event is also sold out. But don't worry. If you'd like to stay updated on future Academy Nights, sign up to be on our waiting list. You can learn more here.

When: 3rd of October
Where: Mixit, The Digital Workspace Company
Hofplein 20
3032 AC, Rotterdam


Two-Day Fundamental Training: We're hosting our first two-day training event for those who are interested in learning the fundamentals of our platform to build your own application. Get certified in the fundamentals of Betty Blocks, which include the data model, back office, actions, filtering and web services, and you'll become a no-code specialist, faster developer, and overall action hero. This training equips you with the knowledge to not only build applications but also push forward digital transformation in your organization.The cost of the two-day event is €1.500. Spaces are still available, you can learn more and sign up here.


When: 4th and 5th of October 8th and 9th of November
Where: The Hub, Betty Blocks HQ
Pettemerstraat 7
1823 CW, Alkmaar
From Strategy to Operation (Dutch): The Strategy Behind Strategy Implementation and What the Animal Kingdom Can Tell Us About Human Connections
Do you have a strategy and want to know how to implement it? On the 18th of October, we're hosting a book presentation. As achieving innovation requires more than the technology, we provide the platform to turn your ideas into actions as well as the opportunities to learn about all factors leading to innovation. We invite two guest speakers to share their insights on topics to help you innovate from within.
Our first speaker is Ton Nijenhuis, a former CEO of bank and insurance companies. He's authored "From Strategy to Operation," a book about implementing business strategy. As one of the early customers of Betty Blocks, Nijenhuis will explain how he implemented strategy with the no-code platform. He will provide answers to the frequently asked questions that all customers have.
Following the book presentation, we introduce Zoologist Eric de Blok. You may be wondering what the connection here is. Without an understanding of people, your organization cannot properly innovate and that includes implementing a new strategy. De Blok will explain what nature has to say about strategy and behavior. He'll answer the questions, "How do animals work together, and what can humans learn from them?" Sign up and learn more about this event here.


When: 18th of October
Where: The Hub, Betty Blocks HQ
Pettemerstraat 7
1823 CW, Alkmaar


Gartner Symposium/ITxpo 2018: The Gartner Symposium/ITxpo is an annual conference for Europe's leading CIOs and Senior IT Executives. Last year, we attended the Gartner Symposium in Barcelona to present Betty Blocks' no-code platform. After rapid growth within the past year, we are excited to host the Betty Blocks booth again at the symposium. This year, we want to connect with more IT leaders and share our expertise about citizen development. Bring all your questions about no-code and citizen development - our team wants to be the first ones to answer them! You can learn more here.


When: 4th - 8th of November
Where: CCIB (Centre Convencions Internacional Barcelona)
Plaça de Willy Brandt, 11-14, 08019
Barcelona, Spain

To stay up to date with all our upcoming events, subscribe to our blog below.