If you've been paying attention, you know that rapid application development tools like low- and no-code platforms are becoming increasingly popular in organizations. They're valuable tools because of how quickly they allow developers to build and deploy applications in an era of rapid digital transformation, and where time is money.
Now that the platforms are becoming more widespread, the increased speed of development is becoming more of a given. That means that IT departments are becoming more sophisticated in what they want to achieve. They can now focus on product innovation, growth, and improving the customer experience rather than keeping the lights on and wading through long backlogs.
Enabling the business to be more self-sufficient is also emerging as a key driver behind no-code adoption. No-code platforms appeal to Citizen Developers – business users who contribute to application delivery – because of their ease of use and the fact that users can develop applications without prior programming knowledge. That means the business can be less dependent on IT for things like departmental or workflow applications.
Your guide to implementing Citizen Development effectively
As an IT pro, you want to support the business as best you can. Innovation? Sounds great, but when the reality is Shadow IT and rogue solutions running throughout your organization, you've got some questions. How can you manage your IT assets but still support innovation? How do you manage Citizen Developers and give the business the tools they need to be successful?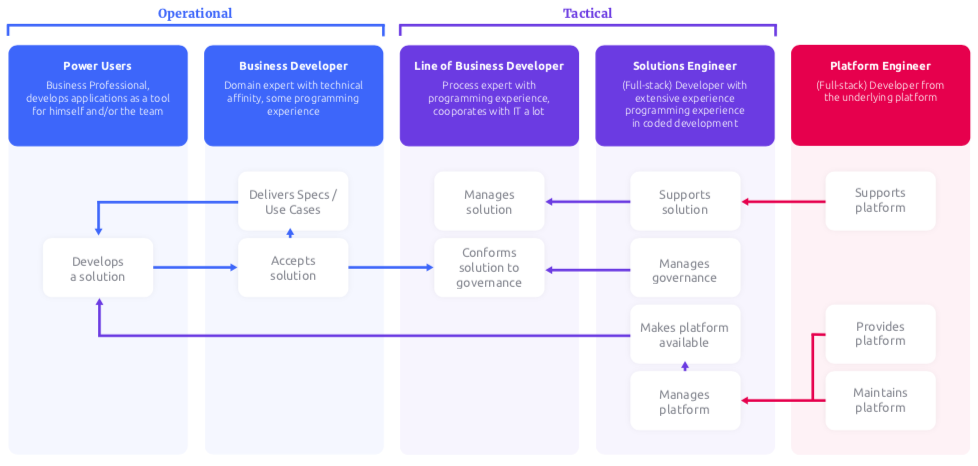 Fundamental no-code developer roles and governance structure infographic - Sylvester Bos, CTO Robidus
This whitepaper is a guide for IT departments to use so that they can structure and implement Citizen Development effectively. Complete with organizational diagrams and explanation of developer roles, you'll get the insights you need to get started with Citizen Development in your organization.
In this whitepaper you will learn about:
What kinds of applications are being built by Citizen Developers;
Developer roles and responsibilities;
Governance and the center of excellence;
Training and services;
Security.
Ready to implement Citizen Development the right way in your organization? Click this link or the banner below to get your copy of this whitepaper now.