You're an experienced developer or IT professional who wants to build software faster and more efficiently. Or, you're on the business-side and you need the ability to be involved in the software development process, so that you can drive innovation within your organization. In both cases, you can do that with no-code.
Prove it, you say? We'd love to.
There are 3 main types of applications that cover most organization's needs:

Below, we'll show you how you can build all 3 with our no-code platform.
Back office applications
Used by employees, effective back-office applications are the driving force that make all your processes and services run smoothly and successfully. Here are 10 areas in which organizations are using back-office applications to streamline processes, drive innovation, increase revenue, and cut costs:
1. Document processing
2. Compliance
3. Workflow management
4. KPI monitoring
5. Sales forecasting
6. Business reporting
7. Human resources
8. Inventory and shipping
9. Accounting and invoice processing
10. Marketing
Back-office applications also provide invaluable data, enabling organizations to make more accurate predictions about future projects and revenue.
The Betty Blocks platform already has various pre-built back-office modules. This enables organizations to open up the development process to no-code and citizen developers. This creates better alignment between business and IT, and tackles the growing experienced developer shortage head-on.
Although no-code and citizen developers are able to build applications via a drag-and-drop method, our platform also comes with an escape hatch. Via this escape hatch, experienced developers can customize any module, or create their own from scratch. Once they've done so, they hand-off the new modules to the no-code and citizen developers, who go on to build the app under the supervision of IT.
Want to see our applications in action? Then check out our App Gallery below!
Example
The European Association of Urology (EAU) built its extensive back-office system, Oxygen, with the Betty Blocks no-code platform.
In addition to managing 13,000 annual conference attendees, Oxygen gave the EAU a fully integrated CRM system, membership and registration modules, abstract handling, logistics, finance, scientific program, accreditation, and events management. It also enabled integrations with Ingenico ePayments, AFAS, and M Events.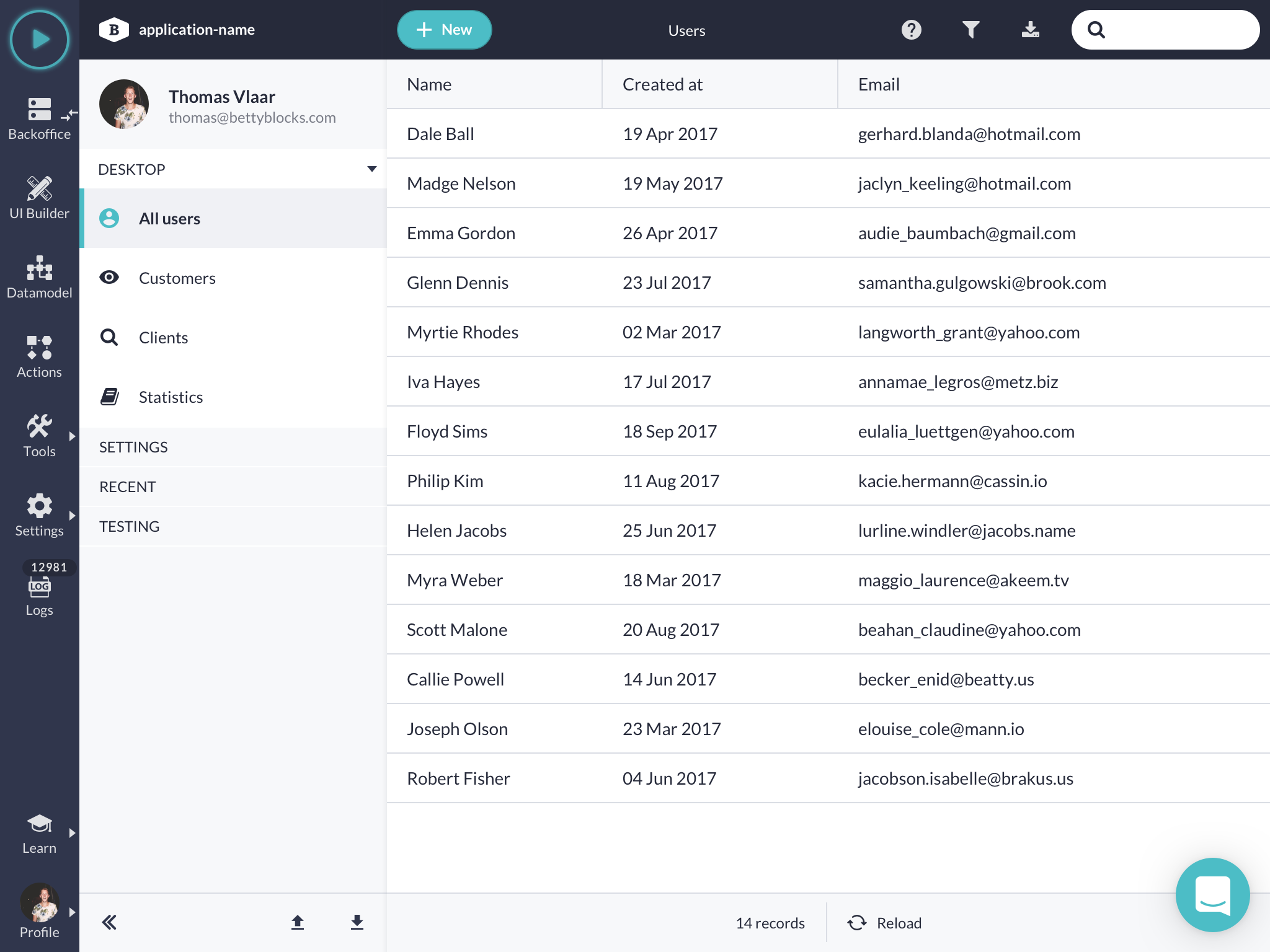 Because of the speed of development made possible by no-code platforms, they can be used to build multiple applications within a relatively short amount of time. In fact, prototypes can often be developed within days.
Bonus!
Click here to see how EDGE Technologies used the Betty Blocks no-code platform to develop the following types of back-office applications:
Case management
HR management
Stock management
Product portfolio management
Order management and invoicing
Customer Relationship Management (CRM) system
In building back-office applications with no-code, EDGE Technologies was able to replace 7 separate systems with 1, and increase productivity by 20%.
Want to see more? Why not check out our App Gallery below!
Web applications
Web applications are how organizations interact with their customers. They come in many forms, but the goal should always be the same: to create the best customer experience possible. After all, what's the point in having awesome back-office applications to run your business, if all your customers leave due to old fashioned, time-consuming, costly, or non-existent customer service?
Here are just a few use cases for web applications that we're probably all familiar with:
Online shopping (products and services)
Appointment scheduling
Photo and video editing
Banking
Email
Word processing
Movie and music streaming
And the list goes on!
Customizability and functionality are the name of the game when it comes to designing web applications. The aim is to create an online space that represents your brand, service, and product effectively.
No-code is especially powerful here thanks to the pre-built connections between modules, allowing you to focus on your service and brand identity.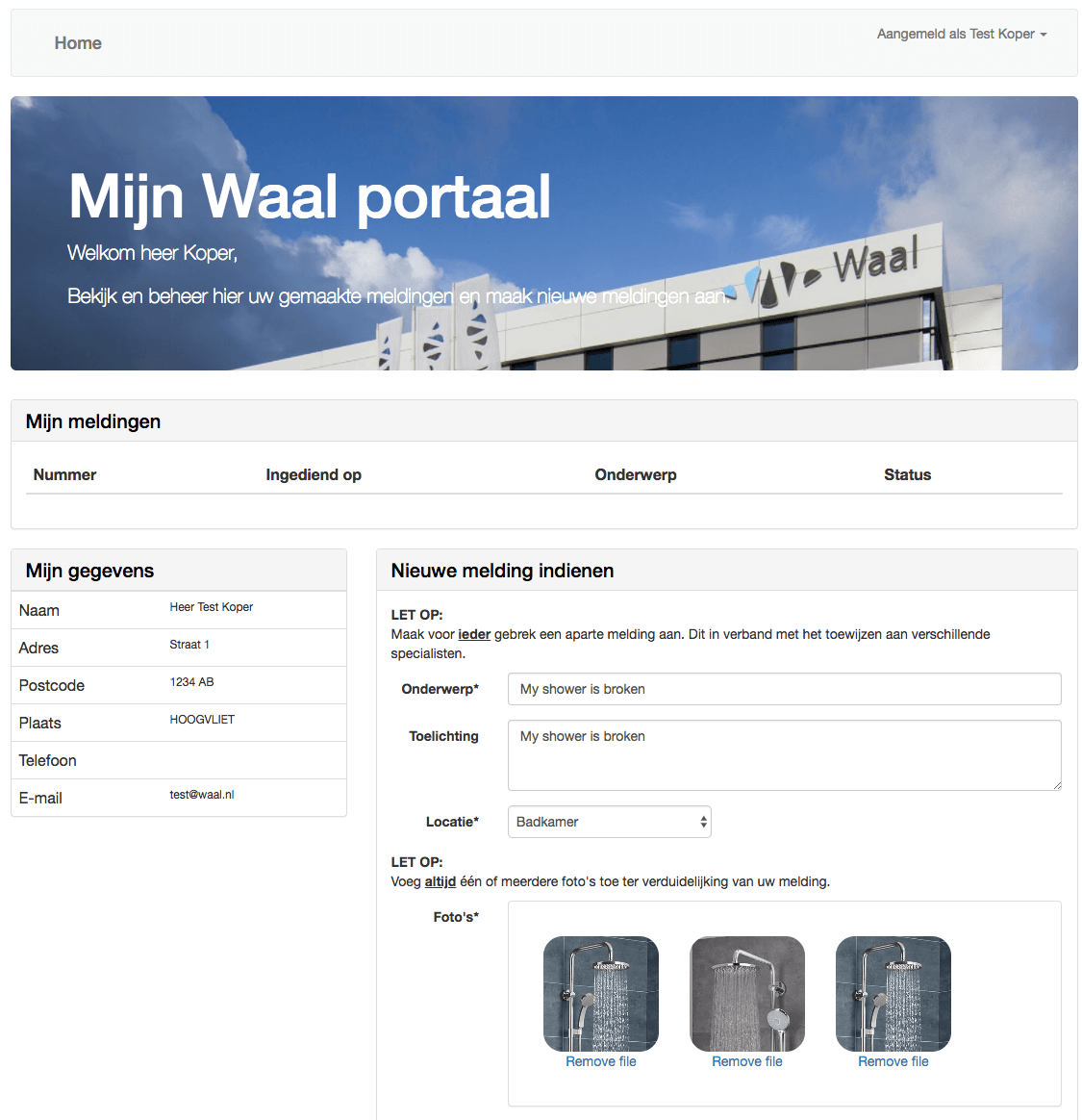 Example
Construction company, Waal, needed to improve customer engagement and relationships.
The problem: a time-consuming and inflexible process when trying to contact the company made for a poor customer experience.
The solution: digitizing their customer service with the Betty Blocks platform. Almost entirely by themselves, the team at Waal built a new web application that enables a more efficient and user friendly customer service process. This leads to a much more positive customer experience, which in turn leads to an increase in business opportunities.
The customer portal is used publicly and is connected to a back-office for Waal's internal operations.
Bonus!
Check out this web application in our app gallery below for generating quotes. In this example, we used a moving company, but of course this kind of web app can be used in any sector for customers to easily and quickly obtain quotes.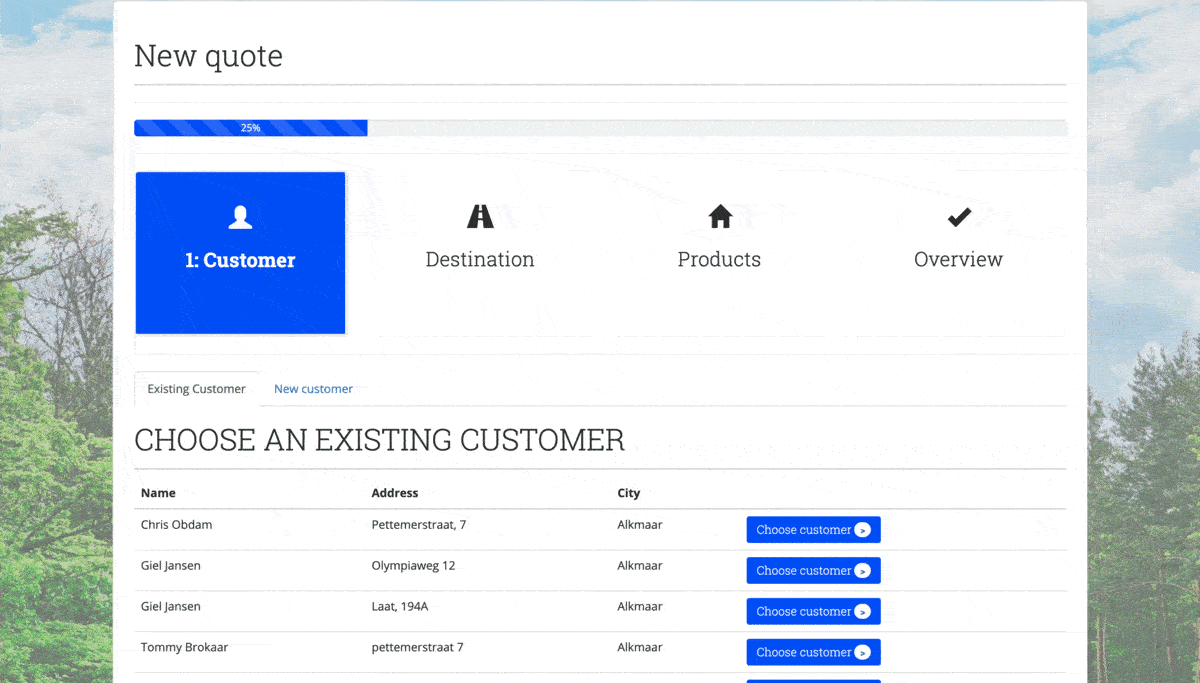 Mobile applications
According to Social Media Today, in 2018, mobile apps accounted for nearly 50% of internet traffic worldwide. With around 175 billion apps downloaded yearly, that percentage is only set to grow.
So more people than ever before are using mobile applications — what does that mean for my organization? It's all about customer expectation. As the use of mobile applications grows, as they become more and more an essential part of our daily lives, we simply come to expect a customer service experience that tallies with what we're used to. We know how convenient mobile apps are, how easy to use and effective they are. As customers, it's simply not our problem if a business hasn't made the move into the 21st century.
So how do you meet these demands? Well, you start with a web-based application as your base to provide full access to all elements of a web browser. Then you are completely free to create any mobile page you want in HTML, CSS, or JavaScript. With your base web application connected, all your back office features will automatically shine through.
Example
Zuiderzeeland Regional Water Authority provides a crucial service. They work around the clock to both treat wastewater and protect the area from flooding and drought.
Until recently, many of their calculations were done on paper. This was an error-prone, time-consuming task – until Project Manager, Leslie Postema helped create a mobile application which allowed employees to enter all their critical data on the move.
The application provides their experts with real-time insights into measurement data, in turn helping them keep the region safe. See more of our Apps in our gallery below!
Bonus!
Click here to see how Atlanta United's STEAM Tours used Betty Blocks' no-code platform to build a mobile application to engage students in education. Key features of Atlanta UN's mobile app include:
Integrated questionnaires and real-time feedback with both images and text;
Native mobile tours on different topics to teach students about science, technology, engineering, arts, and math;
Digital trophies for students upon completion of courses, providing vital positive motivation.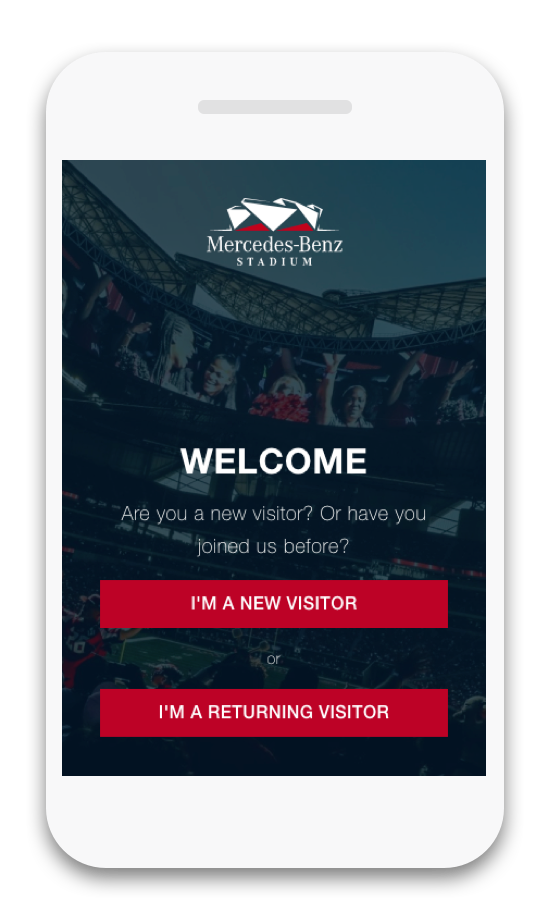 In this article, we looked at the main types of applications you can build with a no-code platform, but we've only scratched the surface, really. The options are limitless. Basically, any application you can think of building with traditional coding, you can pretty much build with a no-code platform (but faster). And, of course, this goes for every sector, from healthcare to law, finance to logistics, education to government, and so on.
As our appetite for software increases, the need for no-code technology will grow, too. With it will come even more opportunities for developing advanced applications no-code.
For more awesome examples of applications built within the Betty Blocks no-code platform, check out our app gallery below!