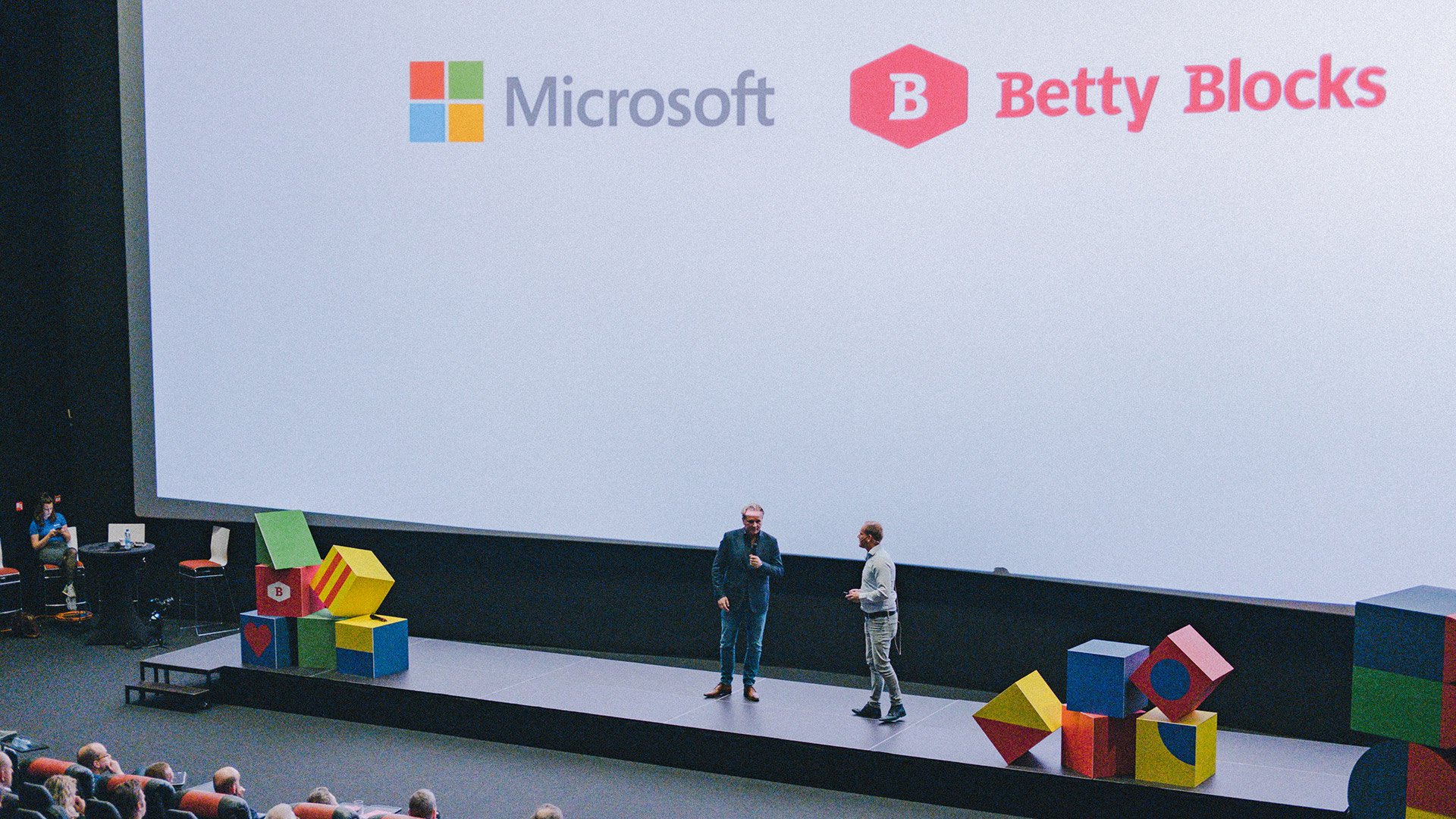 Press Release - 14 March 2019 - The Netherlands Microsoft and no-code platform Betty Blocks announced a new partnership today at Betty Blocks on Stage 2019, joining together on a mission to bring the ease of no-code development to all Microsoft clients. A major endorsement for Betty Blocks, the partnership also supports a global vision for Microsoft to facilitate innovation by investing in new ideas, especially by catering more to the start-up and scale-up market.
"Microsoft is committed to expanding its start-up and scale-up activities with the promotion of solutions that have the potential to become innovation drivers for The Netherlands," said Ernst-Jan Stigter, General Manager Microsoft Netherlands. "We want to enable Dutch start-ups and scale-ups to build, grow, and connect through our ecosystem." Through a co-selling program, the collaboration will make it possible for Microsoft customers to benefit from the agility and flexibility of the no-code platform and gain a competitive advantage.
Betty Blocks, a fully cloud-based platform, will also now run on Microsoft Azure. This offers all users, from start-ups to corporate organizations, the freedom to build complex applications in a rapidly scalable environment — without having to have any coding skills at all. The power of Microsoft Azure brings additional services, smart apps, and AI functionalities to a trusted platform, which users can take advantage of alongside the speed and agility of developing with no-code.
Ralph Duin, VP of Sales at Betty Blocks said: "We are extremely proud of the collaboration with Microsoft. We offer all citizen developers the best of both worlds: the flexibility and ability to carry out digital transformation rapidly with our platform, combined with the power of the Microsoft Cloud and all the computing services it offers." Citizen developers benefit most from using Betty Blocks: as business professionals without an IT background, they can use the platform to build the applications they want, without having to write a single line of code.
Hosted on Microsoft Azure, Betty Blocks now offers customers at the enterprise level even better flexibility, security, and scalability. Enterprises can use their own existing Azure subscriptions, and can scale the Betty Blocks platform — and citizen development vision — enterprise-wide.
About Betty Blocks
Betty Blocks is the fastest growing no-code platform in the world. It is the first no-code platform where users work fully in the cloud and offers organizations the freedom to build complex applications quickly and efficiently. The platform is fully ISO certified and is seen by analysts as a visionary in the market. The company is growing fast, and not only in the Netherlands. There are now offices in Great Britain and the United States and partners in Germany, Japan and South Africa.
About Microsoft
Microsoft (Nasdaq "MSFT" @microsoft) enables digital transformation for the era of an intelligent cloud and an intelligent edge. Its mission is to empower every person and every organization on the planet to achieve more.
More Information
Jolanda Jansen, +31 655 56 70 57, jolanda@bettyblocks.com
Microsoft Persdesk, Office: + 31 20 500 25 55, persdesk@microsoft.com