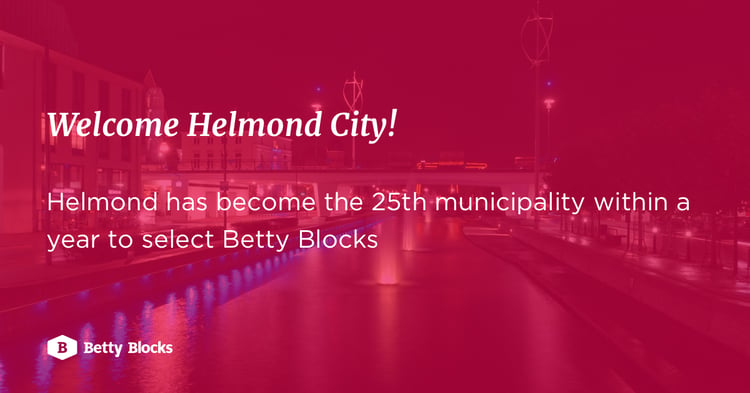 Today, the Municipality of Helmond has signed a cooperation agreement with Betty Blocks, with the aim to increase the digital service provision innovation and lower its costs. Helmond has thus become the 25th municipality within a year to select Betty Blocks. The technology company offers an innovative cloud development platform which allows applications to be developed 8 to 10 times faster. With considerable lower costs compared to what traditional IT-companies currently offer.

Municipality Helmond wants to continuously innovate
The most important goal of the municipality Helmond is to support its employees and citizens with digital facilities in the best possible way. To realize that goal, municipalities constantly have to look around to find innovative solutions. In cooperation with implementation partner QNH, Helmond designed two innovative web applications concerning municipal concern-planning and member administration for the employee association. In the process, an outdated MS Access database as well as an Excel spreadsheet have been replaced.

Citizens and companies expect high quality digital service provision
Digital service provision is an important focus point for municipalities, as this enables them to streamline processes in a faster and cheaper manner. This allows them to meet citizens and companies growing expectations regarding online service provision. Whether it is about requesting a permit, planning a meeting or downloading very specific documents, Dutch citizens want it to be done digitally. Currently many municipalities work with outdated ICT-systems and old-fashioned paper documents. Luckily, an increasing number of municipalities select innovative solutions, like the one provided by Betty Blocks. Among others, the municipalities of Amsterdam, Zaanstad and The Hague have already implemented the platform and a large number of applications already run inside the respective domains, like the Social domain. Currently 20 municipalities run a pilot to determine if the platform also can work for them.