The engineering and construction (E&C) industry is on a very unique growth track compared to traditional businesses. Where other sectors have been quick to adopt digital transformation to optimize processes, E&C has remained quite traditional with regard to software. Instead, E&C companies have prioritized newer, high-tech materials and accommodating mandated security protocols in their day-to-day operations.
From the outside, this approach might look purposely conservative, however, E&C organizations are heavily reliant on manual processes or third-party software to support their efforts. Not because there isn't any interest in new software but because the scale of digital transformation needed is very large indeed.
Targeting the pain points
More than any other industry, E&C organizations know that no job is ever too big. Such large software gaps here are actually an opportunity for construction companies to shake off the conservative image and make huge changes with a minimal investment if done right. The only question is: where to begin?
The idea for companies like KH Engineering and eX:plain has been to target four major pain points:
1. Little to no process automation tools
Certainly not unique to E&C this is still one of the major stumbling blocks for organizations of all sizes. Simply put, whether out in the field or running projects from headquarters, manual work in any form is an efficiency killer. Sure, good old Elon Musk is making headway for true robotic automation, but for now, the best direction would be to start by automating Excel or form-based processes.
2. Error-prone safety tracking and reporting
According to Safety & Health Magazine, "During a 45-year career, there is a 1 in 200 chance that a construction worker will die from a work-related incident." Of course, safety processes are in place, but almost all of them are entirely manual. For most sites or premises, manual forms are used to document personnel, incidents, movements, and daily activity.
These are only truly useful in retrospect, providing almost no real-time information which can be used to prevent incidents before they actually occur. To see what a solution might look like in practice, you can check out eX:plain's story here.
3. Slow and outdated communication chain
The construction industry is expected to become a staggering $17.5 trillion sector by 2033. With that growth, communication between vendors, clients, and consultants will be more vital than ever. Right now, it's mainly handled through decentralized processes like email, phone, or private messaging. Not only is that slow, but these methods of communication can be extremely prone to human error.
4. Third-party software spiderweb
The fourth pain point really comes as a result of trying to address the above points with off-the-shelf software. Problem is, these generally only fulfill 50% of your needs and you soon need another, and another, and another. Again E&C isn't alone here but the network of third-party software can quickly become pricy and very unwieldy to use properly.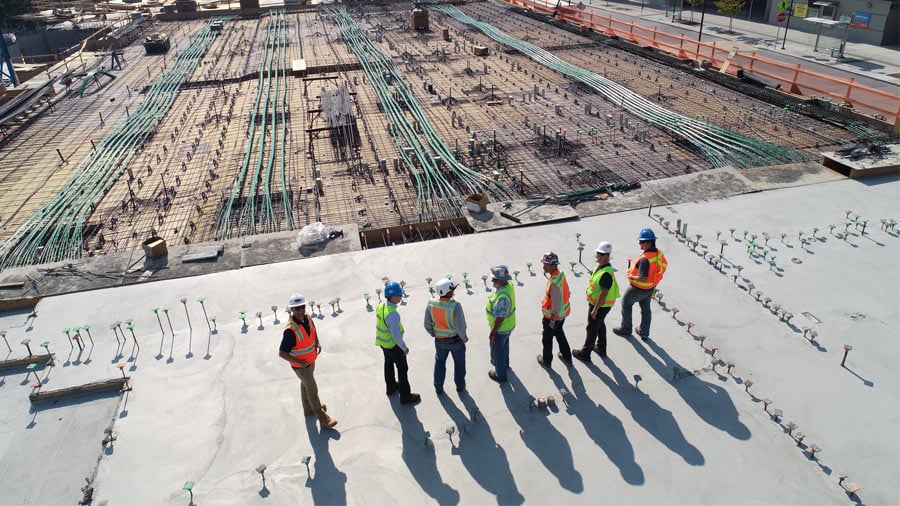 How are E&C leaders are driving change now
Sure, just these four points alone cover a large chunk of any construction or engineering organization's business. Never fear though as innovation-driven E&C leaders have already begun to tackle these issues and there is a lot that we can learn from their success:
Drive focused change
Trying to tackle everything at once will quickly overload even the largest or most experienced teams. Prioritize your issues, break down issues into more manageable tasks, and finish projects before moving on. Read Teyler Consultancy's case here in which they started with the very basics: replacing Excel.
Centralizing systems
Cloud-based computing is invaluable for taking information out of manual processes and into a real-time, secure database that is accessible by those who need it. Since there are so many moving parts in E&C, taking advantage of the cloud by centralizing systems will go a long way to making sure everything runs smoothly.
Training personnel
Having protocols, safety procedures, and guidelines only work when people follow them correctly. Dynamic Management Systems, a South African based company is using no-code to build tooling to train personnel on exactly how to use their equipment and follow procedures to the letter. After all, prevention will always be better than a cure (certainly better than broken bones!).
Analytics
When the industry is facing down massive growth, being able to accurately show… well, anything and everything happening at a given time is crucial to landing investments and contracts. By setting up proper reporting tools now, companies can use them to investigate process-related issues that may not have been apparent beforehand.
Where can E&C get started?
As we've seen, construction and companies have already started to mobilize towards digital transformation. Enabling their workforce in brand new ways with brand new technology or systems. With so much room to grow, change may begin slowly but is guaranteed to accelerate in the near future. Right now, as a E&C organization, this is the time to think about what the future will look like and take what steps you can to be a part of that.
For a more detailed breakdown of digital transformation and the software landscape in E&C right now, head over to our knowledge page. Here you'll get some more practical advice on exactly what can be done right now and how things are likely to change in the near future.