How can a legal firm or in-house department select the right tools? When should a solution be implemented? What does a fully integrated, future-proof legal tech ecosystem look like? Why are legal firms DIY building solutions for their clients?
These are some of the key topics and themes we picked up on and discussed at Legal Innovators UK 3.0 in London. Created by Artificial Lawyer and organized by Cosmonauts, Legal Innovators took place from 10-11 November 2022, and showcased the front-running trends, challenges, and innovation in technology and the law.
The first day of the event was focused on law firms and alternative legal service providers (ALSPs), while day two was centered around inhouse and legal ops. Throughout, the event featured over 60 speakers and panel discussions, around 22 exhibitors, more than 400 participants, and countless topics and themes.
How can a law firm or in-house department establish a future-proof legal tech ecosystem, and build powerful tools for clients? Here are our key takeaways from Legal Innovators: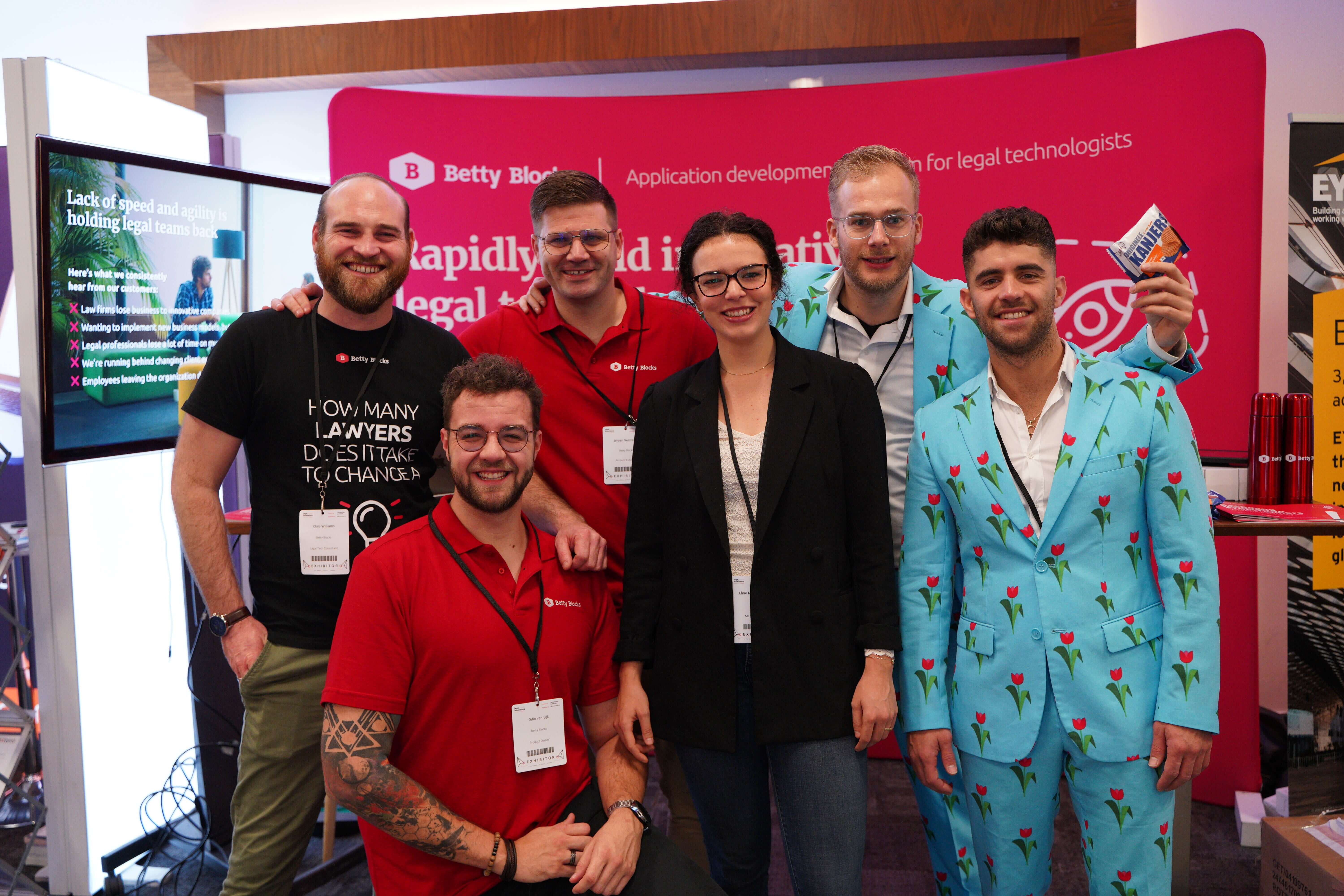 The team at Legal Innovators London
The ingredients for a future-proof Legal Tech Ecosystem
Throughout the legal industry firms and in-house departments are working hard to onboard the right tools to optimize business processes, elevate the customer experience, create new lines of business, and stay competitive. However, it takes hard work to select tools, integrate solutions, and do this in a way that is future-proof.
1. Selecting the right tools
Think of onboarding legal tech solutions the way you think about hiring a new team member. You want to hire someone who is knowledgeable, innovative, and capable - whose experience and abilities map onto the needs of your team. You want there to be a culture fit and symbiosis between your new hire and your existing team. At the same time, you want your new hire to push the team further by bringing new ideas and solutions.
Selecting the right tool (or hire) begins with truly thinking through and understanding your needs. This is something that Zach Ambramowitz, founder of Killer Whale Strategies, noted during his presentation at Legal Innovators. According to Zach legal tech is crucial for retaining talent, getting more business, and staying competitive. This means that we need better, and the right, tech solutions.
2. Integrated and collaborating
The legal industry is under pressure to adopt quickly, solve problems fast, and keep up with the rest of the industry. To tackle this, law firms and in-house legal departments are onboarding various tech solutions to tackle specific problems. This results in an array of tools and solutions which solve problems in isolation, but add complexity and confusion in the grand scheme. Law firms and in-house departments end up with a tech stack consisting of component parts that don't speak to each other; cannot properly integrate or collaborate.
Relate this back to your new hire. You want your newest hire to be a fantastic stand-alone asset to your team. However, you also want your new hire to be able to integrate and collaborate with your existing employees, strengthening one another's abilities and strengths. You want to find a candidate who properly fills the gap and fits seamlessly into your team, and who matches the team on a cultural and operational level. Use this same mindset to think through your tech stack - onboarding new tools that build on top of your existing system.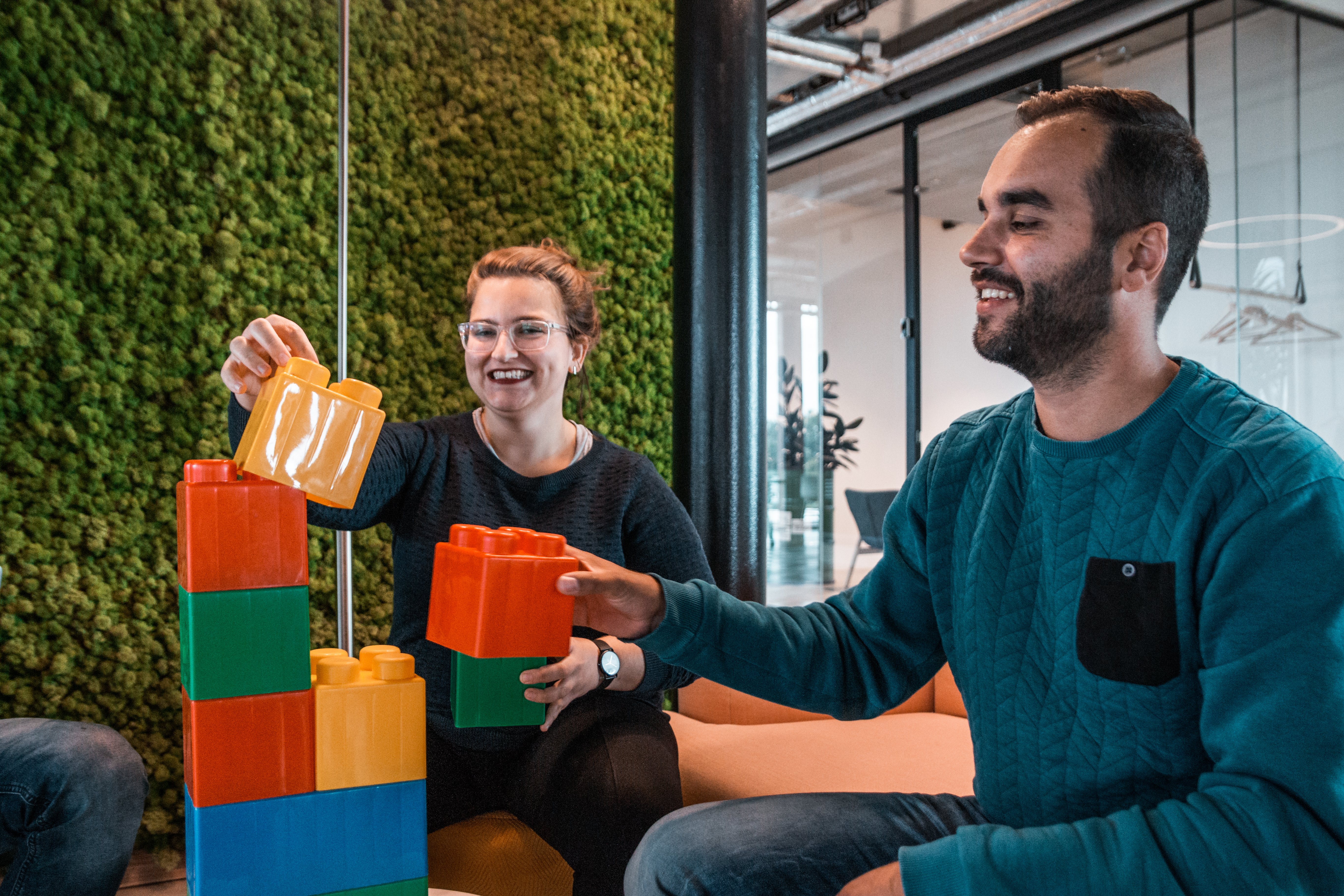 3. Agile and future-proof
Under pressure from clients, the internal business, and the competition organizations are often pushed to make quick decisions to fix the most urgent problems. This enforces a focus on the short-term, and means that law firms and in-house departments select tools only for the present, and not for the future. As organizations grow and change, they require a legal tech ecosystem that adapts with them.
When you're looking for the right hire you search for someone who is the right fit for your team not just right now, but also in the long term. You look for someone who has the ambitions and ability to grow in their role and will continue to meet the needs of the team. Additionally you provide someone with a growth plan and development trajectory to make sure you continue to invest in your people. The same goes for your tech solutions; look for tools that are easily adjustable, adaptable, and fix both your current and future problems.
4. Implemented for success
At Legal Innovators Roisin Noonan, COO of TLB, spoke on the challenges that law firms face when implementing technology. She noted that 77% of tech implementation fails, an alarmingly high percentage. This is a trend we have noticed amongst other industries as well. According to Roisin this is often due to a lack of preparation, unclear implementation objectives, insufficient stakeholder buy-in, and tools which do not fit the purpose.
Imagine how much smoother a hiring process would be if a culture interview was conducted with existing team members - ensuring that there is chemistry and alignment. This is the same concept as including end-users from the beginning of the tech implementation journey.
The right Legal Tech Ecosystem? Build it yourself
While you can't build your perfect hire (though maybe in a couple of years that is a reality), what you can do is build your own perfect legal tech stack. By leveraging low-code / no-code (LCNC) platforms - tools which enable business users to rapidly build solutions with a visual drag-and-drop way of working - organizations are independently building their dream tech stack.
LCNC tools enable business departments to actively participate in the software development lifecycle. This means that those who are most knowledgeable about the needs and issues of the business and its clients are those building the solutions to these challenges. Meanwhile, LCNC development enables organizations to independently build, adjust, and adapt their tech. As a result a self-built legal tech ecosystem continues to solve an organization's problem, thus ensuring a successful long-term innovation strategy and future-proof tech stack.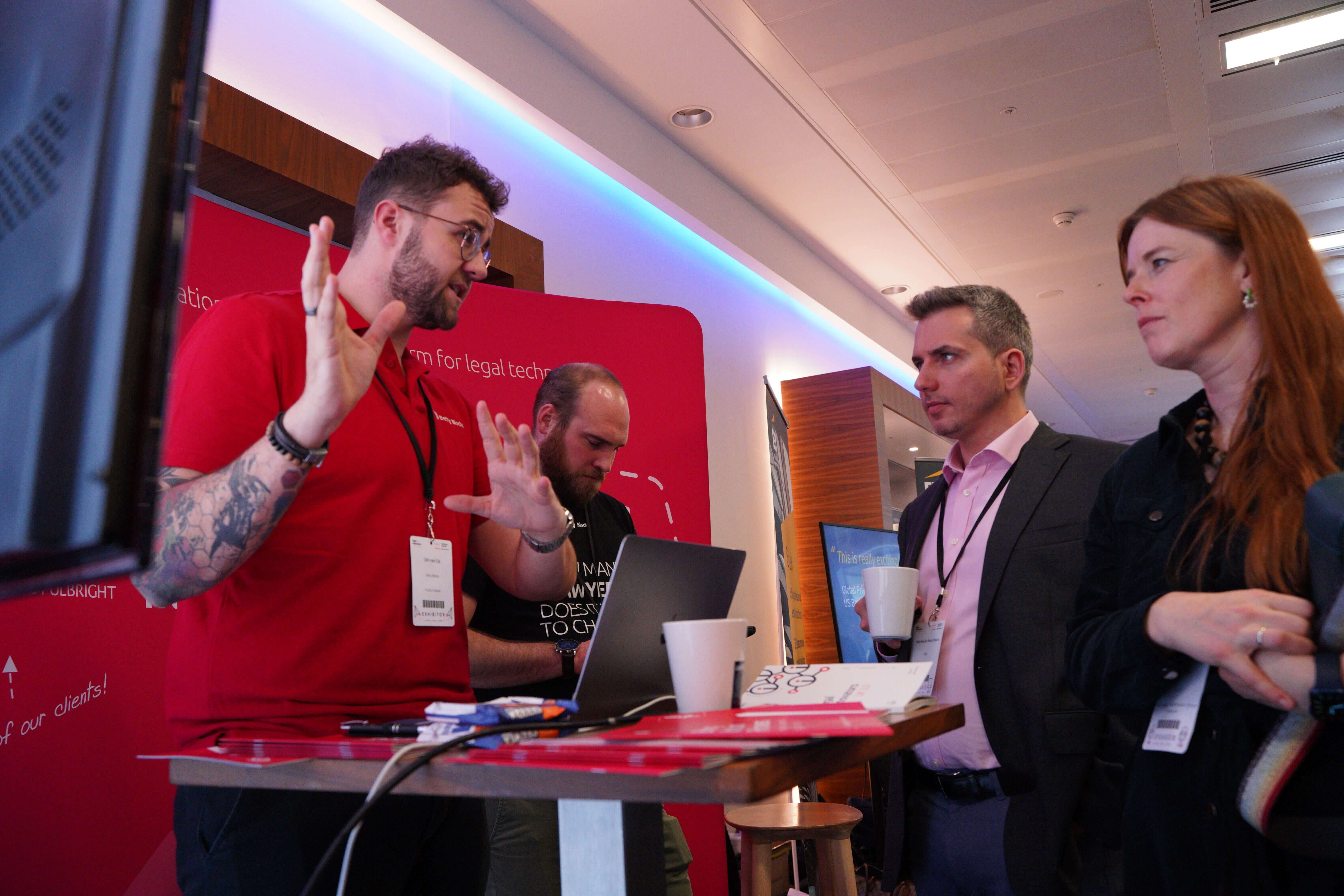 Odin Van Eijk showcasing what types of legal tech tools organizations can build
Thus, through LCNC development, your law firm or in-house department builds legal tech solutions which:
Are the exact right tools (because they are being built by those who are directly experiencing the issues or problems)
Are fully integrated with your existing tech stack (because you can integrate with your other solutions, and build an innovation layer around your legacy system)
Are future-proof (because you can make adjustments, add functionality, or adjust capabilities independently and easily so that tools grow with your organization)
Are quickly and easily implemented (because end-users are fully involved in the building process, and the tools being built are those which are really needed)
DIY building tools for clients
Frontrunners in the legal industry are increasingly combining their technological capabilities with their expertise, and coming up with new ways to support their clients. As a result law firms and in-house departments are increasingly DIY building tools for their clients.
On Thursday the 10th, our Legal Innovator Paddy O'Shaughnessy chaired a panel discussion on 'DIY building tools for clients'. This discussion featured Isabel Parker, Adam Curphey, Lucy Shurwood and Richard West. During the panel the speakers discussed the best practices for building customer facing tools, what types of solutions to build for clients, and different pricing models for these new services.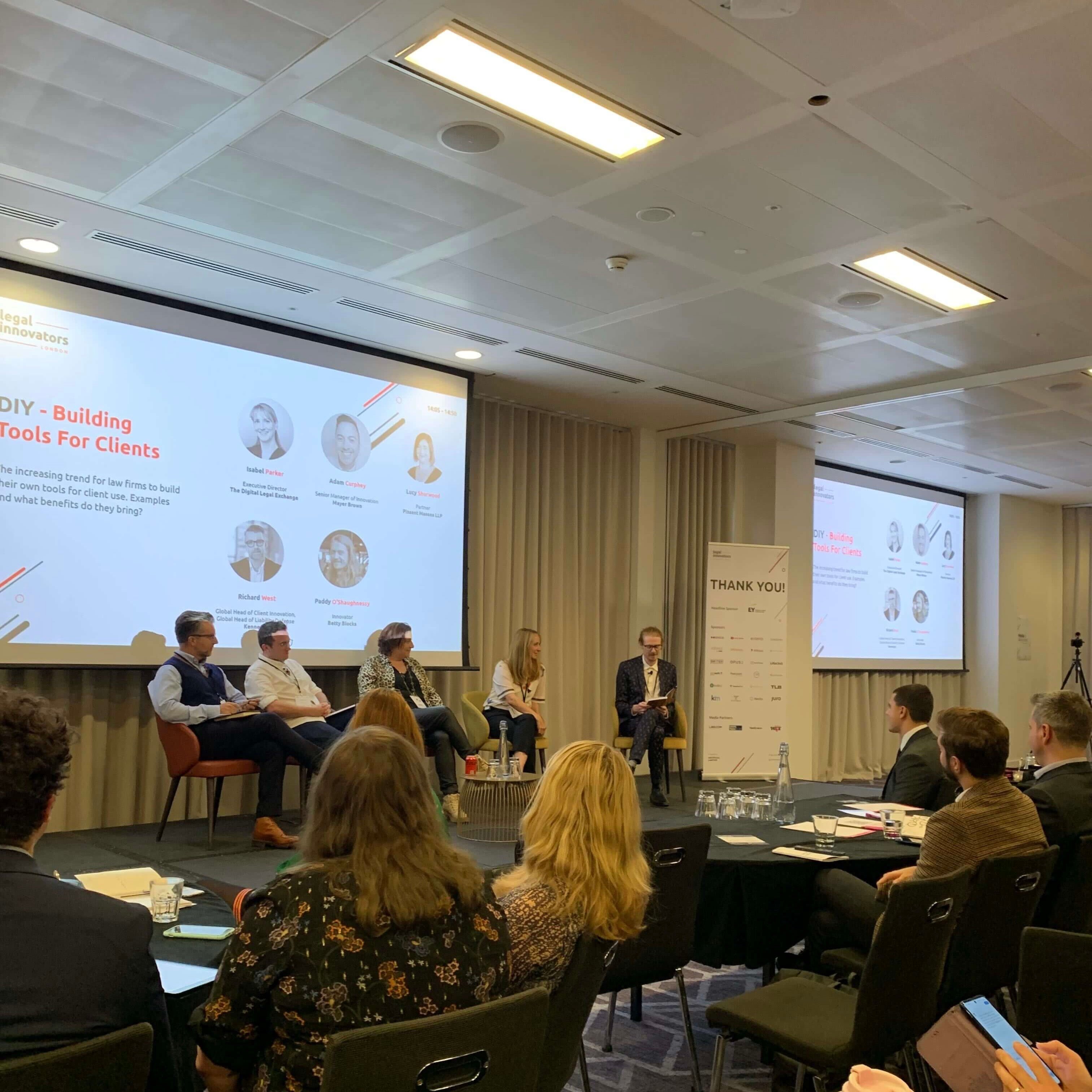 Paddy chairing the 'DIY - Building Tools for Clients' panel discussion
Our two cents on this? Law firms can build bespoke, differentiating, and future-proof customer facing solutions by leveraging low-code / no-code (LCNC) technology. LCNC platforms enable business users without coding capabilities to participate in the application development process. As a result, those with the most intimate and accurate customer knowledge and experience are building the solutions to clients' problems. Meanwhile the IT department maintains full governance and oversight, and IT and the business are aligned through close collaboration on one platform.
Any firm knows that client needs and requirements are fickle, and it is a firm's job to keep up with them. This means that the tools built for clients have to be just as responsive, agile, and adaptable as a firm's services. By leveraging LCNC technology, firms always have the capabilities and opportunity to make adjustments to their tools' functionalities. This can be done instantly without the need for hard coding, or outsourcing developers. As a result, firms can use client tools to respond instantly to their clients needs. Meanwhile, the solutions - adapting and growing together with the client - stay relevant and future-proof.
Conclusion
Legal Innovators UK 3.0 demonstrates that law firms and in-house departments are building future-proof legal tech ecosystems and differentiating client tools. Not only this, but industry leaders are leveraging low-code / no-code (LCNC) platforms to independently build internal and client facing solutions. These tools are bespoke, fully integrated with existing systems, scalable, and future-proof.
A huge thank you to Artificial Lawyer and Cosmonauts for creating and organizing this event, and a shout out to our own legal technology advisors and legal tech solution engineers for representing Betty Block
Are you curious about what types of applications industry leaders are building, and what in-house development looks like in practice? Check it out here: