2023 has started, and this year Chrissie Lightfoot, aka #TheNakedLawyer, is forgetting about trends and predictions, and sticking to the facts.
As a legal futurist and strategic advisor Chrissie is using her knowledge and previous experience to establish a future-proof strategy for securing "a more financially stable future." In her last two articles Chrissie looked for the next big thing in LegalTech and found ways to power through the recession.
Now Chrissie is pulling together what she knows about lawyers, the industry, and technology to look at adopting or implementing LegalTech. In her first article (Winter is coming - in search of the next HUGE thing) she established a list of the key six things her LegalTech should be able to handle. Since then Chrissie has learnt more lessons, done more research, and added another three requirements to grow a successful, lasting business which can handle current and future times of crises.
According to Chrissie, any law firm's or company's Tech should be capable of handling these nine key elements:
The entire life-cycle of their business
Ease, speed, and cost effectiveness
Complex design
Unlimited integration
Customisability
Re-usability
Interoperability
Streamlining
Multiple languages (human and machine)
In search of a technology which fits her list of requirements, Chrissie starts to "mull over the different tech platforms" she is familiar with. She starts "by giving Chris Obdam, CEO of Betty Blocks a call," and looking into Betty Blocks' 4-Week Guarantee. Chrissie Lightfoot is convinced that there are opportunities to be grasped (even during a recession) as she keeps pedaling towards an economically stable, successful, and bright future.
Curious to know more about what kind of LegalTech will help you keep pedalling in 2023? Download the full article or check out the sneak peek below.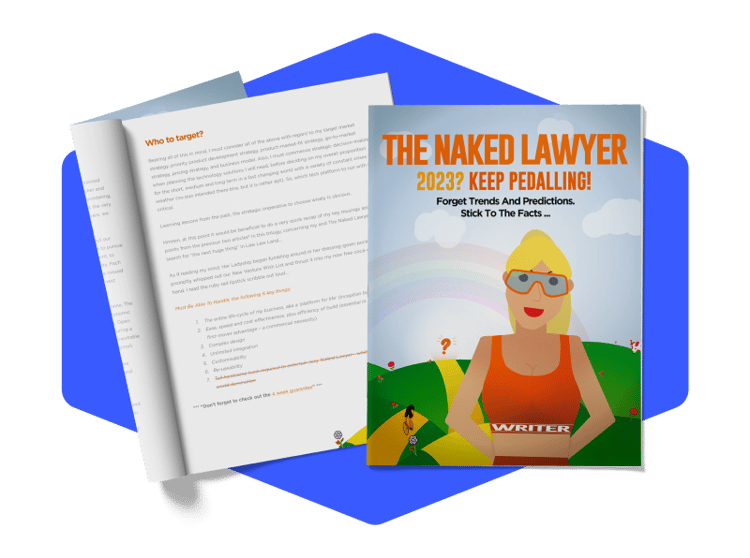 Let's see a little sneak peek...
For humankind, 2022 was overshadowed by many crises and challenges. The war in Ukraine. The long-tail of the Covid pandemic. Further natural and/or man-made climate disasters. Economic volatility in global markets. Cryptocurrency scandals, the FTX mass fraud being notable. Open AI's ChatGPT going mainstream far sooner than many anticipated. Political turmoil, featuring a year of almost unparalleled political skulduggery. Civil unrest in many nations. And, the inevitable knock on effect causing business, career and/or personal challenges in light of all this turmoil.
Yes, it was truly a year of highs and lows. In fact, so many it would be invidious to pick one as the stand-out 'event' rather than another. Indeed, I found it to be so, both personally and professionally. I bet it was also the same for many of you reading this.
What's more, I can't see 2023 being any different. Forgive me. And is this a prediction?
However, to get the New Year off to a blazing start let's see if together we can influence and manipulate the trajectory of our tumultuous lives. For now, let's forget the countless doom mongering scenarios, unstable trends and uncertain predictions already bandied around the media, on and offline. Instead, let's focus on how we can influence the social, political/governmental, economic, business, and legal eco-systems in a positive direction with an optimistic collective mindset.
Yes, I know, you might find that a strange suggestion coming from a legal futurist. Analysing trends and forecasts and making predictions based on playing out likely scenarios and strategies is what I do, right? But hear me out. Huge reality check… None of us, even futurists, can predict precisely what is going to happen, or when – ever! But as strategic advisors, we can at best guide by sharing our knowledge in relation to 'what if'(?) based on what has happened in the past, combined with sophisticated (scientific and/or AI enhanced) modelling as to what is likely to happen in the future. Plus, we share from actual experience. And we use our sixth sense, aka, gut feeling.
The facts...
A combination of all of these is telling me right now that we would all be wise to stick to the facts if we are to cut through the many challenges before us and achieve some positive movement with constructive outcomes during 2023, personally and professionally, spiritually (aka mindset) and economically, imho.
I'm confident that many of us not only wish to survive, but also to thrive in 2023 and beyond. An overused cliché "survive and thrive", I know. But if, like me, you are tired of having to react to crisis after crisis and would love to secure a more financially stable future, wouldn't it be great (and wise) to devise a 'futureproof' (using this word cautiously btw) strategy that is realistic, and based on known facts, rather than relying on governments, predictions and trends that can be scuppered by another left-field event?
…
---
Do you need to understand lawyers? Do you want to understand buyers of legal services and products? Do you desire to understand what kind of technological components will be most useful? Do you want to make wise company-wide, business-model and technology strategic decisions? Would you like to know the facts?!
Are you curious to know more? 😉 Read the full bumper article here: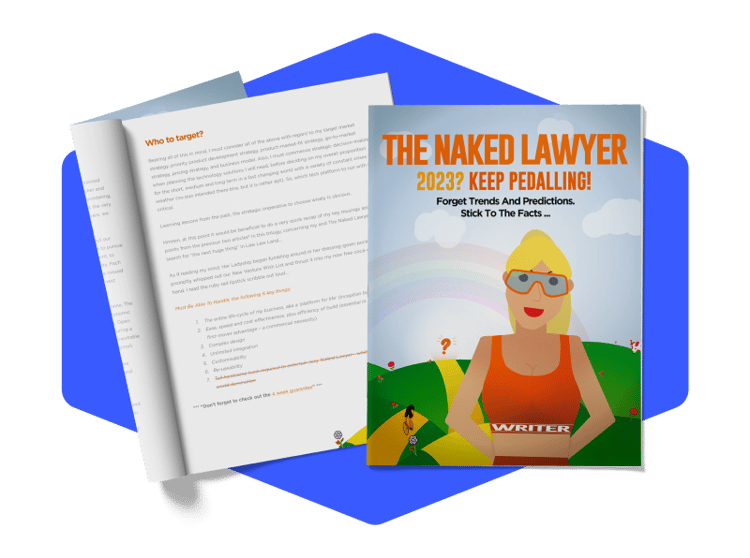 Chrissie is an Independent Non-Executive Director and Advisor, a global multi-award-winning Legal Futurist, Consultant, Influencer, Entrepreneur, Lawyer, AI LawTech Pioneer, Strategist, Marketeer, Brand builder, best-selling Author and Keynote Speaker. Founder and CEO of EntrepreneurLawyer Ltd. Chief Tech Advisor and Writer to Modern Law (Chair of the 'Technology in Law Law Land' roundtable).
*** This is the final installment of 'the Naked Lawyer Trilogy'. Did you miss the first two? Check them out here:
Article 1: Winter IS Coming https://hubs.la/Q01rc_HH0
Article 2: Winter HAS Come https://hubs.la/Q01tzydw0