In May, Betty Blocks had the pleasure of attending Future Lawyer Week 5.0 in London. Cosmonauts UK put together a great event, bringing together the legal sector to share ideas, network, and solve shared problems. The event featured presentations and roundtable discussions which touched on some of the most pressing issues in the Legaltech Space.
At the event, our CEO Chris Obdam presented on how no-code application development can foster innovation amongst law firms and departments. Additionally, Betty Blocks' Legal Tech Expert Jeroen Versteijne joined a panel discussion considering the ways in which no-code has gained ground on off-the-shelf solutions.
Most importantly, we got the opportunity to speak to over 100 legal knowledge- and stakeholders, from IT to Partners. Here are some of our key learnings and reflections from the event.

The Betty Blocks crew looking sharp at FLW
Risk averse, but starting to innovate
Legal as a sector and a function is still strongly risk-averse. With one of the primary responsibilities of legal departments and firms being to avoid risk, legal practitioners are facing many barriers to fostering a culture of innovation.
Firms are often still steeped in tradition, holding onto practices such as: hiring based on experience rather than innovation mindsets, using manual processes for various services, having strict role divisions, and maintaining a separation between the business and IT.
But the industry is gradually changing and adapting, warming up to the idea that technology and internal collaboration are crucial for innovation. Meanwhile, firms are increasingly focusing on empowering and upskilling themselves and their own workforce instead of outsourcing expertise and digital solutions. Innovation is thus occurring in-house as the legal industry goes through digital transformation.
The requirements for legaltech
Law firms and departments are increasingly expanding their techstack in order to optimize and digitize internal processes and elevate their customer support. Most importantly, legaltech is being used to:
Optimize client support and satisfaction
Create new revenue streams
Save non-billable hours
Free-up internal resources
Reduce risks
With an endless amount of options, firms are critically assessing their potential technology providers and digital solutions. Here are a couple of requirements that kept being discussed at Future Lawyer Week:
Integrations
It is important to remember that law firms already have an existing IT landscape. Crucial, then, are the capabilities for new tools and applications to integrate seamlessly and easily with these existing systems. Rather than functioning separately, tech solutions should build on one another to digitize processes end-to-end.
Support
As an industry rooted in client support and guidance, it is no wonder that law firms are searching for much more than just a technology provider. Instead, firms want technology partners who can offer consultancy, advice, and guidance to facilitate proper implementation and ensure success. Firms are interested in learning about best practices for implementing tech, and knowing how other clients are using the tools.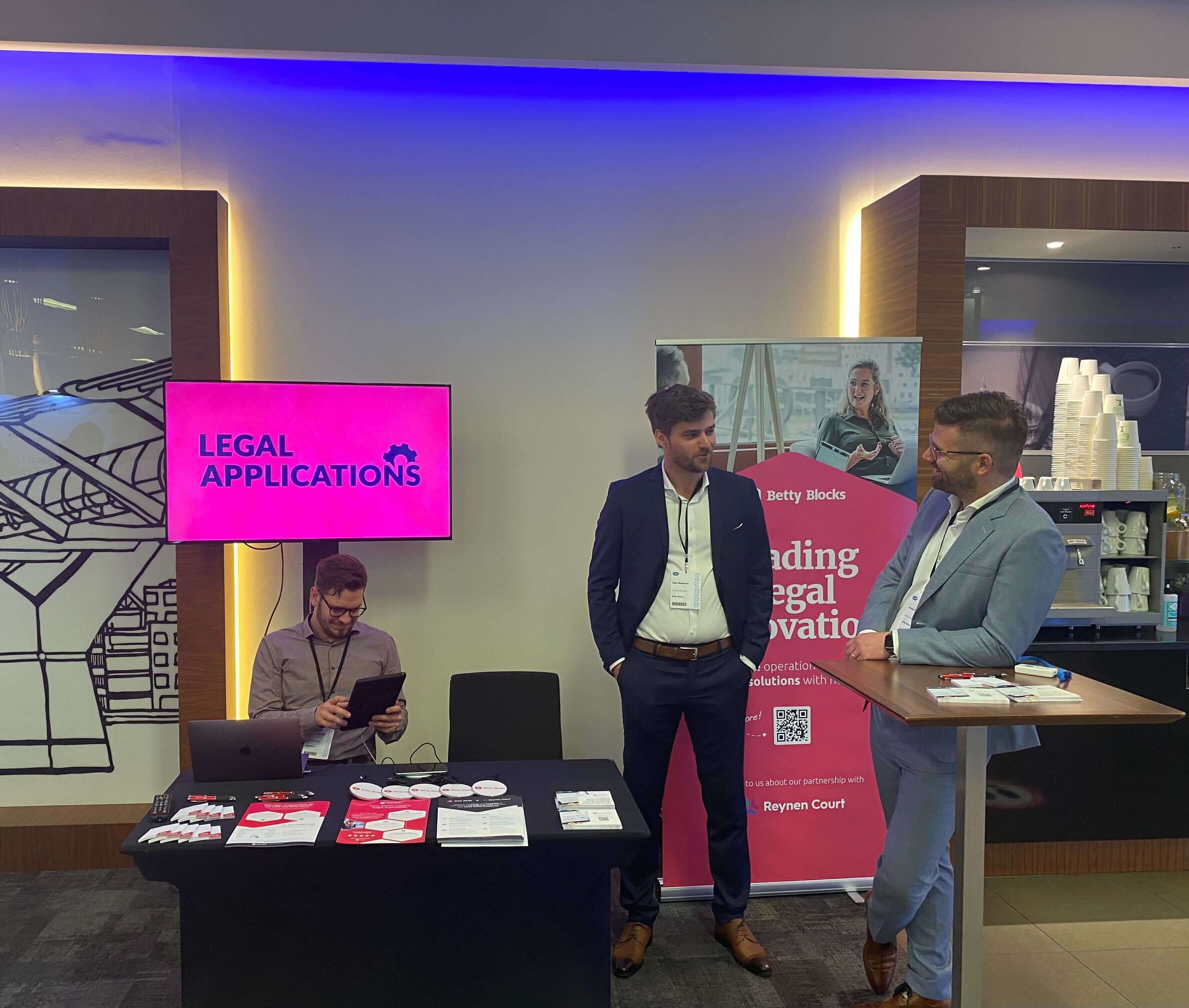 Marcel, Hans, and Jeroen at the Betty Blocks stand
Automating Manual Processes
At Future Lawyer Week, a central topic of conversation was the automation and digitization of manual processes. According to an EY survey, law department leaders report that 20% of in-house counsel hours are spent on repetitive, low-complexity, and routine tasks. By automating or digitizing these processes, firms can drive innovation, cut costs, and increase revenue.
The problem of time-heavy and slow manual and administrative processes was echoed constantly by Legal Technologists and CIOs at the event. Lawyers want more time to dedicate to actual billable hours, rather than spending time on slow manual processes. In some cases, more experienced lawyers are leaving their jobs to seek employment in smaller, more tech agile law practices where such processes are automated and digitized. All because they want to be able to make better use of their time. Tech-enabled automation, thus, is a key priority for firms. Take a look at what types of digital solutions law firms are building here.

The rise of client-facing applications
Throughout the legal sector, firms and departments are finding new ways to elevate their customer support and attract new clients. One of the major ways this is being done: offering customer-facing applications. Customers have increasing needs and requirements for quick, transparent, and digitally-facilitated services. Meanwhile the competition is strong, and clients have a wealth of choices to select from. Faced with choosy, digitally-literate consumers with high standards, firms have to innovate to stay competitive.
There are key benefits to developing customer-facing solutions in-house, rather than offering off-the-shelf products. Firstly: solutions can be created specifically for the exact needs of a customer, and are created by those who know the customer best. Secondly: applications can be quickly adapted and developed according to changing customer and industry needs. In the legal industry, low-code development solutions are being used to rapidly prototype client-facing applications and adapt quickly to change, without the burden of IT bottlenecks. Self-serve applications such as an Employment Law Guide Application combine a firm's expertise with their digital capabilities to elevate customer support. Read how law firms and departments can become future-proof by developing customer facing applications.
Cultural shifts
At Future Lawyer Week, a big topic of conversation was the cultural shifts which are already occurring and need to continue happening in the legal sector. Adopting technology goes way beyond the purchasing of a new application, solution, or platform. Instead, creating successful implementation means fostering the understanding of the need for, the benefits of, and the ways to properly use the technology. Often, shifts in culture, mindsets, and ways of working are thus required for the proper adoption and implementation of technology. Rather than digitizing existing processes or ways of working, firms should be analyzing their processes much more closely. How can a legal firm or department create a culture shift to integrate innovation into their DNA?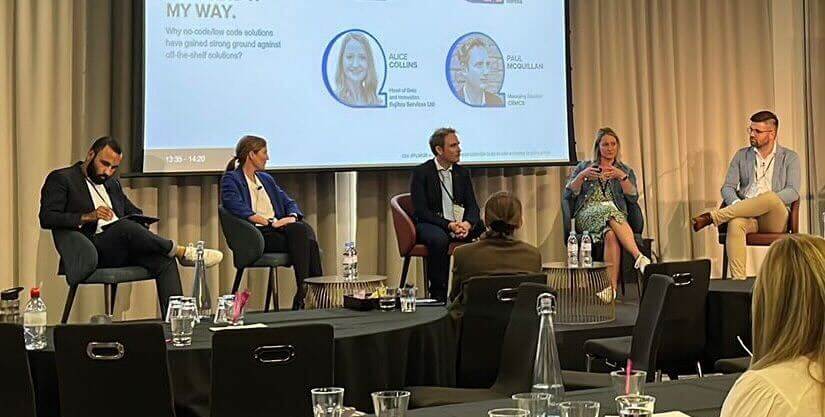 Jeroen (on the far right) representing Betty Blocks during the panel discussion
In Conclusion
There is an undeniable technological revolution happening within the Legal vertical, and events like Future Lawyer Week are proof of this. Innovation is encompassing every part of the industry and marking out the sector's front-runners. Supported by legaltech solutions, in 5 years law firms and legal functions will look very different from the way things are today.
One thing is for sure: events like Future Lawyer Week offer crucial and fantastic opportunities for listening to industry experts, meeting firms, exploring digital solutions, and networking. Betty Blocks will definitely return next year!
Special shout-outs to Chris Obdam, Jeroen Versteijne, Hans Berkhout, Jordi de Fockert, Marcel Korporaal, Chris Williams, Folu Adelagun, and Paddy O'Shaughnessy for representing Betty Blocks! And thank you to Cosmonauts for the organization of the event, and inviting Betty Blocks to join.
Interested to learn how law firms are using no-code for innovation? Read how Clifford Chance has used low-code/no-code development to build innovative apps and boost efficiency.