The fact that law firms need to digitize in order to stay ahead of innovative competitors and emerging legal tech companies is undeniable. According to KPMG, law firms and legal teams are continually digitizing and investing in technology. Everywhere virtual law firms and paperless offices are emerging as the legal industry is integrating technology into internal processes and client offers. The time for legal firms to onboard new technology and build applications has begun, and you know it. But here is the real question: how can your firm do this, and what should you be looking to build?

Time to Digitize
So you want to enable your law firm to build bespoke applications quickly, efficiently, and independently. But how? The answer is simple: empowering business users to participate in the application development process by self-building on a low-code/no-code (LCNC) platform. Without requiring any coding experience, those with the most knowledge about the needs of the business, its employees, and its clients, can be at the forefront of innovation.
Meanwhile, rather than relying on a slow-moving IT department using traditional development methods, LCNC technology allows you to conceptualize and build Minimal Viable Products (MVPs) in days, while validating and launching applications in weeks. A rapid application development time enables an immediate response to market needs and changes, while developing at double the speed for a fraction of the cost. Any legal application you want to build, be it a legal services request application or a cyber fraud tool, can be built using a LCNC platform.
Law firms at the forefront of the industry are those which can win over new and existing clientele through competitive technologically enabled services. Application development thus benefits a law firm two-fold: optimizing internal processes, and improving the client offer.
Applications built by law firms or departments fall under two main categories: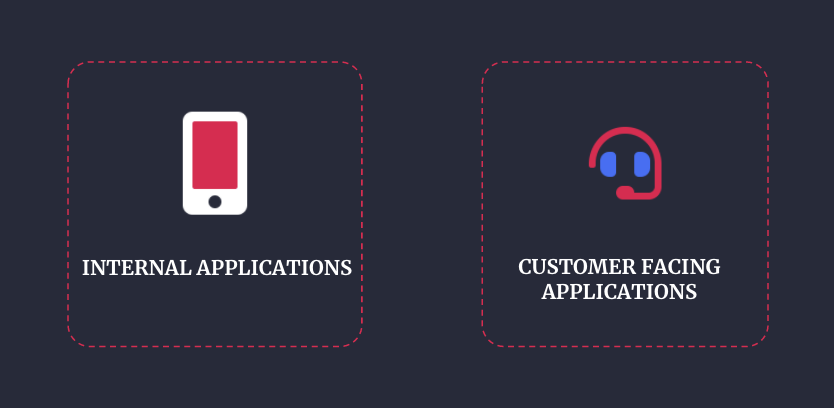 Let's take a closer look at what these two entail:
Internal Applications
Internal, or back-office, applications are used to automate, digitize, and optimize various processes which are traditionally done through resource-heavy and error-prone manual work.
According to an EY survey, law department leaders report that 20% of in-house counsel hours are spent on repetitive, low-complexity, and routine tasks. Thus, automating and digitizing key manual tasks frees up considerable time and expertise resources in your firm. In this collaboration between technology and human expertise, your firm is driving innovation, cutting costs, and increasing revenue. Internal applications, therefore, are crucial for optimizing processes within your law firm or department to improve the employee and client experience.
Customer Facing Applications
Customer facing applications are built for the use and direct benefit of a law firm's client base. While innovative internal applications benefit your clients by optimizing your law firm, this often happens behind the scenes. In order to truly stay competitive and become future-proof, law firms must invest in customer facing applications.
In today's market, consumers' expectations and wishes are constantly increasing. Enabled by digital transparency, consumers have the ability to choose between various offers and companies. Meanwhile, consumers are accustomed to self-service solutions facilitating their experience and service, be it online shopping, banking, or music streaming. These expectations are no different for legal services.
Through enabling LCNC development in your firm or department, you place those with the most intimate client knowledge at the forefront of development. Meanwhile, custom-building your client applications allows them to be unique and bespoke, while incorporating your specific brand, identity, and customer experience. LCNC application development is rapid, allowing your business users to respond quickly and efficiently to the changing needs of your client or market. It is often a company or firm's customer facing applications which sets it most visibly apart from the competition.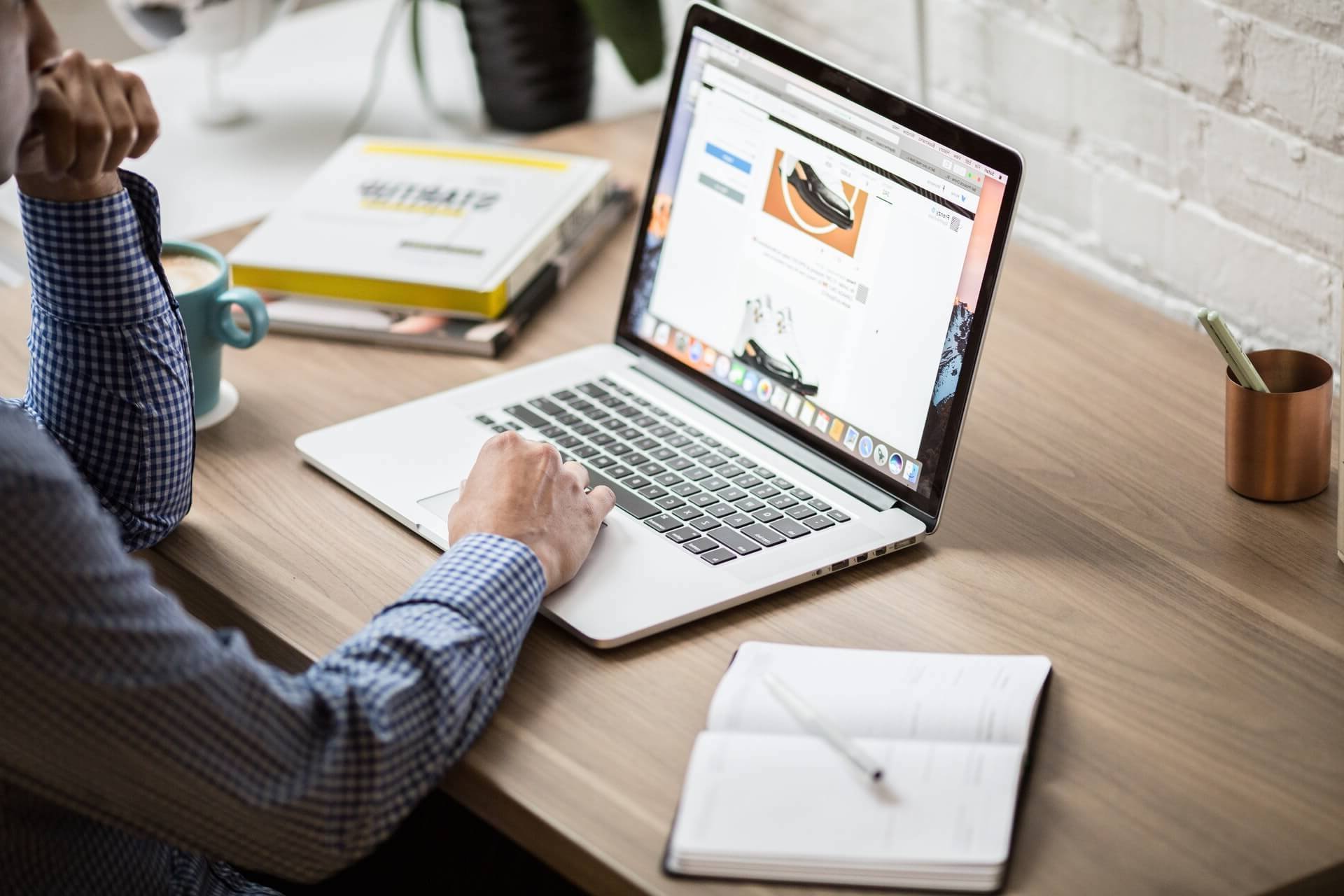 Time to Start Building
Any automation or reporting tool, digitized database, or client-communication application that you want to create within your law firm can be built using a LCNC platform.
Let's make all of this a bit more tangible by looking at six legal applications you can build without coding.
1. NDA Generator
Non-Disclosure Agreements (NDAs) are binding contracts regarding confidential agreements between two parties. These contracts are a crucial, but time-heavy and complex responsibility for legal departments. Through an NDA Generator, business users can independently self-serve, customize, and edit agreements according to their needs without consulting legal professionals. Meanwhile, through an application built on a fully governed platform, this process is secured and compliance with internal and external (legal) requirements is ensured end-to-end. Read how to optimize and automate your contract creation and signing with an NDA Generator here.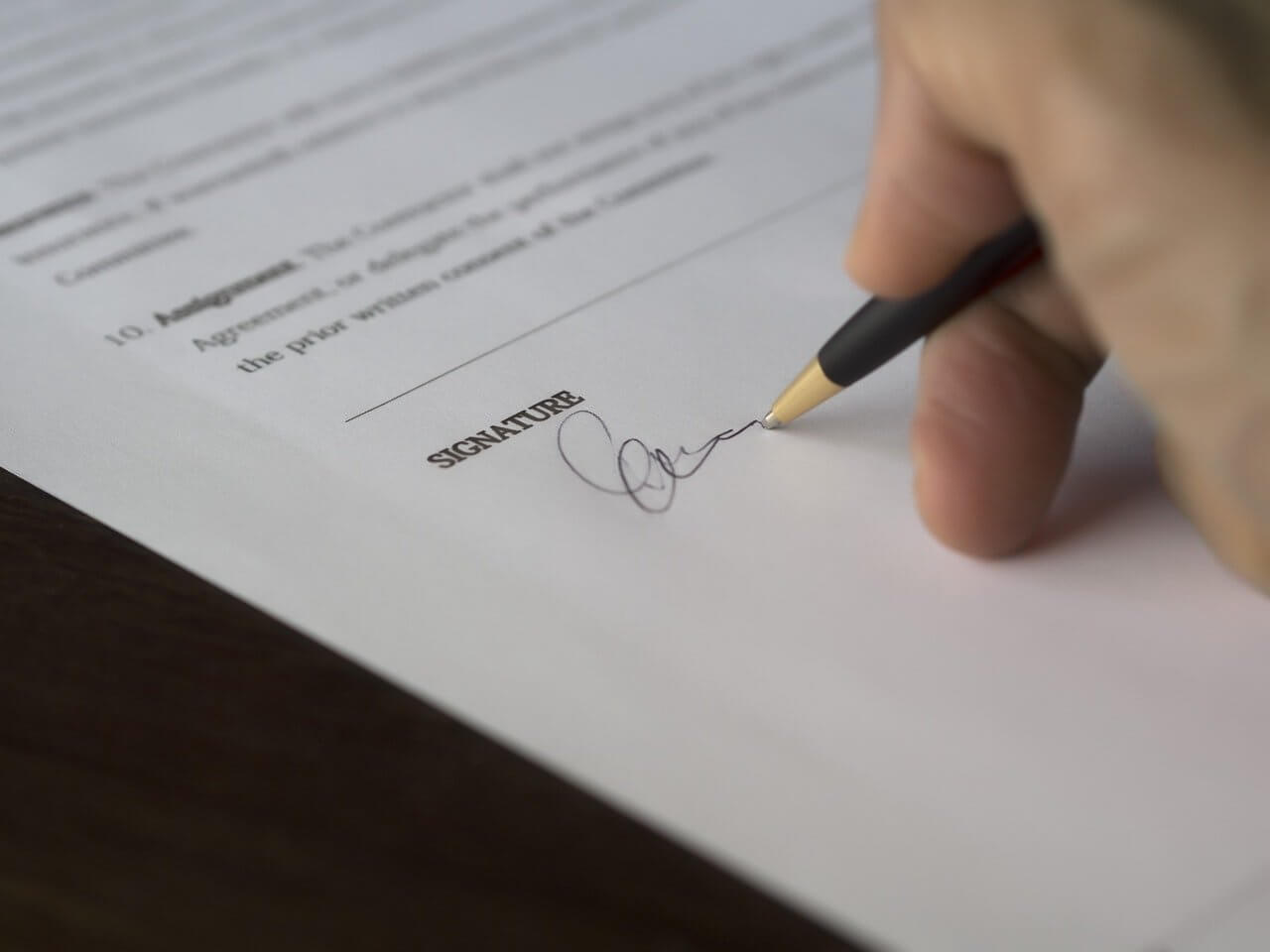 2. Planning Tool
Legal teams and lawyers are balancing an ever-growing workload of responsibilities, projects, and activities. Meanwhile, managing projects or coordinating staff for tasks still remains a time-heavy, manual, and complicated process. Through a digitized Planning Tool, legal firms and departments are empowered with a tool that makes the internal planning of time, availability, and projects streamlined and transparent. Read how to optimize your firm's project and task planning, and enable digitized insight into your workforce's capability and capacity through a Planning Tool here.
3. DAC6 Assessment Application
According to the European Directive Mandatory Disclosure Rules (DAC6), taxpayers and intermediaries are accountable and responsible for assessing and reporting on cross-border arrangements bearing any of the characteristics of tax avoidance. DAC6 signifies a time and resource-heavy reporting obligation with zero room for effort. Digitizing this process, thus, through a DAC6 Assessment Application allows your law firm or department to automate, secure, and digitize your compliance through a fully integrated, customizable platform.Read how to automate, secure, and digitize your compliance with cross-border tax agreements through a DAC 6 Assessment Tool here.
4. Legal Services Request Application
Law firms and departments constantly deal with huge volumes of requests for legal services. The ability to properly process, register, track, delegate, and prioritize these is crucial to the optimization of your firm and client offer. Through a customer-facing application, your clients receive high-quality legal assistance quickly, efficiently and easily without the unnecessary involvement of legal professionals. Meanwhile, all requests are vetted, standardized, and sent to the appropriate department. Read how to standardize and simplify your services request process with a Legal Services Request Application here.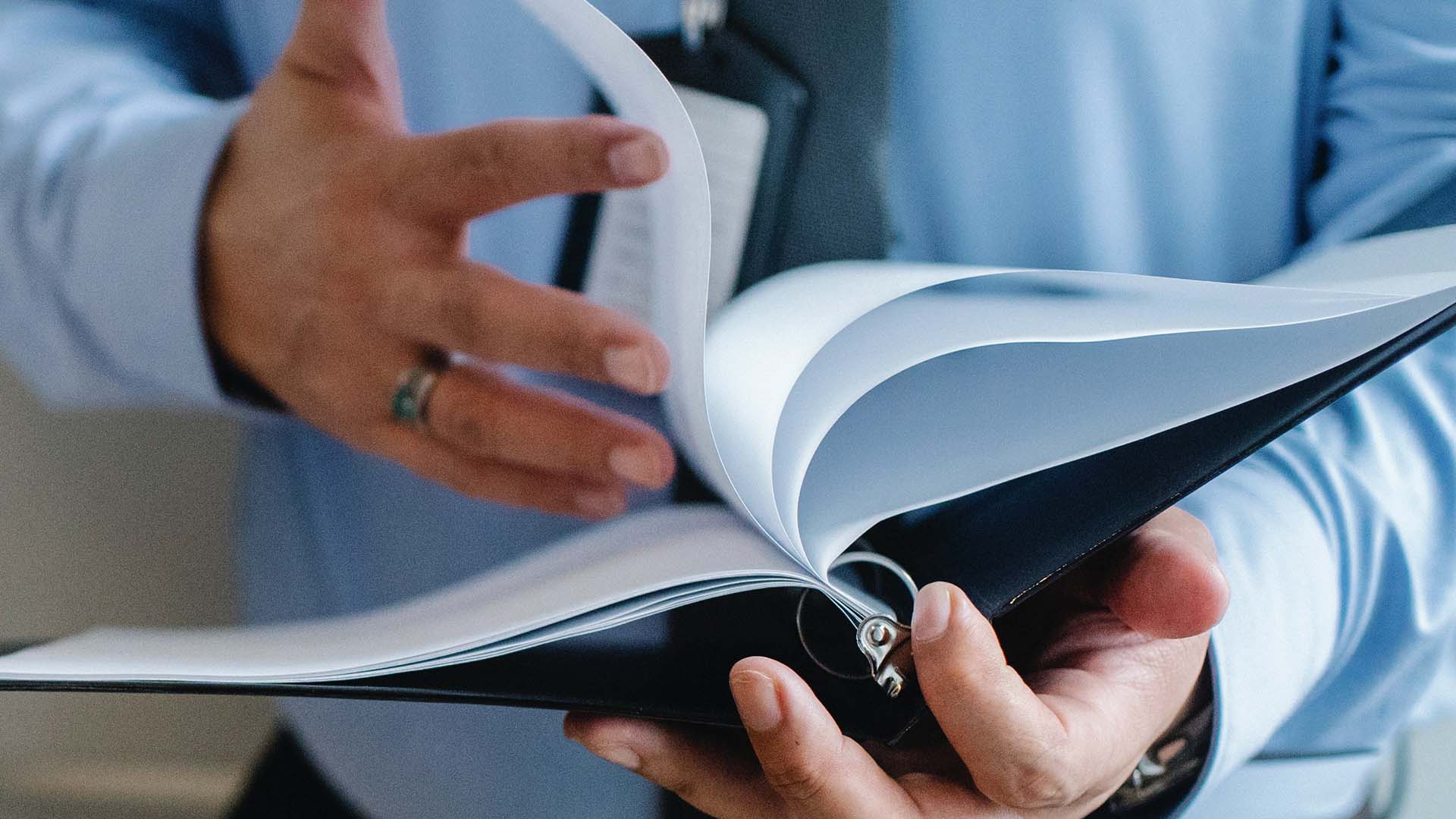 5. Pre-Assessment Audit Tool
Audits are formal inspections ensuring that a company is compliant with a set of requirements or regulations in order to achieve or maintain a certification. Through a Pre-Assessment Audit Tool, law firms offer their clients a compliance tool which guides them through the crucial process of preparing for an audit, identifying any nonconformities or issues ahead of time. The self-serve application compiles your firm's expertise and guidance, leading users through a customized set of questions. Read how to save time and resources amongst your legal professionals, cuts costs, and increases your customer satisfaction with a Pre-Assessment Audit Tool.
6. Employment Law Guide Application
One of the many services law firms and departments provide is empowering their clients with the latest, most accurate information regarding laws and regulations. Employment law is crucial, protecting workers' rights and ensuring safe working environments, and awareness around these legislations helps law firms protect their clients' interests. By making legal knowledge available through a self-service customer-facing application, you enable your clients to access information in a digitized, accessible, effortless manner without involving legal professionals. While saving your law firm time, this also optimizes your customer experience. Read how to centralize and digitize crucial information for your clients with an Employment Law Guide Application here.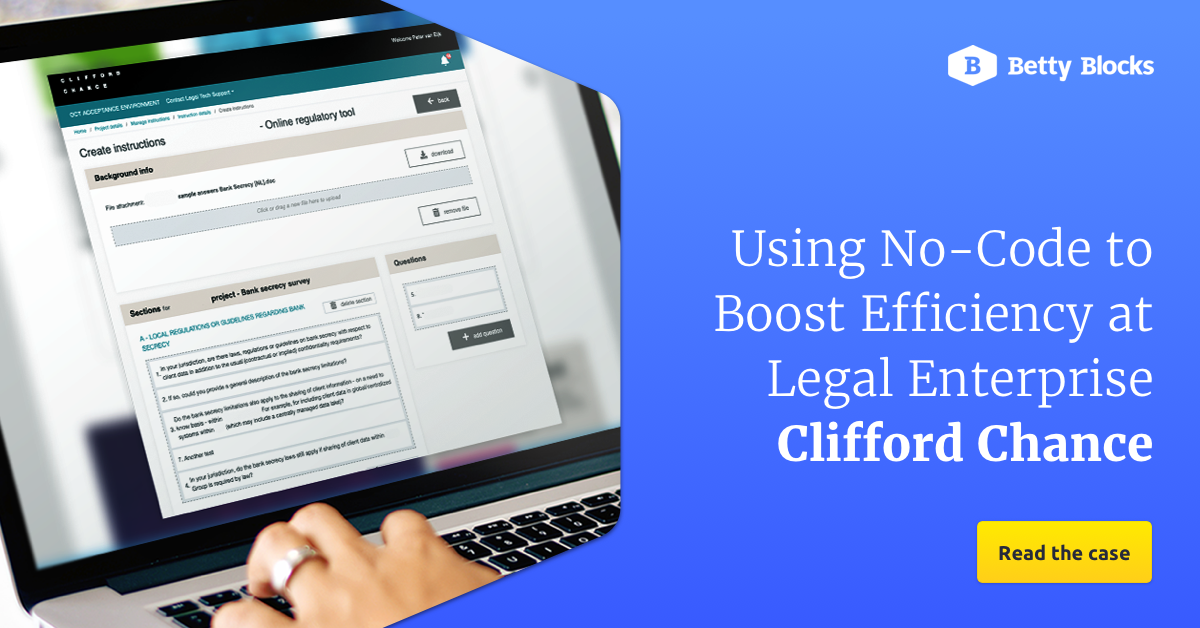 Your LCNC Empowered Firm
As you can see, LCNC development is the key to involving and empowering your business users in the application development process. The time to digitize your law firm is now, and the two key areas where you should be focusing your development efforts are internal (back-office) applications, and customer-facing applications.
While we have named some examples here, the options of what you can build with our LCNC platform are vast. Meanwhile, enabled by the platform, you can conceptualize and build MVPs in days while validating and launching applications in weeks.
Inspired to take the next step in your application development journey? Schedule a use case assessment with one of our experienced solution engineers. Assess your ideas through our use case framework and identify a viable use case.