Did you know that there's a whole department at Betty Blocks dedicated to helping customers build their first application? The Project Team. Their department doesn't get much time in the spotlight, but their office is right next door to marketing, so I figured I'd sneak over to find out more about that process. Luckily, Product Specialist Jasper Afman had a moment to spare and here's everything we chatted about.

What is the project team really?
We are the Betty Blocks Project Department, a group of guys and girls who make the application development magic happen behind the scenes. Some of that includes improving the Betty Blocks platform but we mostly focus on building applications for our customers.
Specifically, clients who absolutely need an application but aren't really sure where to start or 'how' to effectively innovate. That's why the Project Team is here: to give that ideal start without disconnecting our clients from what we're doing.
Tell more about yourself and your role
As a product specialist, I spend half of my time working with our developers developer and the other half communicating with clients. Since not everyone we work with is an IT professional, it's my responsibility to help transform business ideas into actual software solutions. Imagine my role as a communication bridge between IT's world and the business.
Once development is underway, my focus is on managing the application backlog, prioritizing features, and making sure each phase aligns with our client's final goal. Everything comes down to effective communication, especially because we're trying to deliver software to end-users that we're not familiar with. So, we'll always prioritize information before taking crucial steps in the development process.
What does your development process look like?
Unsurprisingly, our process begins when clients come to us with an idea. That first session is all about understanding their vision, target audience, and what specific needs their end-users have. In certain cases, we may run a 'Sprint Zero' (a 4-hour workshop) to create an application blueprint for the client.
From there, our primary goal is to start prototyping as soon as humanly possible. Since we follow an agile strategy, every opportunity to gather data is like Christmas for us. Every morning we discuss what we've learned and use that feedback to prioritize new features, make iterations, and zero-in on what the users really want.
Can companies contribute to the process?
While we might be the development muscle on a project, our clients have all the business knowledge. No-code lets us sit down with anyone in the business, show them what we're working on and they're able to understand how it all fits together. Regular discussions like that give clients the opportunity to tell us which features are needed, what's working, and what needs to change. Again, feedback is the lifeblood of 'agile' so the more info we get now, the better.
If companies want to take over the maintenance and development after the first project, then we can also help train their Citizen Developers. This is actually the ideal situation for us and ensures the company won't be left without a no-code developer to continue innovating after initial delivery.
Does no-code give your team any advantages?
I think the main advantage of working with no-code is the ability to have multiple developers working on a single project. Yes, it's cloud-based which is great, but the real benefit is just consistency across an application. It's almost impossible to have perfect consistency when hand-coding in a big team because everyone has their own way of doing things. Eventually, you'll try to work with someone else's code and lose hours trying to understand it.
What challenges do you see in the development world?
From my point of view, the challenge is almost always the 'unlimited possibilities' of software. It's like being a kid in a candy shop, with so many options to choose from that you quickly get overwhelmed. Many projects reach a point where progress freezes while teams try to get absolutely everything in an application before delivery.
As a company, you have to dare to go live with something that isn't 100% ready yet. It's absolutely better to have an application out there gathering practical data than one sitting in a development environment. This 'agile development' strategy isn't new but it is something which Betty Blocks developers and no-code are really good at.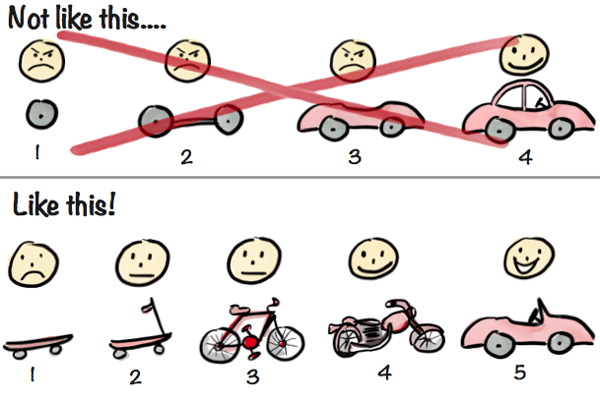 Is there a particular project you really enjoyed working on?
Super-fast projects are definitely my favorites. I guess faster projects just have an instant gratification effect, where features all come together smoothly and your end-users enjoy using the application.
I think anyone who works on a project basis will know exactly what I'm talking about.
Do you have any advice for new or Citizen Developers?
Make sure that you don't build an application for the sake of having an application. Get your vision straight in the beginning, set goals that you want to reach, and use these to evaluate success.
I know I've already said it but daring to go live with something that isn't perfect is the fastest way to evaluate your application. Make sure that the desired end users are being involved in the process, that is the group that you are building the application for and they know what they want best. Always have them involved in development so that they can give you feedback in the early stages. They'll always add valuable ideas into your application.
It's important to keep end-users in the loop, they need to be okay with testing an application which is still growing and understand that they're being heard along the way.
Sadly it had to end there...
Jasper's a busy guy so we couldn't quite dive into any specific cases just yet. Rest assured that I'll get back in there with another one of our developers soon to gather insider knowledge around their projects. And share it with you of course. Feel free to get in touch with me if there's anything in particular that you want to see.
The main takeaways from our session? Glad you asked! Most of what we're able to develop is a result of how the Betty Blocks project team has diversified their skillset. On one side we've got the no-code developers, on the other we have more 'traditional' IT professionals. They're the practical example of our Citizen Development mission, with almost every layer of business working together in our platform. Together with customers and combining these different skills, they're able to create business-driven solutions 8x faster than with traditional coding!