Atlanta has quickly become a second home for Betty Blocks and we're proud to be making our way into the community! Now that we're firmly rooted in the USA and our no-code platform has gathered some 'STEAM', the time has come to launch an official US event.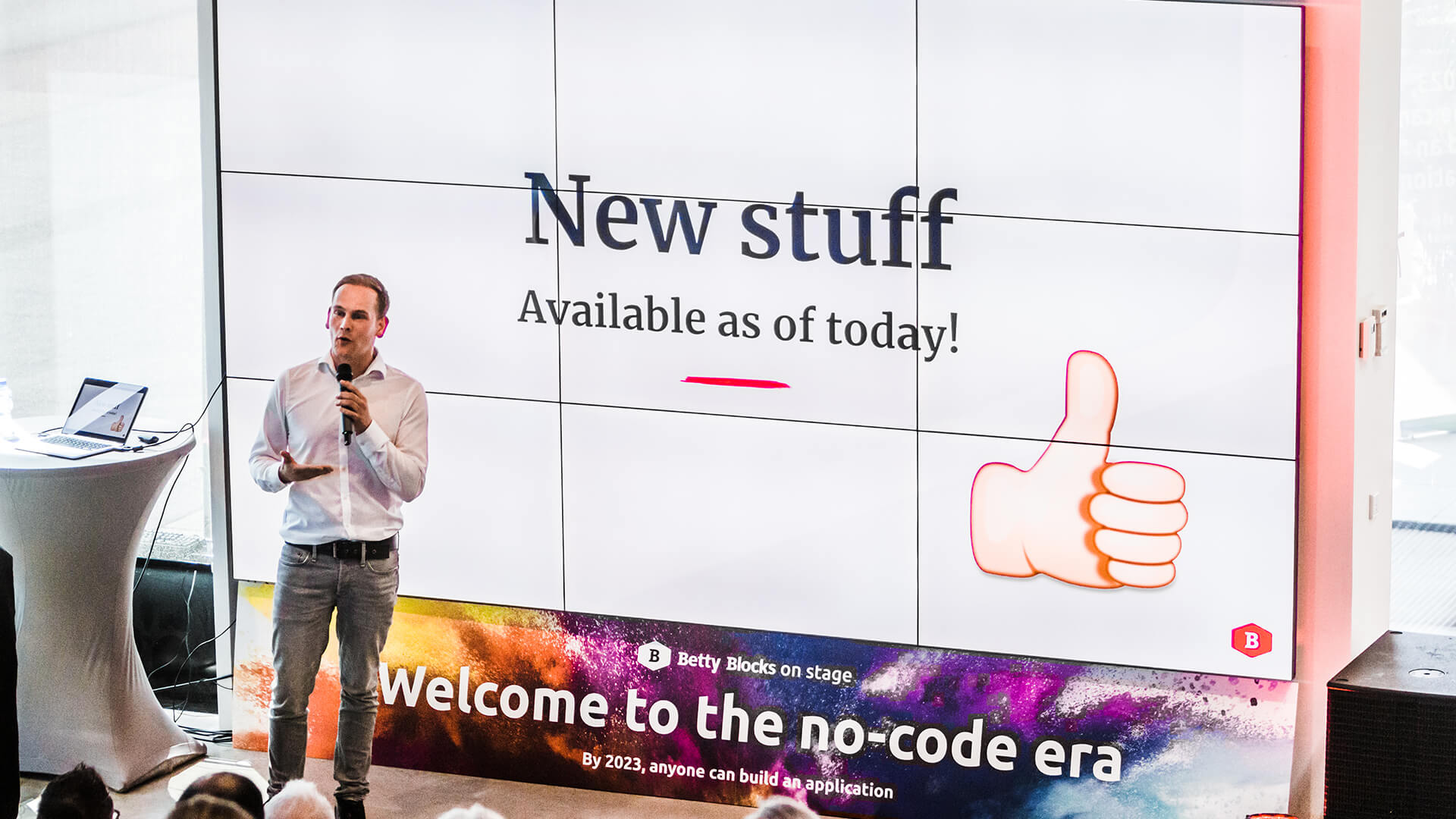 On October 3rd, you're invited to join us at Georgia Tech, Atlanta for the Betty Blocks No-Code Event. Get ready for an informal introduction to all things no-code, the methodology behind it, and a chance to learn why innovation will never be the same again.
Maybe you've only just heard about no-code from your friends (everyone is talking about it). Or maybe your company has already been successfully using Betty Blocks to innovate for some time. Wherever you are in your journey, we'd love for you to join us. Here's what you can expect to see!
1. Introduction to no-code: The innovation gamechanger
Why no-code? Sure, the name gives a lot our little secret away but there's a lot more to it than simply taking the code out of development. That's because innovation is becoming harder than ever and keeping up with new technologies is a task that IT can't handle alone. No-code is a tool to encourage and enable innovation as a company culture, not solely as a responsibility of IT.
Sounds great and all, but you're probably wondering how that affects your bottom line: Time-to-market and costs…
In the right hands, a no-code platform gives business users the opportunity to become developers themselves! Tapping into their business knowledge and teaching them to collaborate with the efforts of IT can have a domino effect on your development process. It not only gives IT some breathing room but enables new, business-driven software projects without the need for taking on more full-stack developers.
How do you make that happen though? You'll have to join us at Georgia Tech to get the full details ;)
2. See the platform in action
The thought of implementing new technologies is often equally exciting as it is daunting. Especially without seeing it in practice first. So, some of our seasoned no-code developers will be giving a live demonstration of all the key features and functionalities which make application development possible without writing any code.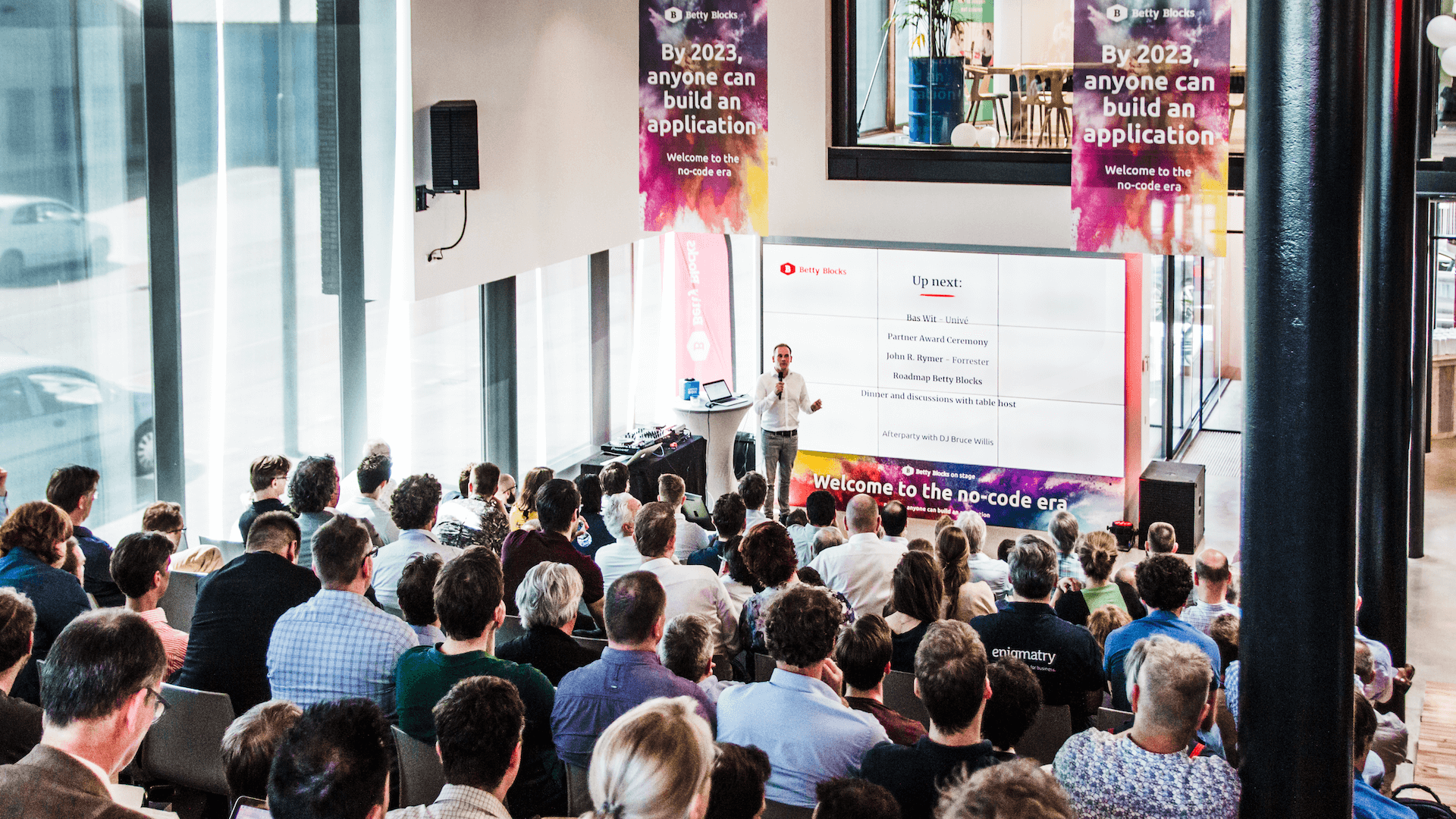 Tech-savvy attendees will recognize all the usual suspects of application development, but with a twist. Everything from Data Models and Actions to your UI pages are available as pre-developed 'blocks'. These blocks are the heart of the no-code revolution, easy to use and fully customizable.
Want to get a crash course before the event? Arrange a personalized demonstration with our team.
3. Hear from our customers
Knowing what no-code is and how it works is great but the proof is in the pudding. The pudding being tried and true success cases. Luckily, Atlanta is full of companies that have taken the leap and partnered up with Betty Blocks! Two of those companies, including Atlanta United, will lead you through a sneak peek behind the curtain of no-code development.
Get insights into the experience of working with no-code from the perspective of those who have put it to the test. They'll not only cover what they made, but also how quickly it was produced, and which results it led to.
The nitty gritty details
Don't sweat the small stuff, everything you need (including food and drinks) will be covered. All you need to do is bring yourself.
When: Thursday, October 3rd from 4 - 10 pm
Where: Georgia Tech, Atlanta
Program:
4:00pm - Welcome with coffee & tea
4.30pm - Opening 'Introduction to Betty Blocks'
5:00pm - No-code Platform Demo
6:00pm - Dinner
7:00pm - Customer Case (tba)
8.00pm - Customer Case Atlanta United
9.00pm - Networking & drinks
We want this Betty Blocks No-code Event to be all about you and how we can help you realize your big, hairy and audacious goals. So make sure to come find one of us throughout the day, we're always happy to answer questions over a coffee (or beer)!