Press Release - 11 June 2019 - Betty Blocks, the leading no-code development platform, has announced a new partnership with Atlanta United FC. With this next major step in stirring things up on American soil, the Dutch innovation company is dedicated to contributing to the Atlanta community by building an interactive educational mobile app for the STEAM Stadium Tour Program.
Proud partner of Atlanta United FC
After the recent appointment of Frank de Boer as Atlanta United's new head coach, the club gets an even more Dutch flavor. "We're here, and we're in it for the long haul," says Chris Obdam, CEO of Betty Blocks. "Being a proud new sponsor of this amazing soccer club isn't just about spreading our brand. As a family run business, we feel a strong connection with the team. We want to get behind the five stripes and add to the amazing legacy that Atlanta United FC has started."
With the introduction of the STEAM app, with both back- and front-ends built in Betty Blocks, Atlanta United and Betty Blocks are committed to investing in the education and development of new generations of digital native students. The app is an extension of the Mercedes-Benz Stadium Tour and can soon be used by schools in the area. It will be made available through the existing applications of Atlanta United, the Atlanta Falcons, and Mercedes-Benz Stadium.

"We're happy to welcome Betty Blocks as a proud partner of Atlanta United," said Tim Zulawski, AMB Sports and Entertainment Senior Vice President and Chief Revenue Officer. "We view innovation as a core value at the Blank Family of Businesses, which makes Betty Blocks an ideal partner because of its proven track record to be at the forefront of the no-code development platform industry."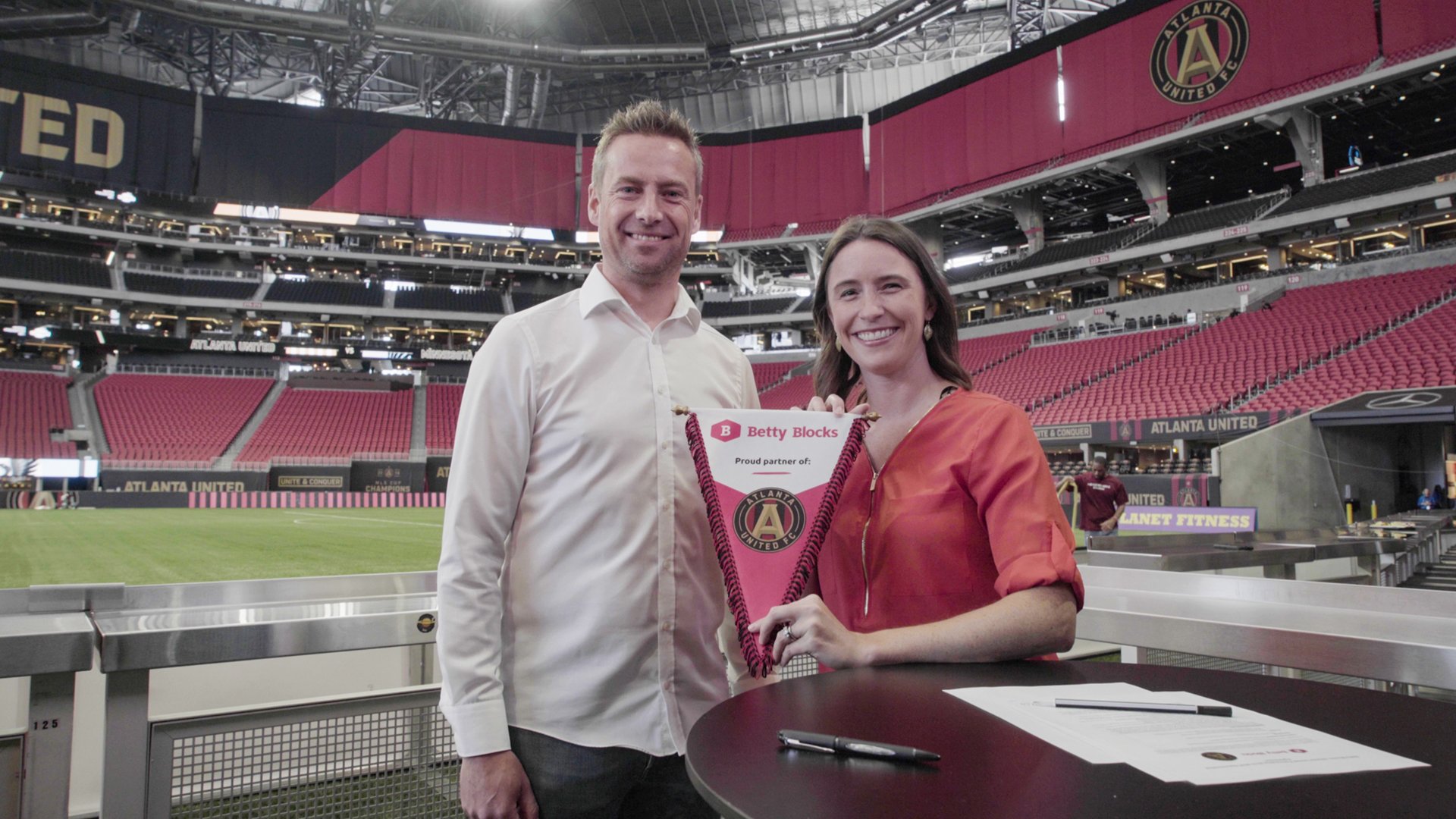 STEAM for the new generation
STEAM stands for: Science, Technology, Engineering, Arts, and Math. Users of the new app can take classes in each of these areas of expertise before, during, and after the Mercedes-Benz Stadium Tour. The interactiveness of the program invites students to actively participate in the learning process. By watching videos, making assignments, answering questions, and taking photos, the app aims to increase engagement with the subject matter.
One important aspect is that students can see the practical component of what they learn. The lessons are linked to potential careers. During the tech course, for instance, students learn about web design and programming, skills that can be very useful in their future workplace.
The curriculum is designed for grades 3-12 and meets Georgia Standards of Excellence (GSE) requirements. For every completed course, the user is rewarded with digital trophies that they gather in a trophy cabinet. Students can pick any course they're interested in.
Shared values
Betty Blocks takes the Atlanta United way of doing business as a great example for its own vision. "Working together with Atlanta is a dream partnership for the company for many reasons," says Victor Kuppers, VP of Marketing at Betty Blocks. Betty Blocks is known for its community building. While the company works hard to democratize software development, it also invests deeply in the newer generations.
The founders of Betty Blocks, brothers Chris and Tim Obdam, are also motivated to build for the future. Instead of planning on making a short exit and cashing in, they keep investing in the company and its surrounding community. Kuppers: "Atlanta United FC is a great inspiration to how to build a successful team. Just like them, we're dedicated to playing at the highest level while staying humble and keeping it real. Just like them, we like to grow as a team. We believe that together we can work on something that's bigger than ourselves."

About Atlanta United FC: More than a soccer club
Atlanta United FC started as an MLS expansion team in 2017. Within two years they became champions by defeating Portland Timbers in the 2018 MLS Cup. Like the Atlanta Falcons franchise, the club is owned by Home Depot founder Arthur Blank. Since 2019 the club has been led by head coach Frank de Boer. The soccer club is known for its attendance, which led MLS in 2018 and ranked 13th worldwide, ahead of clubs such as Manchester City, Atletico Madrid and Liverpool, as well as its successful youth academy, a soccer development program that identifies local youth players. Instead of adding older, household names to the team, Atlanta believes in scouting and training local talents as an investment in the community.
About Betty Blocks: more than a software company
It's Betty Blocks' mission to change the face of the IT industry by making software development accessible to everyone. Atlanta was already the hometown of their US office as it represents a major future tech hub. Betty Blocks feels there is a lot of untapped potential in the region. Together with Atlanta United FC, they wish to empower this talent pool with useful education programs and the creation of career opportunities.
As the world's leading no-code platform, Betty Blocks empowers both enterprises and Citizen Developers to build complex applications efficiently and effectively without writing a single line of code. With its focus on people, Betty Blocks empowers organizations to work towards the right solution and enable the workforce to take control of their innovations. Cloud-based Betty Blocks is available worldwide. The company has offices in the Netherlands, Belgium, Germany, US, Mexico, UK, Japan, and South Africa.
Visit us at bettyblocks.com and follow us on Twitter and LinkedIn.