It's been two weeks since the Betty Blocks team started working from home. Founder Chris Obdam looks back on this unusual period, and shares his insights for the days to come. He also mentions IT initiatives that are contributing to the fight against the coronavirus and are helping organizations to work better together remotely.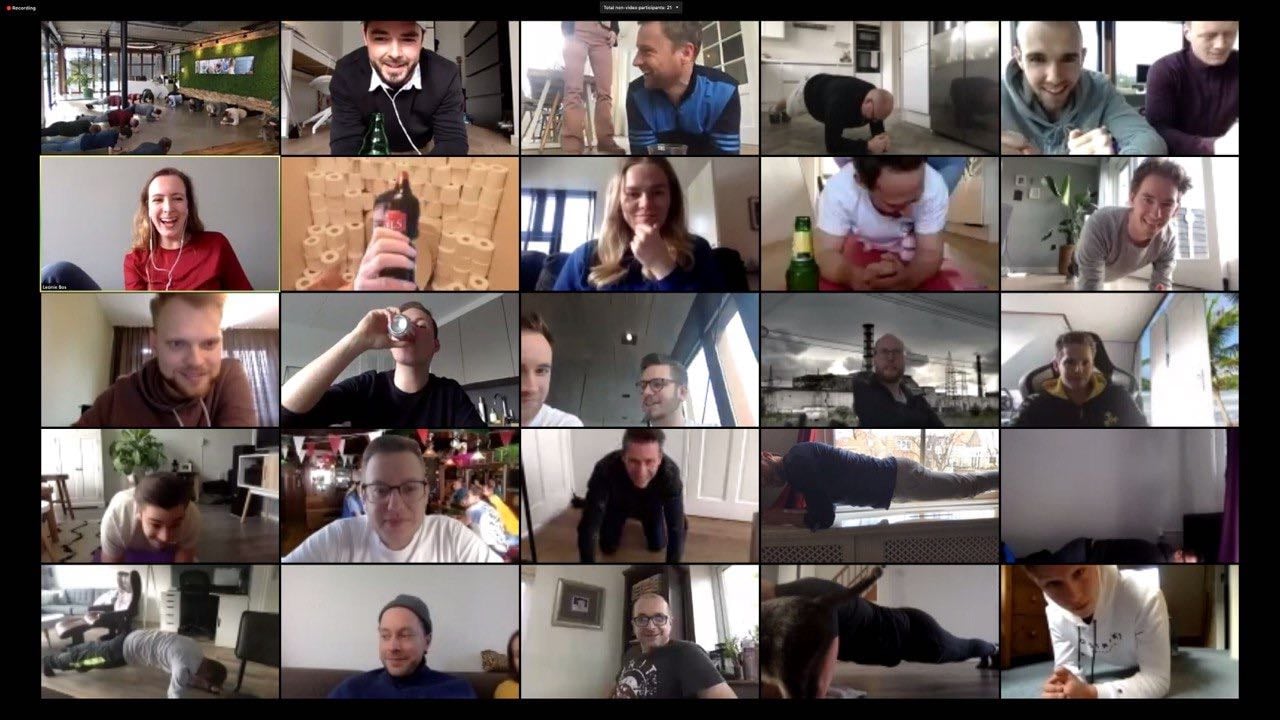 The Betty Blocks "Plank Challenge"
Working from a distance
The coronavirus outbreak has had a direct impact on organizations of all sizes in an incredibly small timeframe. Software companies like Betty Blocks are in a unique position where our work can be carried out almost entirely remotely, without severely affecting the overall process. It's an advantage that, during these trying times, we hope to leverage by continuing to provide software solutions quickly where needed.
On location, the team has kept up their good spirits while taking all the corona-measures very seriously. From home, our work has continued. Clients and partners have been informed to schedule all their meetings through video chat services like Zoom. And it turns out that, even via video calls, we can host great ideation sessions - like the 'Sprint 0' we recently held for our client VVV Cadeaukaarten.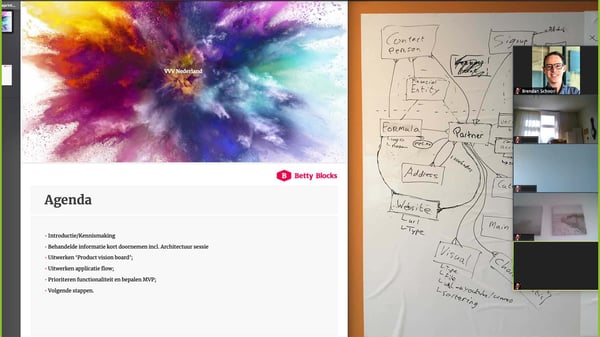 . Sprint 0 session with VVV Cadeaukaarten
IT Initiatives: Beschermdezorg.nl
None of us want to see this virus spread any more or faster. Social distancing is just the best way to do things right now and we are using no-code to help other companies do the same. The same goes for our partners, who are coming up with great initiatives.
EsperantoXL, a development partner of Betty Blocks, has made their Beschermdezorg (Healthcare Protection) application available to all healthcare organizations in the Netherlands. With it, these organizations can keep track of their corona-kits and other medical supplies in real-time. The application is already being used by many healthcare providers to relieve some of the pressure of organizational tasks, so they have more time to take care of those in need.
The Beschermdezorg (Healthcare Protection) application is available for free here.
Sticking together as a community
So what else happened these last weeks? I've witnessed my teams turn into professional homeworkers and Zoom-experts. We may be isolated from each other in a physical sense, but we feel more united than ever as a professional family.
Besides quickly delivering ad-hoc software solutions, we noticed our creativity thrive on a community-level as well. Last Friday afternoon, our weekly 'vrijmibo' (Friday afternoon drinks) tradition was fully relocated to the digital realm. We kicked it off officially with a plank challenge: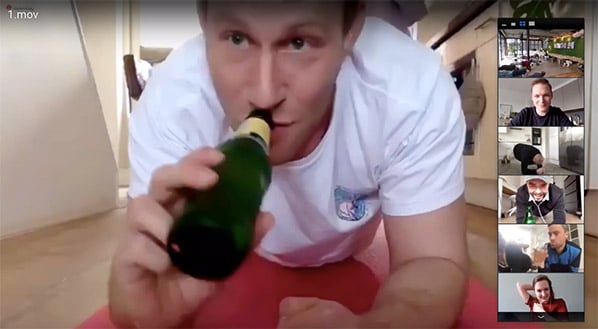 . Only a real pro planks with a beer in his hand
This week, I called out to our team to support some of the industries that are suffering right now. As a son of a tulip grower, naturally, the Dutch tulip industry was one of them. And look at what the team did! (many more pictures of tulips were shared).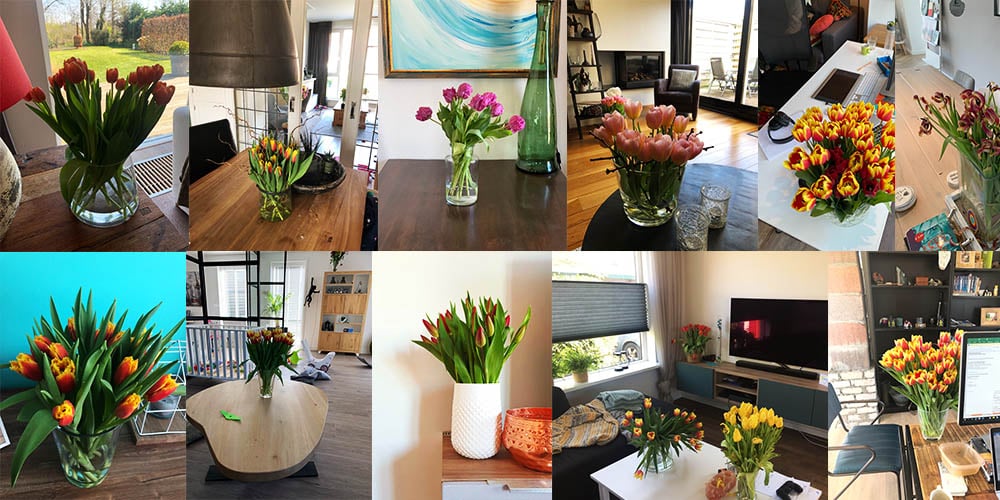 We decided to extend our flex desk policy from home for the time being. With more than 200 employees working in our Alkmaar HQ, sticking to the 1.5-meter social distancing rules would be pretty much impossible. Still, I'm very relieved to see that working from home is going well. I know it's not always easy to work under these conditions, but I'm truly inspired by the way the Betty Blocks team is handling things.
Take care of yourself and others
We understand that Betty Blocks is in a unique position because of our industry, and we can help you or your organization keep the wheels turning as well. Our development, support, and salespeople are available to you on location. So if you have an idea for a custom application that needs to be implemented quickly, reach out to us to schedule a personalized demo to see what Betty Blocks can do for you.
For now, take care of yourself and the people around you.