As Head of Development at Betty Blocks Services, Thomas van Ophem leads an extensive team of developers who use our platform to build applications together with clients. It only took him 18 months to work himself up from IT developer to captain of the Service Team. And he's only 26 years young. Oh yeah, and he also holds the Dutch national record for javelin throwing.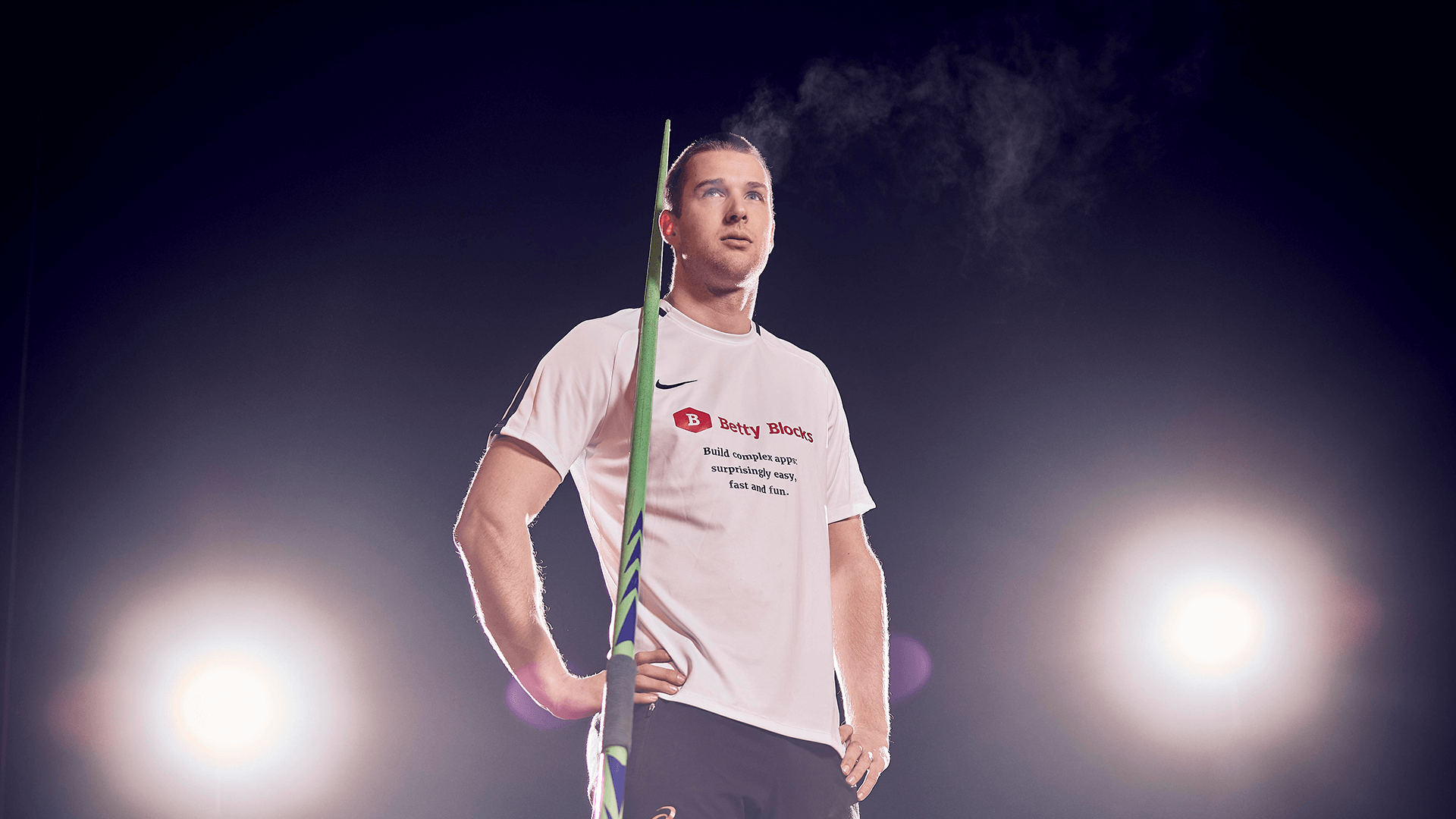 "It's going well. My team is evolving. It all went pretty quick, but that's nothing new here." Next to me on the sofa sits Van Ophem, with short hair, determined blue eyes, and an impressive posture (but don't let his hugeness frighten you). "We have a lot of fun. Betty Blocks started out as a family business and it still feels like that, even though we have 200 people working here now. We work hard and a lot is expected of you, but you get a lot of space for personal growth. I'm a good example of this."
Not your typical IT guy
As a major in computer science, Van Ophem was trained as an oldschool developer. Although he too was hesitant at first at the prospect of working with a platform that uses no code at all, he now sincerely believes it is the future. Why?
"Because of the simple fact that, every year, there is a shortage of IT personnel. The year I started my studies, we had a shortage of 16,000 developers in the Netherlands alone. My group started out with 40 students. After a year, there were 20 left, and only 10 of those actually graduated," he says.
"So by developing a platform that people with little to no knowledge of IT can use to make and adapt applications, you solve the problem. You don't need 16,000 IT experts anymore, just 16,000 people who are interested in becoming Citizen Developers, who have awesome ideas and want to make them happen."
Two types of developers
When people apply for a job at Betty Blocks, Van Ophem usually asks them this question: How do you envision development? From his experience, there are two types of developers: "The first see development as die-hard coding. They want to fix the problem by writing lines of code."
"For me, the challenge is to solve a problem as efficiently as possible."
"The other type are developers who have a problem and want to solve it as efficient as possible. Yet they don't necessarily care HOW they do it, whether they solve it in Ruby, Python, or Elixir, or with the help of a no-code platform."
"In the world of code, you constantly have to reinvent yourself," Van Ophem argues. "But that's the same with a platform. We have updates every two weeks. And every now and then we see big changes. Sure, it's a little less free. We have the well-known blocks we work with. But the principles stay the same."
"You should always keep learning and try out new things. But for me, the challenge is to solve a problem as efficiently as possible. And with the platform, you can do that way faster."
The national record
Since 2017, Van Ophem may call himself the best javelin thrower of the Netherlands with a record of 80.70m. He still trains 6 mornings a week. "My alarm goes off at 5am and my first training starts," he explains. "After that, I go to work. And after that, I go train again."
While the Dutch criteria to compete at the Olympics are crazy high (you have to throw at least 84 meters), achieving this highest possible level is not his priority. "It's a match against yourself, against the you of yesterday. I think that is more important than setting a high record."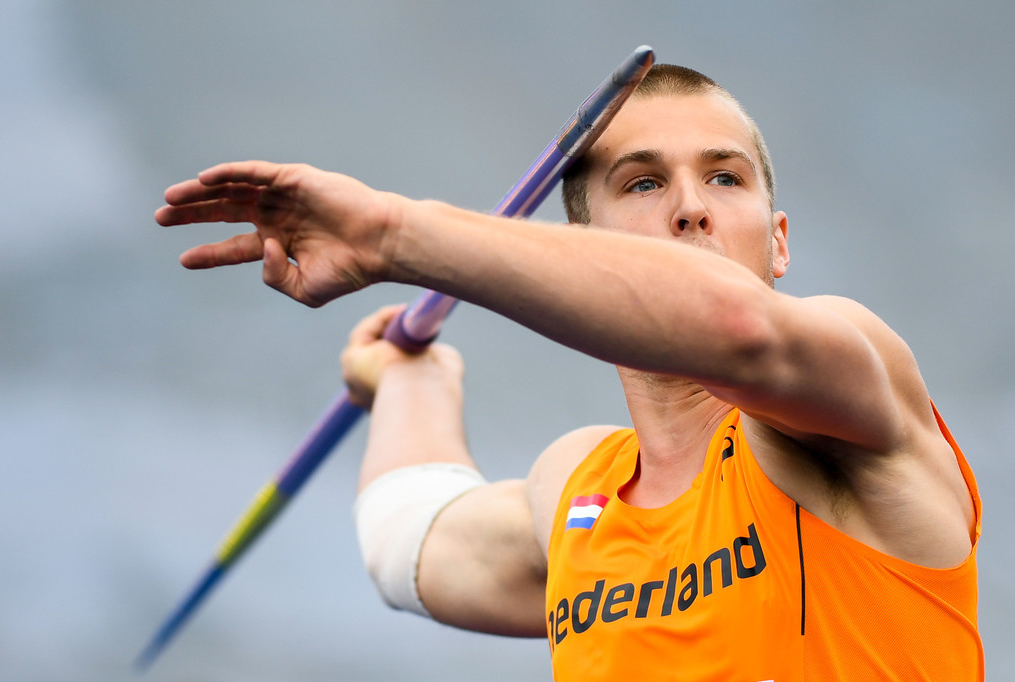 He adds: "You might surprise yourself at moments you don't expect. I threw my record on a bad weather day. I didn't have any expectations, so there was hardly any pressure of achieving. It has to come from this sort of relaxation."
"The best throws you don't feel. You become one with your body. You don't think about it and just do it. From the moment you try to force your body to throw hard, it doesn't work."
Philosophy: Don't let results lead you
"Are you result or process oriented?" Asks Van Ophem. "Most people focus on the results. They want to achieve a certain goal, otherwise they'll have a shitty day. With sport, it doesn't work that way. With work, it also doesn't work that way."
He elaborates on the theory. "When people start focusing on the process (the steps that need to be taken) instead of the results (the end-goal), this will increase their chances of success by a long shot."
"Take throwing a spear: I have to make sure that I stretch my arm as far behind my body as I can, so my left leg can reach the ground as quickly as possible. Or when taking a penalty kick: You focus on the way you run towards the ball. You have to take a certain amount of steps. That's the only thing you focus on."
"The chances of success will be greater if you focus on the process, not the results."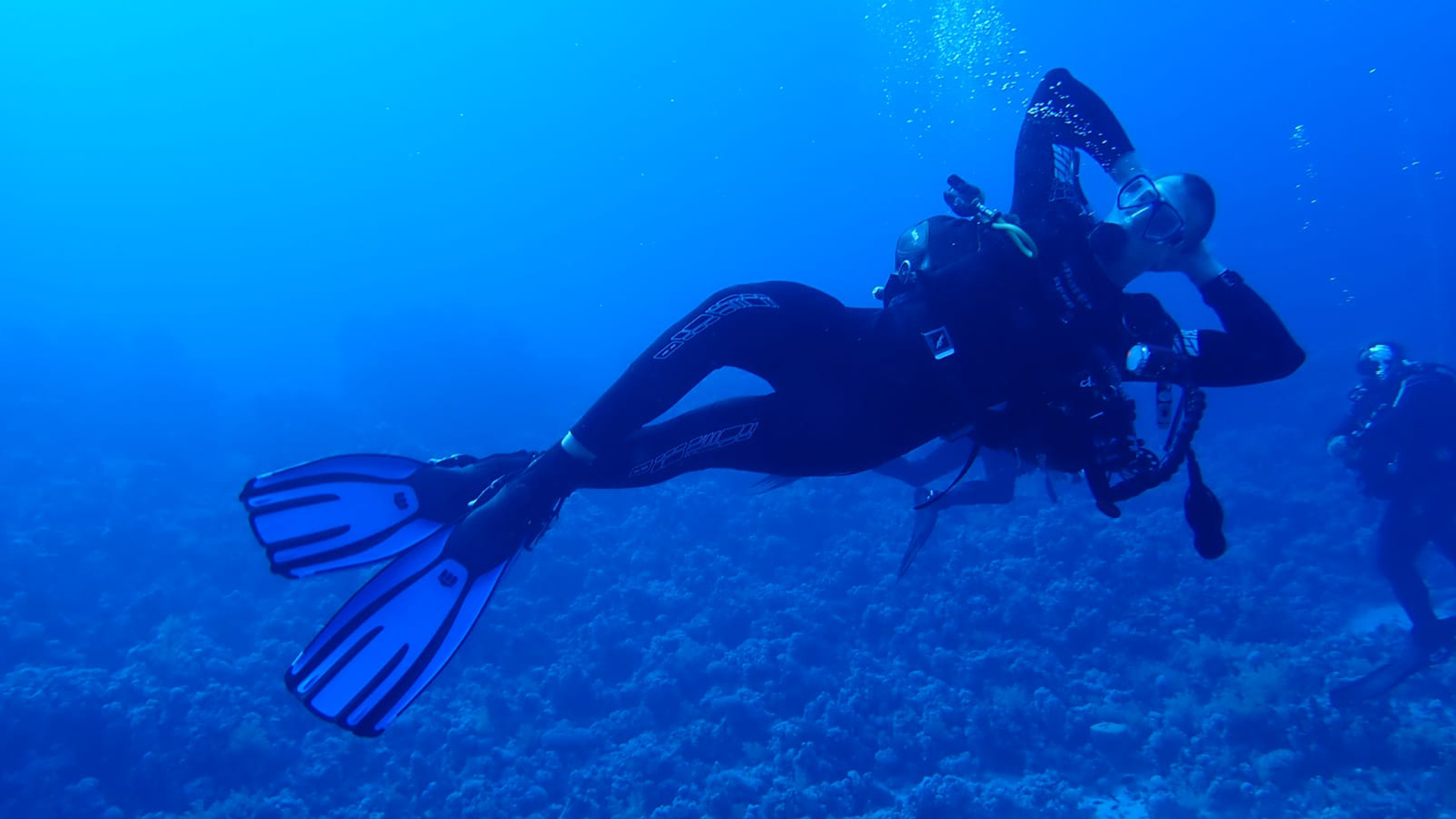 Another reason for his success is Van Ophem's relentless drive to make the most out of every situation, whether that's on the athletic track or at the office. "But I also try to relax by going diving," he tells us. He's been diving for 2 years, made over 200 logged dives, and now trains to become a Diving Master. "It calms me down. I leave my thoughts behind above the surface."
According to Van Ophem, it's all about the right balance and outlook. "Obviously, you have to set goals. You need that dot on the horizon, but don't stare at it too much. Focus on the things that need to happen now, the things that you can influence. And don't worry too much about things that are beyond your control."
Wow, that's some great advice, Thomas!