In an industry that involves such a high degree of number crunching and data entry, it's no surprise that digital transformation is revolutionizing accounting. Much of the industry has already experienced a culture shift as firms are beginning to leverage the potential of big data analytics, robotic process automation (RPA), and cloud-based solutions. Firms that began digital transformation early are now delivering greater value and increasing revenue in their respective niches. Let's look at how.
1. Automation is key
A considerable amount of tasks within the accounting profession lend themselves to automation — it's just the nature of the job. With research stating that "there's a 95% chance accounting will be automated by 2033," concerns around accounting positions being lost are understandable. However, as the adoption of automation technology grows, so do the opportunities.
With a third of accounting teams spending "51% to 75% of their time on repetitive, low-value tasks," robotic process automation (RPA) enables firms to get the most value out of their people. Automating tasks like data entry, payroll, tax preparation, and data analysis, gives accountants the freedom to focus on improving their relationships with clients and developing strategies to increase revenue.
2. Data analytics for the competitive edge
Data analytics is nothing new in accounting, but the speed and accuracy with which technology now makes it possible has changed the game. Leading accounting firms are already increasing their focus on data analytics in areas such as risk management, consulting, tax, and auditing, and are reaping the benefits of increased efficiency and improved processes.
Collecting data from a wide range of sources including social media interactions and the Internet of Things (IoT) can also give firms that all-important edge over the competition, by enabling them to identify problematic processes or service gaps, and "provide fresh and accurate insights to their clients."
3. Cloud accounting to drive innovation
Cloud-based solutions are becoming increasingly popular in the accounting industry. It's not surprising, given that " . . . about 67% of accountants now believe that cloud technology can make their roles easier." Easier roles mean more brainpower available for innovation.
Having the ability to access their accounting systems at any time and from an array of devices enables firms to link together clients and partners around the world with real-time connected data. The improved accessibility and increased speed afforded by the cloud helps accountants " . . . attract up to ten times more clients." It also helps firms to minimize risk and adhere to regulations, with security updates cascaded automatically.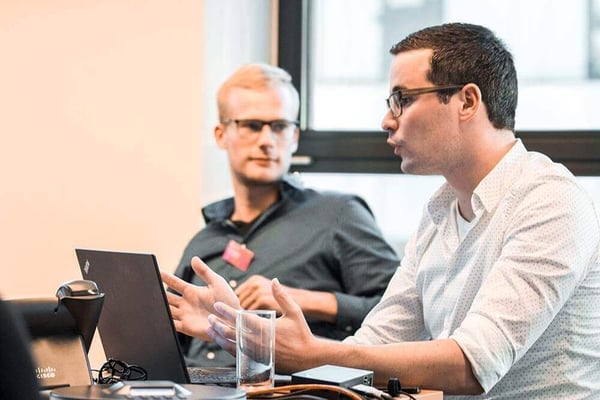 No-code and accounting
In a time when digital transformation is accelerating across the board, speed is more important than ever. By using technology like no-code, accounting firms are able to considerably reduce the software development lifecycle (SDLC), enabling them to utilize data analytics, implement automation, and move to the cloud much sooner than via traditional development methods.
According to Forbes, the key to digital transformation is " . . . pairing people and machines together allowing each one to contribute in areas they are best skilled at." Because no-code supports citizen development, it enables accountants to have real impact on the development of new processes, products, and service offerings (under the supervision of IT). Taking business goals and clients' needs into account during the development process is what will set leading firms apart from the rest.