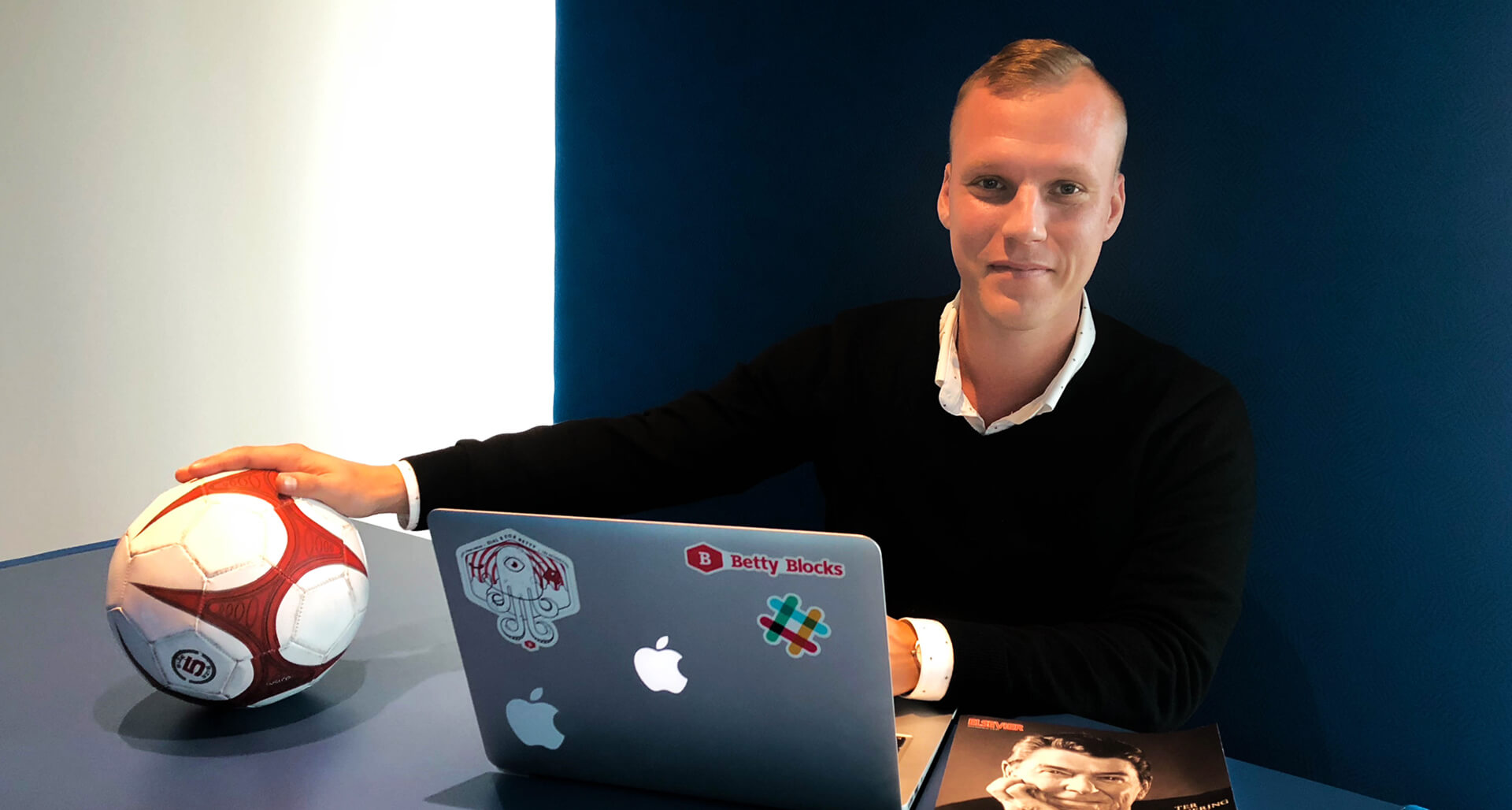 At Betty Blocks, we know people are the true force of innovation. Our team is full of individuals who uniquely contribute to our mission to help innovators succeed with no-code. We want to introduce each member of our team, so you can get to know us better. Now, meet Feddo!


A Salesman at Heart
Ever since he was a young student, Feddo Timmerman always knew he'd work in sales. During his Political Science studies, Feddo gained his first sales work experience in an area as sophisticated as he is - fine wines. While sampling some of the finest wines, Feddo was starting his path to become a true sales professional. One day at a political congress, Feddo met Chris Obdam, the CEO of Betty Blocks. This was the start of a budding friendship. Beyond the friendship, Feddo developed an interest in the no-code platform and joined Betty Blocks as one of the first members of the sales team.


Work Hard, Play Hard
Since then, Feddo is known for working hard, and playing hard. If you ever catch Feddo outside of work (which is rare for this driven salesman, just ask his girlfriend), you'll find him at hard rock concerts and festivals.
He also likes watching and playing football (he is a passionate Feyenoord-supporter, unfortunately he is having a tough season so far), reading books on the weekends, going out for dinner with his girlfriend and taking care of his parents' labrador, Sjors, every now and then, who is now one of his best friends since she was introduced into his life 5 years ago.
A unique trait about Feddo is his interest in U.S. history and the ideal of the 'American Dream'. Of course, Feddo's favorite musician is Elvis Presley - the king of rock n' roll and household American musician.


Big, Hairy, Audacious Punk Rocker
At Betty Blocks, we have a Big Hairy Audacious Goal and we encourage all our team members to have their own as well. While achieving world domination with Betty Blocks, Feddo's big, hairy, audacious goal is to be a rockstar in a punk rock band. This may or may not have to do with Feddo's passion for music. ;) As any big music fan, imagining himself in the action of it all is his dream. The spotlight is also nothing new for Feddo as he recently came to fame for placing third in the Young Sales Professional of 2017 competition.

Not surprisingly, Feddo's hidden talent is singing in the shower. It's his secret stage.


Many Mouths to Feed (Sort of)
It gets even more interesting in Feddo's personal life. He not only lives with his girlfriend but also with a flesh-eating plant - a venus fly catcher. Feddo puts care into all his responsibilities and shows this through his meticulous attention to details. When it comes to maintaining his plant, he did extensive research. He found out that this species of plants doesn't like mineral water. So, he left a bucket outside in his garden to catch rainwater. The results of his effort? New plant-babies are growing. In case you were wondering, he also feeds it flesh sometimes. Don't worry about his girlfriend, it's just little intruders sheltering inside the house.


Christmas Strolls for the Win
Winter is coming and in the spirit of the holidays, we asked Feddo what his favorite winter activity is. As Feddo is more of a warm-weather person, he looks most forward to taking a vacation in the sun during the Dutch winter. But when he is home during the season, he enjoys watching a TV series, especially his all-time favorite, Mad Men, and going on a stroll through the city center of Alkmaar to listen to Christmas carols.


The fun doesn't stop there...Feddo is looking for colleagues! If you're interested in working at a dynamic, and fast-growing technology company, apply for a position with Betty Blocks here.