Press Release - 10 July 2019 - Betty Blocks announced today that Forrester Research has named them a strong performer following their latest assessment of the 12 top low-code vendors in Q2 2019.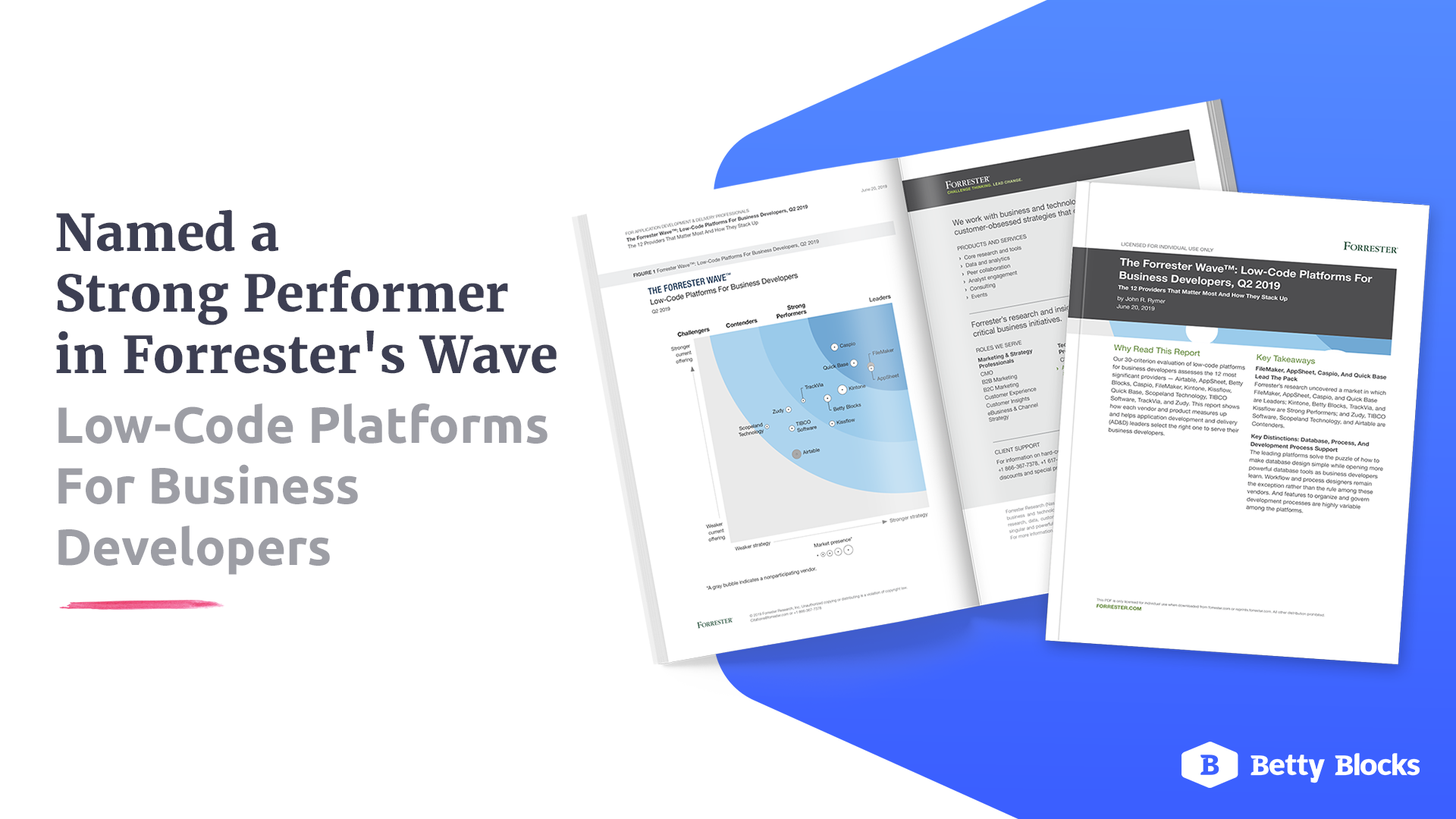 After two successful appearances in another acclaimed analyst's report and having been named a leader in The Forrester Wave™: Mobile Low-Code Platforms for Business Developers, Q3 2018, Betty Blocks is delighted to be in The Forrester Wave™: Low-Code Platforms For Business Developers, Q2 2019.
With a market dominated by American software companies, Dutch Betty Blocks is one of the only two European low-code vendors mentioned in the report, scoring highest on criteria such as vision, strategy, training, and support. "This is great news," says Betty Blocks CEO, Chris Obdam. "As a young company recognized within the report, we think it shows we are on the right path in our mission to democratize software development."
Why Betty Blocks is included in this report
With more than 35 years of experience at the forefront of technological research, Forrester's appraisal process goes beyond 'base-level' features. Their expert analysis includes details such as company vision, strategy, and market presence to provide a more complete review.
Betty Blocks attributes its placement in this Forrester Wave™ to the continuous improvement of its no-code platform. According to Obdam: "Reports like these are powerful resources for our development team and a great tool to guide future upgrades."
Whether you're familiar with low- and no-code or not, the full report is definitely worth a read:
Forrester's findings on Betty Blocks
With a short history of only 6 years, Betty Blocks has built high awareness and shown it can compete with a wide range of vendors. For a young company, mobile app development and integration are strengths, as well as strong community and learning resources.
"Being recognized in these reports is always a big honor for us," mentioned Obdam. "We believe our position as a strong performer gives us even more energy to pursue our mission."
Betty Blocks among 12 top vendors
The report by Forrester Research evaluates low-code platforms. As the demand of digital businesses' for more automation and faster application development increases, these platforms allow more minds and hands to produce customized software for business needs.
The Forrester Wave™ is a renowned guide for buyers that encourages users to apply their own criteria in their search for solutions. It assesses 12 top vendors in the market and how they stack up in terms of current offering, strategy and market presence.
As one of the most influential research and advisory firms in the world, Forrester is dedicated to providing the knowledge companies need to make informed decisions within the technology market. Further, Forrester works together with business and technology leaders to develop innovative strategies to accelerate digital growth.
About Betty Blocks
An audacious goal is where Betty Blocks really sets itself apart from competitors. They are taking massive strides to ensure that 'any human can build an application' by as early as 2023. The company is dedicated to empowering a new kind of developer: the Citizen Developer. Betty Blocks believes that Citizen Developers are here to bridge the gap between business and IT. In this way, they are a driving force toward business growth, development, and innovation. Cloud-based Betty Blocks is available worldwide. The company has offices in the Netherlands, Belgium, Germany, US, Mexico, UK, Japan, and South Africa.
Visit bettyblocks.com and follow them on Twitter and LinkedIn.