Alkmaar, 8 August 2023 – Today, low-code platform Betty Blocks announces the Low-Code AI Toolkit in its platform. With the Low-Code AI Toolkit, organizations can securely and easily incorporate AI into their solutions without extensive technical expertise. This enables them to rapidly build and test solutions without having to set up large IT projects and ensures compliance with company policies. Betty Blocks also offers the expertise to create a sustainable AI implementation strategy together.
Secure toolkit for powerful AI solutions
With AI taking the world by storm, organizations are assessing the impact of AI on their current and future business. Early adopters face challenges such as data security concerns and limitations from off-the-shelf solutions. Off-the-shelf products mainly offer a single solution that doesn't integrate with other solutions.
As a result, organizations with multiple use cases pay high license fees for multiple siloed products. Also, the accuracy of AI results, which increases human errors, is a problem that can lead to mistakes with fabricated AI content. Betty Blocks released the Low-Code AI Toolkit to address these challenges in a flexible and secure way.

"Implementing AI is currently a difficult process with complex toolsets. With the Betty Blocks Low-Code AI Toolkit, organizations can leverage the power of AI to build flexible low-code solutions without compromising security and development speed. The Betty Blocks platform functions as a centralized place where organizations can connect to multiple Large Language Models (LLMs) and take their capabilities to the next level with bespoke low-code solutions.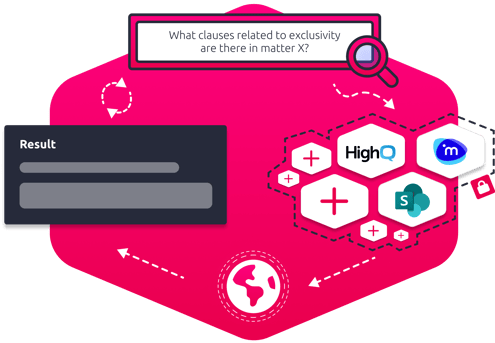 A common use case is connecting multiple AI providers and switching models for specific document searches. Connecting to multiple LLMs offers more flexibility and ensures organizations don't get stuck when an LLM changes or is prohibited due to new company regulations. This makes AI adoption as simple as possible and lower barriers to entry," says Chris Obdam, CEO and co-founder of Betty Blocks.

Flexibility is a key driver for Betty Blocks, which is reflected in how they offer security. Within the Betty Blocks platform, users have three levels of security.
Externally hosted by a provider of choice, where security is dependent on the hosting party;
Hosted by Betty Blocks in a secure and controlled cloud environment or;
Hosted on-premises, providing the most secure environment for private data.
Revolutionizing knowledge management with the AI Search Hub
By utilizing AI, organizations can address a wide variety of use cases. Examples are automated summarization of documents, document generation, simplifying complex texts, entity anonymization, and a chatbot that can be combined with these use cases. One of the AI solutions that is already driving a lot of traction is the AI Search Hub.

Efficient knowledge management is plagued by terabytes of unorganized documents scattered across multiple databases and sources, making finding the correct information through traditional keyword searches time-consuming and frustrating.
The AI Search Hub revolutionizes document search by streamlining the process of finding relevant information. Users can access powerful search functionality by connecting databases and sources to the hub. The hub uses advanced language models to understand user queries' semantic meaning and context, presenting highly relevant results.

The AI Search Hub lists relevant documents and a percentage match to the query. The hub can even give results from multiple connected sources such as Netdocs and Sharepoint. This helps organizations find information faster and more accurately.
The journey to a sustainable AI strategy
"With AI still in its early stages for public use and AI policies continuously changing and updating, solutions must be adaptable, flexible, and guarantee data security. It's also important to create and align your roadmap with stakeholder needs. You need to envision your ideal situation, start with the end in mind, and work towards that in incremental steps. That's where we come in. We can help organizations with a full range of services such as an AI scan and development support", says Fred Slagter, VP of CSM and Services at Betty Blocks.
About Betty Blocks
Betty Blocks is a leading low-code platform that empowers businesses to create custom applications with speed and agility. With an intuitive visual interface, powerful AI capabilities, and a range of pre-built components, Betty Blocks enables organizations to transform their ideas into robust and scalable applications, accelerating digital innovation across industries.