Research by CIO Dive showed that 56% of organizations intended to increase IT budgets for digital transformation, cloud-first strategies, and cybersecurity. Unfortunately, Covid-19 turned that optimism on its head. Budgets took a hit and the focus of digitization shifted to building digital workplaces in a matter of weeks.
Fortunately, application platforms as a service (aPaaS) solutions have helped organizations overcome tight digitization deadlines faster and easier than companies relying on traditional IT. In this article, we'll dive into what an aPaaS is and why we believe Betty Blocks is listed as a Sample Vendor in Gartner's Hype Cycle for Software as a Service, 2020 report.

aPa– what?
According to Gartner, "An application platform as a service (aPaaS) is a cloud platform service that offers an environment and tools for general-purpose application development and deployment. The major aPaaS types include low-code/no-code (targeting high-productivity and reduced skill sets), and pro-code (providing high-control of underlying design patterns and resources)." - Gartner Hype Cycle for Software as a Service, 2020 Application PaaS analysis by Paul Vincent; Yefim Natis; Fabrizio Biscotti.
Everything an organization needs to build applications for themselves is included which means deployment, hosting, and maintenance are all facilitated by the vendor. Think of it like your Spotify account except you're given the ability to create your own music with the tool instead of just listening to other artists.
At an enterprise level, aPaaS tools offer cost-effective rapid application development without a major barrier to entry. For example, Betty Blocks' no-code platform uses a modular, drag-and-drop editor for developers of any skill level to create custom web, mobile, or back-office solutions. Through modular development, the technological barrier of building applications is significantly lower making the whole process of building accessible to even non-IT personnel.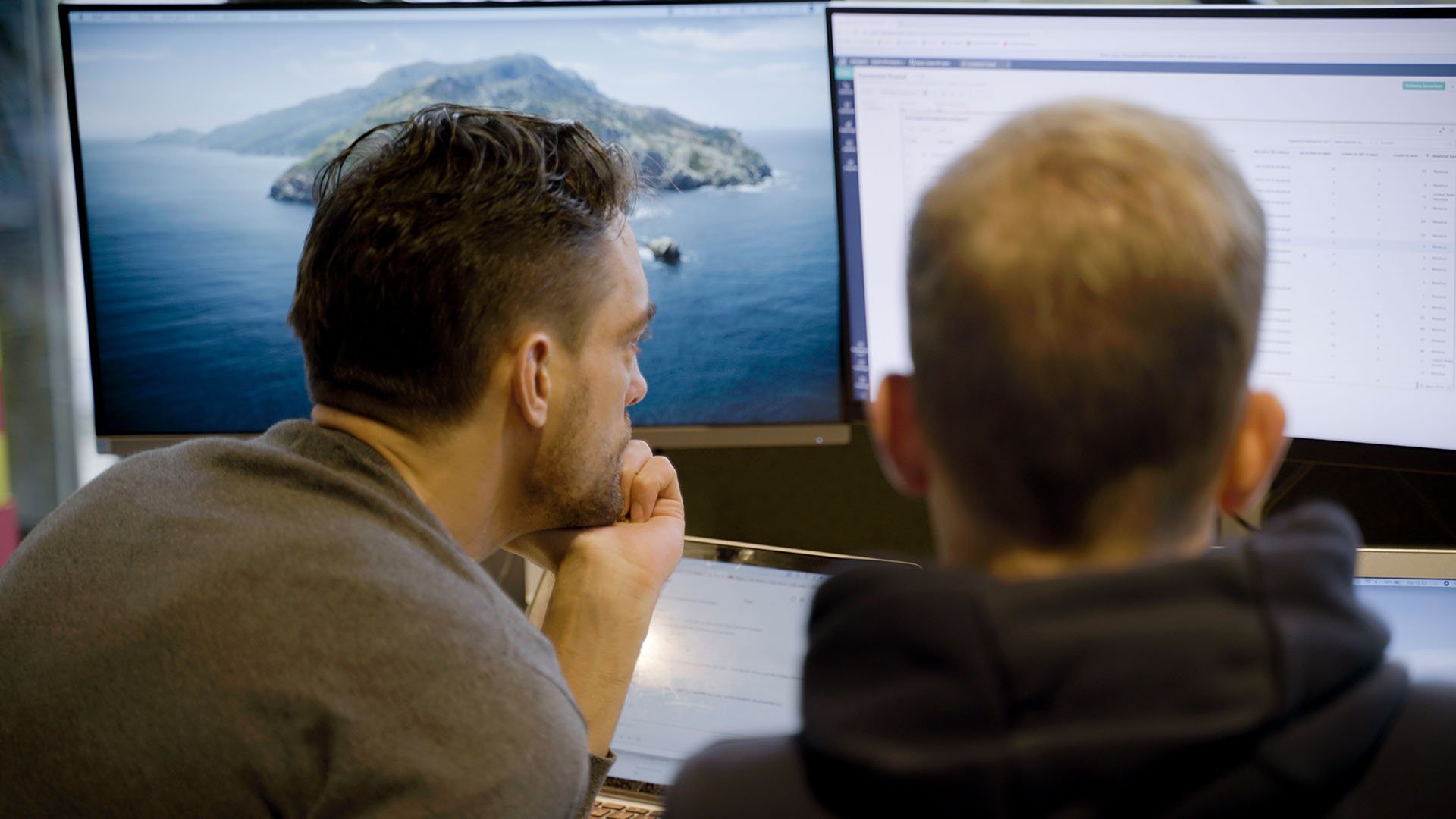 Platform vs Software as a Service
Although both software and application platforms are cloud-based, each empowers businesses in their own way. For example, enterprise-level SaaS tools like deliver immediate business value without needing to cover the costs of developing a solution in-house. This is ideal for filling one or two service gaps but monthly fees can add up quickly if SaaS tools are used to build an entire infrastructure.
On the other hand, application platforms as a service such as Betty Blocks offer a more long-term, strategic package for enterprise organizations. With a single subscription, the business has the ability to drive multiple projects and deploy any number of applications themselves. Instead of being locked into one off-the-shelf solution, developers have access to a variety of RAD features including:
One-click deployment
Multi-tenant, multi-user development
A visual-based, drag-and-drop builder
Reusable, shareable components
Full DTAP street and branching functionality
"Public aPaaS changes the model of IT software engineering from do-it-yourself full-stack responsibility to a focus on the business content of applications. This, in turn, encourages a shift in IT organization, processes, skills, and culture from infrastructure-centric to business-centric." - Gartner Hype Cycle for Software as a Service, 2020 Application PaaS analysis by Paul Vincent; Yefim Natis; Fabrizio Biscotti.

The paradigm shift has begun
With the advanced capabilities of aPaaS solutions, like Betty Blocks' no-code development platform, they have become a mainstream option for digital transformation alongside traditional in-house programming. Between one-click deployment, drag-and-drop development, and minimal coding requirements, the average no-code platform is faster and more agile for digital transformation projects.
We only have to look at the market to find proof of this. According to Gartner "The total aPaaS market achieved an annual growth rate of over 27% over the past year, versus the traditional platform middleware market's decline of 3.9%." - Gartner Hype Cycle for Software as a Service, 2020, Report, 30 July 2020, analysis by Paul Vincent; Yefim Natis; Fabrizio Biscotti.
That being said, traditional development is in no danger of becoming a niche development tool. In almost all emerging and mainstream low- and no-code-centric strategies, IT departments are integral to successful evaluation, adoption, and operation. Essentially, modern RAD development requires collaboration between all developer roles as well as their tools, which you can read more about in this whitepaper.
One platform for every service
Whether an organization needs an aPaaS or SaaS solution comes down to their immediate and future needs. As cloud technologies continue to grow, it is more important than ever to invest in cloud options to ensure you're organization is ready to scale along with new developments. Not investing in 100% cloud based now, means you are creating legacy today, which ultimately needs to be migrated to the cloud in the future.
At Betty Blocks, we've ensured that our no-code platform (and company as a whole) is flexible enough to provide businesses with the tools needed to scale up. Whether that's access to the platform for their IT professionals or a SaaS application built by our professionals, you're always able to accelerate digital transformation efforts with no-code. Of course, there's a lot of nuances to business development but you can read exactly how Betty Blocks helps turn your ideas into applications in this guide.
Gartner "Hype Cycle for Software as a Service, 2020," Dennis Gaughan, John Santoro, 30 July 2020
Gartner does not endorse any vendor, product or service depicted in its research publications and does not advise technology users to select only those vendors with the highest ratings or other designation. Gartner research publications consist of the opinions of Gartner's Research & Advisory organization and should not be construed as statements of fact. Gartner disclaims all warranties, expressed or implied, with respect to this research, including any warranties of merchantability or fitness for a particular purpose.