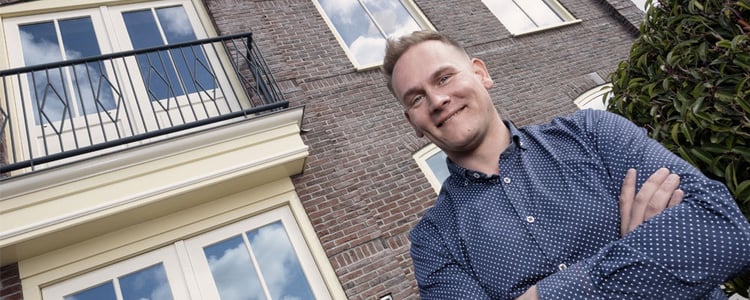 Betty Blocks is included in one of the biggest Dutch newspapers (DFT - part of Telegraaf.nl) for the inclusion on Gartner's list of best rapid application development platforms in the world; the Gartner Enterprise hpaPaaS Magic Quadrant 2017.
The original Dutch article:
DFT - Published, May 31st, 2017
#Doorbreker: Apps bouwen zonder programmeerkennis

The original article is in Dutch. For our international readers, we have published the translation below.

Betty Blocks is included on Gartner's list of the best rapid application development platforms in the world. Gartner, an American research agency, has included the company from the Netherlands in its Magic Quadrant, alongside big players like Oracle and Salesforce.

Betty Blocks was founded five years ago by Chris and Tim Obdam. "Fifteen years ago, we started the company Holder. We built custom made applications for our clients", says CEO Chris. "At least it was so in the early days. My brother is not a programmer at all and was responsible for the organizational part." The company was growing and so was the need to improve internal applications. "Tim needed my help for that. We decided to develop a platform on which he was able to build apps without any technical experience."

The platform appealed to external parties as well. "The demand for software is growing every year", according to Chris. "Every company needs software, but not everybody can find a standard package which suits them. With Betty Blocks they are now able to develop a tailor-made app themselves."

Among the users of Betty Blocks are the municipalities Hoorn and Zaandam and enterprises like KPMG, Tele2 and Vivat. "Large enterprises use it when a certain department needs a program which can't be supplied through their IT-department. Because of the platform they are now able to build it themselves. Smaller companies can build their own CRM system."

Clients log in via the website where they can add components through drag and drop. "You can practically make any business-oriented application with our platform. Not something like calculating weather patterns, but Holder is the partner to rely on for solutions like that"

Even though Holder and Betty Blocks are separate companies, they cooperate closely. They will soon be moving from Obdam to Alkmaar. Holder employs 75 people and Betty Blocks 35, but it's expected that both sales and number of employees will double this year. Betty Block has it's customers coming from all over Europe. The USA will follow soon.