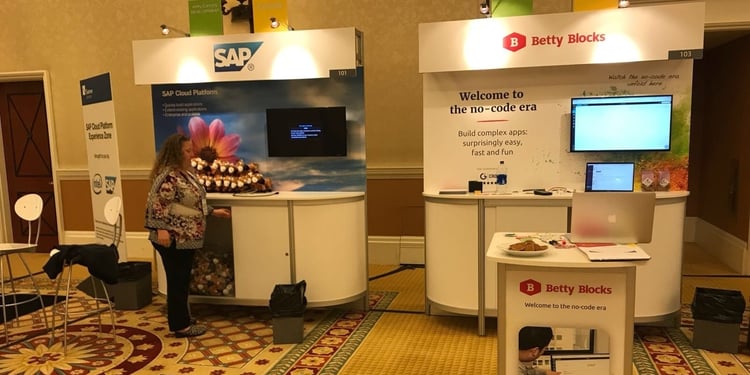 Last month, Betty Blocks made a splash at the Gartner Symposium/ITxpo 2017 in Barcelona. Our CEO Chris Obdam presented the Rise of the Citizen Developer, an introduction to the movement of professionals developing their own creative IT solutions. We are rapidly expanding our international presence, now showcasing our application development platform in the Gartner Application Strategies and Solutions Summit 2017 in Las Vegas, Nevada this week.
As Betty Blocks grows to serve an international market, we decided to join 50 other exhibitors at the convention to share the power of our platform further in the US. Our universal no-coding business application development platform accommodates users with any background. With Betty Blocks, you have the power to build your own applications, for any purpose and to any level of complexity. We offer the base for you to develop your own solutions for your business.
The Gartner Application Strategies and Solutions Summit 2017 is a convention focused on digital application technology and strategy to drive business innovation. Corporate innovation is crucial for companies looking to reach consumers in an increasingly digital market. The three-day conference is sparking discussions among more than 1,600 professionals working in technology architecture, app development, CX and CRM and IT Leadership. With digital applications and customer experience at the center of discussion, the importance of digital transformation in the banking, healthcare, retail, automotive and consumer goods industries is highlighted by the convention.
Improving customer experience is the priority of many businesses as expectations for the buying process constantly change. Business applications are a main component of digital transformation because they are an effective solution to business challenges. New technology without a high learning curve empowers all users using our platform to develop solutions, including better management of customer relationships and user experience.
To help your business thrive in the transforming world of consumerism, Betty Blocks provides the platform to create applications easily, efficiently and with enjoyment.
Want to experience the power of the Betty Blocks no-code application development platform? Sign up for a demo now!